2017 7a*md8
7a*md8 – ON LINE
Sunday October 1 – Saturday October 7, 2017
sab meynert
Sunday October 8 – Saturday October 14, 2017
Mohammad Rezaei
Sunday October 15 – Saturday October 21, 2017
Kiera Boult
Sunday October 22 –  Saturday October 28, 2017
Nadège Grebmeier Forget
Sunday October 29 – Saturday November 4, 2017
Jessica Karuhanga
Sunday November 5 – Saturday November 11, 2017
Yolanda Duarte
Sunday November 12 – Saturday November 18, 2017
Natasha Bailey
Sunday November 19 – Saturday November 25, 2017
jes sachse
Sunday November 26 – Saturday December 2, 2017
Bishara Elmi
Sunday December 3 – Saturday December 9, 2017
Syrus Marcus Ware
7a*md8  – ON SCREEN

Thursday August 24, 2017
7 pm
291 Lake Shore Boulevard East (just west of Parliament St.)
Presented in partnership with Art Spin and Waterfront Toronto in conjunction with Desire Lines
Saturday June 10, 2017
7:30 – 9 pm
201 Guildwood Parkway Scarborough
Presented in partnership with (Un)settled
7a*md8 consists of a series of multi-platform performance-for-the-camera screenings and digital residencies distributed across a range of Toronto cultural spaces as well as online platforms. The Toronto Performance Art Collective (TPAC) has a record of supporting  a diversity of practices in the field of performance art. Expanding from our established festival format, we would like to create points of access for Toronto artists working at the intersection of performance and new media forms, as well as  those who may find it difficult to travel to Toronto due to remoteness, disability, personal obligations, or political circumstance. 7a*md8 explores new ways for TPAC to address these concerns. Harnessing the potential of  the proliferation of Internet platforms for disseminating performance videos, 7a*md8 will offer a fresh approach to performance and new media curation, featuring three distinct events that examine contemporary developments in the relationship between body art, lens-based practices and the politics of access.
Schedule
7a*md8 On Line
7a*md8 On-Line features a series of social media residencies highlighting contemporary artists' use of interactive online platforms to develop performance works that find new ways of connecting with audiences. For artists working in performance, video-capture platforms like Snapchat, Periscope, Vine and Instagram provide an instant and accessible medium for documentation and dissemination. This allows, among other possibilities, for ongoing, cumulative performance practices that can record everyday situations at home and work spaces that have not always been accessible to a general public. These projects will be hosted on 7a*11d's website and social media platforms and featured at a public launch at Trinity Square Video in December.
7a*md8 On-Line artists include Natasha Bailey, Kiera Boult, Yolanda Duarte, Bishara Elmi, Nadège Grebmeier Forget, Jessica Karuhanga, sab maynert, Mohammad Rezaei  jes sachse, and Syrus Marcus Ware.
7a*md8 - On Screen
7a*md8 – On Screen is a collection of performances designed specifically for the camera by local, national and international artists. In the past few years we have seen how the camera has played a major role in bringing attention to narratives, events and bodies marginalized from the general public. Lens-based media and online platforms have created new possibilities for self representation. The artists selected for this series will speak to our relationship to media as a form of accessible communication in the face of unevenly permeable borders.
7a*md8 – On Screen artists include Lisa Birke, Erika DeFreitas, Johanna Householder & b. h. Yael, Merritt Johnson, Cressida Kocienski, Cheryl L'Hirondelle, Manolo Lugo, Julieta María, Zinnia Naqvi, Michèle Pearson Clarke, Lisa Steele, Tadasu Takamine, and Alize Zorlutuna.
(Un)settled
(Un)settled is a site-specific exhibition and residency that sets out to investigate and unsettle the history of the Guild Park and Gardens—formerly the Guild of all Arts—in Scarborough, which has grown from a collection of rural communities into a dense and culturally diverse urban sprawl on the eastern flank of Toronto. Curated by Bojana Videkanic.
For more information about (Un)settled visit http://www.unsettledproject.com
FREE TRANSPORTATION
A free bus service will be provided from downtown Toronto (Dundas St. W. south side in front of the AGO at the designated Motor Coach Loading Area) to the Guild Park and Gardens on Saturday June 10. To reserve a spot on the bus please e-mail bojana.videkanic@uwaterloo.ca. Please include your name, e-mail address and June 10th in the subject line. The spots on the bus are limited and are on a first-come-first-serve basis.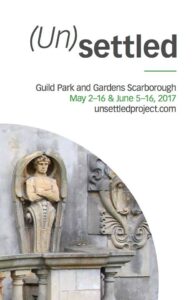 Desire Lines
Desire Lines is a visual art exhibition showcasing notable regional artists presenting artwork from a wide variety of disciplines and curated by Art Spin's Layne Hinton & Rui Pimenta, organized by Art Spin in partnership with Waterfront Toronto.
This exhibition responds to themes that deal with the highly nuanced dynamic of placemaking and what constitutes the concept of home, as well as exploring our complex and storied relationship to our waterfront. Desire Lines is curated in both a massive 8000 sqft. warehouse and retired condo presentation centre with many works responding to the unique features of the space itself.
Location:
291 Lake Shore Boulevard East (just west of Parliament St.)
Look for a painted white warehouse. The exhibition is fully accessible. The space, which is just south of the Distillery District, can be accessed easily by bicycle from the Waterfront Trail, or by car via Queens Quay, there is a paid parking lot available on site.
Opening Night Reception & Party: Thursday, August 24, 7 pm – 1 am
Exhibition Runs: August 25 – September 3
Exhibition Hours: Wednesday – Saturday 12 pm – 8 pm, Sundays 12 pm – 6 pm
ARTISTS:
Karen Miranda Abel
Jennifer Marman and Daniel Borins
Kaitlyn Bourden
Hannah Busse
Paul Chartrand
Nicole Clouston
Naomi Dodds
Anna Eyler
Chris Foster
Young & Giroux
Sarah Kernohan
Alex McLeod
Daniel Rotsztain
Sheldon Storey
Jessica Thalmann
Tough Guy Mountain
VSVSVS
SPECIAL EVENTS:
Opening Night Party – Thursday August 24, 7 pm – 1 am
Opening night features a unique screening of a film program, 7a*md8 On-Screen, programmed by Golboo Amani and Fransisco-Fernando Granados, along with a musical performances by T.Dot BANGERZ Brass programmed by Art Spin's partners at CDR and a dance-floor friendly set by DJ General Eclectic.
Curator and Artist Talk – Saturday August 26, 3 pm – 4 pm
Join Art Spin curators Layne Hinton and Rui Pimenta to walk through the exhibition and discuss some of the curatorial themes. Artists joining us to talk about their work – to be announced.
Presenting Partners:
Waterfront Toronto
Myseum of Toronto
Funding Partners:
Toronto Arts Council
Ontario Arts Council
In-Kind Partnerships:
InterAccess
Ed Video Media Arts Centre
CDR
Bike Pirates
Hoop Driver
Trip To The Moon
Everything but the Band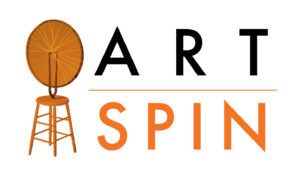 Toronto Performance Art Collective gratefully acknowledges the support of:



And a special thanks to 7a*md8's co-presenters