LACOMBE, Michelle
Canada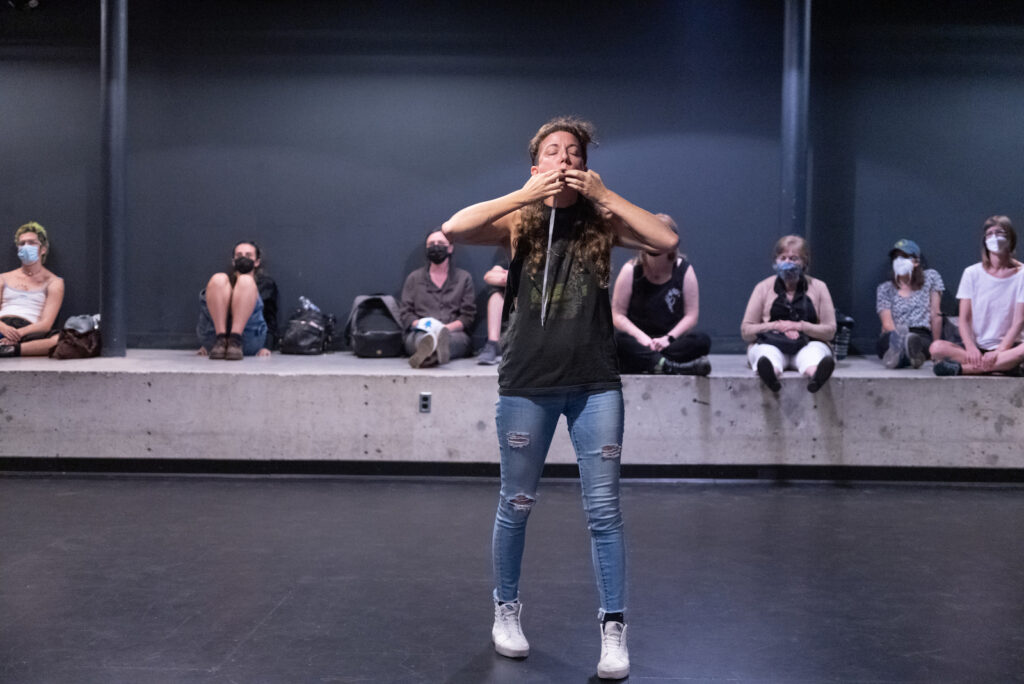 Michelle Lacombe, untitled 7a*11d 2022 PHOTO Henry Chan
untitled
Saturday September 10 7 pm
Theatre Centre, 1115 Queen Street West
(Pay-What-You-Can)
My performance work is characterized by its material simplicity and short duration (often under 10 minutes). Although minimal, my performances seek to confront the public with a sober and at times uncomfortable moment as a means of complicating the contemporary female body. I work through the various references that my body carries and evokes (regardless of whether or not I actually identify with them). The work is constructed from unspectacular gestures that use banal objects and often require a moderate but evocative form of physical commitment. My actions often seek to trigger the viewer's body (or state of being) as a means of creating intensity, relation, and meaning.
Michelle Lacombe (Montréal, Québec) has developed a rigorous body-based practice since obtaining her BFA from Concordia University in 2006. Her performance work uses simple gestures, mark making, and strategies of discomfort to explore the evocative quality of the unspectacular, and to unpack Western tropes and archetypes associated to the white female body, her body. Recipient of the 2015 Bourse Plein Sud, her work has been shown in Canada, the USA, and Europe in the context of performance events, exhibitions, and colloquia. Her artistic practice is paralleled by a commitment to supporting undisciplined forms of art making. She is currently the director of VIVA! Art Action.
See some of Henry Chan's photos documenting this performance, as selected by James Knott, on Instagram or Facebook.
Critical review Soft Transmissions by Shalon T. Webber-Herffernan
Michelle Lacombe, untitled 7a*11d 2022 VIDEO Peppercorn Imagine ©Michelle Lacombe