GENEVIÈVE ET MATTHIEU
Canada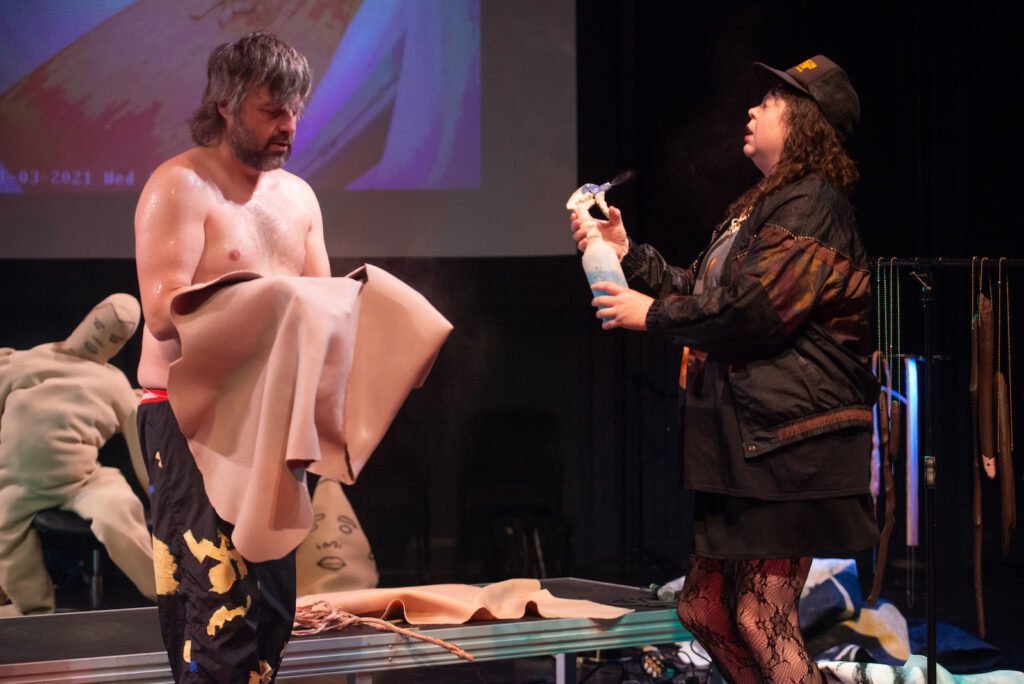 Geneviève et Matthieu, M. Gros [Mr. Big] 7a*11d 2022 PHOTO Henry Chan
M. Gros [Mr. Big]
Wednesday September 7 8 pm
Theatre Centre, 1115 Queen Street West
(Pay-What-You-Can)
Presented by FADO Performance Art Centre in partnership with L'Écart lieu d'art actuel
Do you have a special relationship with your sculptures? What if they were the ones performing? How would they do it?
This installation-performance is inspired by the Canadian investigative technique called Mr. Big, which allows an undercover police officer to obtain a confession from a suspect of a serious, unsolved crime. Led by shape-shifting characters, living sculptures, dual weapons and a televisual soundscape, M. Gros [Mr. Big] tackles identity issues relating to surveillance, infiltration, idea theft and copying; but moves beyond classic investigative games with a narrative that pays special attention to a contemporary art ecosystem.
The duo Geneviève et Matthieu, from Rouyn-Noranda in Abitibi-Témiscamingue, started working together in the late 1990s, blending visual art, performance, music and everyday life. Geneviève et Matthieu create group performances and productions of social tableaux that are at times festive but always human. Between the baroque, abstract expressionism and arte povera, their works have been presented over forty times in Québec, across Canada, the United States, France, Belgium and Spain. Actively involved in their community, Geneviève et Mathieu managed and developed the artist-run centre L'Écart and the Biennale d'art performatif de Rouyn-Noranda for over 20 years.
See some of Henry Chan's photos documenting this performance, as selected by James Knott, on Instagram or Facebook. See also FADO Performance Art Centre's webpage for Geneviève et Matthieu, including more of Henry Chan's documentation of the performance.
Critical review Soft Transmissions by Shalon T. Webber-Heffernan