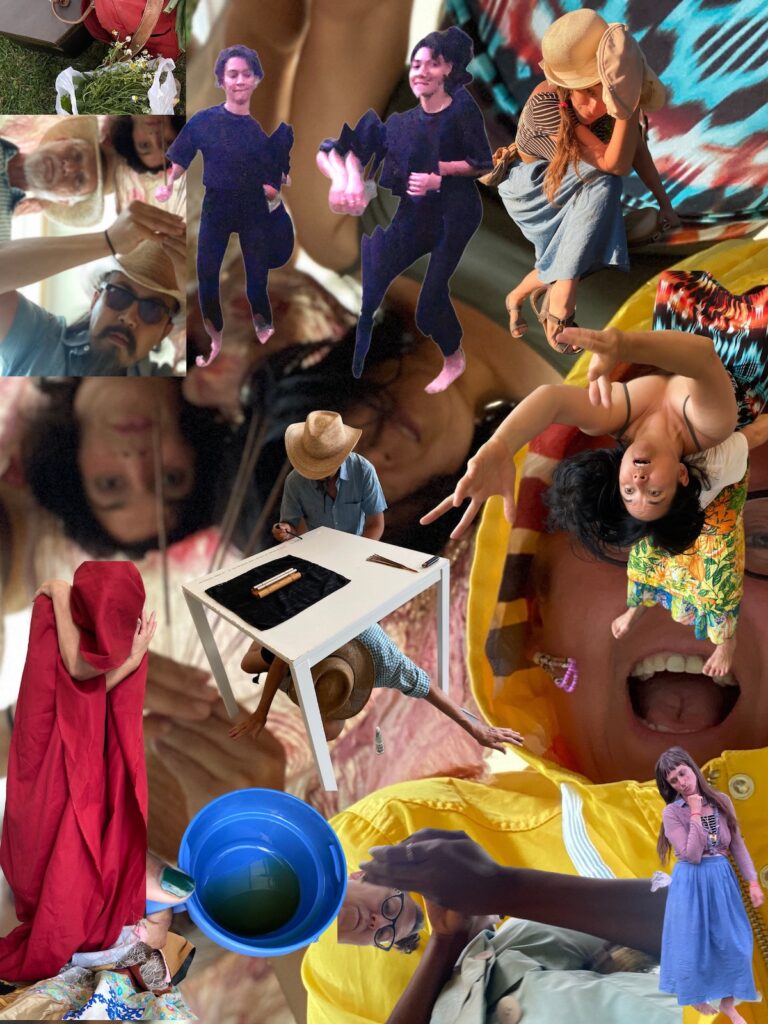 Artist-led embodied research project
Facilitated by lo bil and hosted by FADO Performance Art Centre

Part 1: Tuesday September 6 – Friday September 9, 2022, 11:30 am – 2:30 pm
Part 2: Monday September 12 – Friday September 16, 2022
Public showing: Saturday September 17, 2022
Bachir/Yerex Presentation Space
The Commons @ 401 (4th floor)
401 Richmond Street West, Toronto
COMPASS is an on-going participatory research project and an opportunity for performance artists to develop the possibilities of solo practice while in a group setting. Devised by lo bil, COMPASS offers sites for co-presencing while in artistic process and a venue to negotiate the artist-audience exchange.
Each COMPASS session offers artists the space and time to work on their own practices concurrently with other artists. In this, we notice pathways between co-working artists; responses to correlative energetic states that might deepen artistic assemblage; and the integration of action-based witnessing. The aim is to support one another through presence and to find ways to be together in a studio that invites moving in unusual ways but doesn't impose one way of working. You decide on the space and tone of the atmosphere you need and the degree to which others working around you influence your work.
While this is performance-artist-based invitation, there is no imperative to perform for others. Through presence and attending to what you wish to do, you are potentially helping others attend to doing something they wish to do. Artists can use the time and space in any way they wish, however it is important to note that this project makes space for different forms of movement to occur.
This iteration of COMPASS in Toronto has two parts.
PART 1
We are seeking artists who wish to spend 2–3 hours between September 5–9 in a process of navigating shared space while engaging in their own performance practice. Each session will be very open for experimental approaches, varying levels of public interaction, and is intended as real-time embodied research. Each artist will discover for themselves the benefits and challenges of working in this way. Artists may choose to attend one or more sessions.
PART 2
From September 12–16, a smaller group of artists from the first week will continue to develop the discoveries they have encountered, working towards a public showing on the afternoon of September 17. Artists involved in this second week of COMPASS will be paid a small honorarium for their participation.
We welcome proposals from artists who cannot be physically present at COMPASS sessions to connect via video call or to offer provocations for public to engage in. All contributions, whether in-person or remote, will be credited. Everyone from emerging to established artists are welcome to join. Artists are also welcome to drop by during the first week or the final showing to see what's up and/or to participate in unexpected ways.
If you would like to join COMPASS for one or more days, send an email to: [email protected] and use the subject line: COMPASS / FADO. Please include:
your name and contact details;
which dates you would like to join us between September 5–9;
an artist statement or description of your art interests;
a short proposal of how you would use the space and time (not knowing is always a possible option).
This is not a review process. All proposals will be accepted. Asking for an brief outline of your proposal for the space and times helps us make space for everyone that wants to join in. Please note that the space will be open for anyone to join on any day.
lo bil is a cis-gender queer working class white woman, a Toronto-based second-generation Canadian performance artist who experiments with risk-based performance involving spontaneous utterance, sensory impulse, personal risk, and inter-relational proposals with the public. lo will be developing COMPASS through a juried residency at Studio 303 in Montréal in August 2022; teaches performance-based art at Sheridan College; movement for actors at Toronto Film School; and has created guest-artist activations at Toronto Dance Theatre, O Vertigo Creation Center, LeParc Performing Arts Research Cluster, Concordia University, University of Toronto, Toronto Dance Community Love-in and School of the Alternative in North Carolina. lo has performed at festivals including: 7a*11d International Festival of Performance Art, AGO First Thursdays, Luminato (online), Rhubarb!, Summerworks, Fringe, Nuit Blanche, Duration & Dialogue, ps We Are All Here, Pi*llOry, Short & Sweet (Toronto & Guelph), Month of Performance Art-Berlin and LADA DIY (Glasgow).