HADŽIFEJZOVIĆ, Jusuf
Bosnia and Herzegovina/Belgium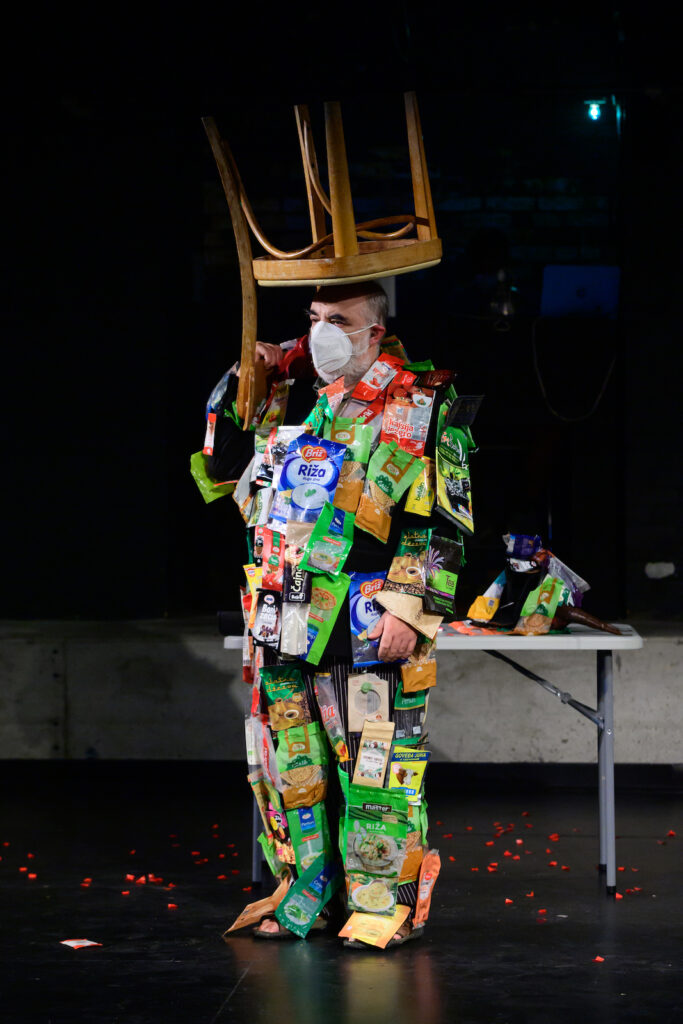 Jusuf Hadžifejzović, The Glory of Emptiness 7a*11d 2022 PHOTO Henry Chan
The Shop of Emptiness
Tuesday September 6 – Friday September 9 11 am – 4 pm
Ada Slaight Gallery, OCAD University, 100 McCaul Street, second floor
(Free)
The Glory of Emptiness
Friday September 9 7 pm
Theatre Centre, 1115 Queen Street West
(Pay-What-You-Can)
Drawing on the rich history of conceptual art, the artist continuously collects objects from everyday life and places them into a new value system which he creates by transforming them into gallery and performance presentations—a working method and practice that he calls depotgraphy. Hadžifejzović's gallery Charlama Depot in Sarajevo contains two permanent exhibitions, The Museum of Discarded Objects and The Shop of Emptiness. For this durational performance, the artist will set up a store to sell emptiness(es), contained in the empty packages of products he has consumed and collected in Sarajevo since he was invited to perform in 7a*11d. He will  continue to consume and collect objects during his stay in Canada.
Jusuf Hadžifejzović is a Bosnian-Herzegovinian artist with an international career. He lives and works in Sarajevo and is known for his performance practice, installation, and depotgraphy. In recent years he has been also been producing "celebratory-analytical painting." He studied at the Belgrade Academy of Fine Arts under professor Stojan Ćelić and completed his postgraduate studies at the Kunstakademie Düsseldorf under the supervision of Professor Klaus Rinke. He is a founder of the project Yugoslav dokumenta, and was one of the founders of the art collection Ars Aevi. As the director/curator of the contemporary art gallery Charlama Depot in 2009 he organized SubDokumenta in Center Skenderija where the gallery still operates as the Centre for Cultural Activities (CKA) Charlama.  He has exhibited and performed internationally from Berlin to South Korea.
See some of Henry Chan's photos documenting these performances, as selected by James Knott, on Instagram or Facebook.
Critical review Soft Transmissions by Shalon T. Webber-Herffernan