2BEARS, Jackson & ROGERS, Janet (2Ro Media)
Six Nations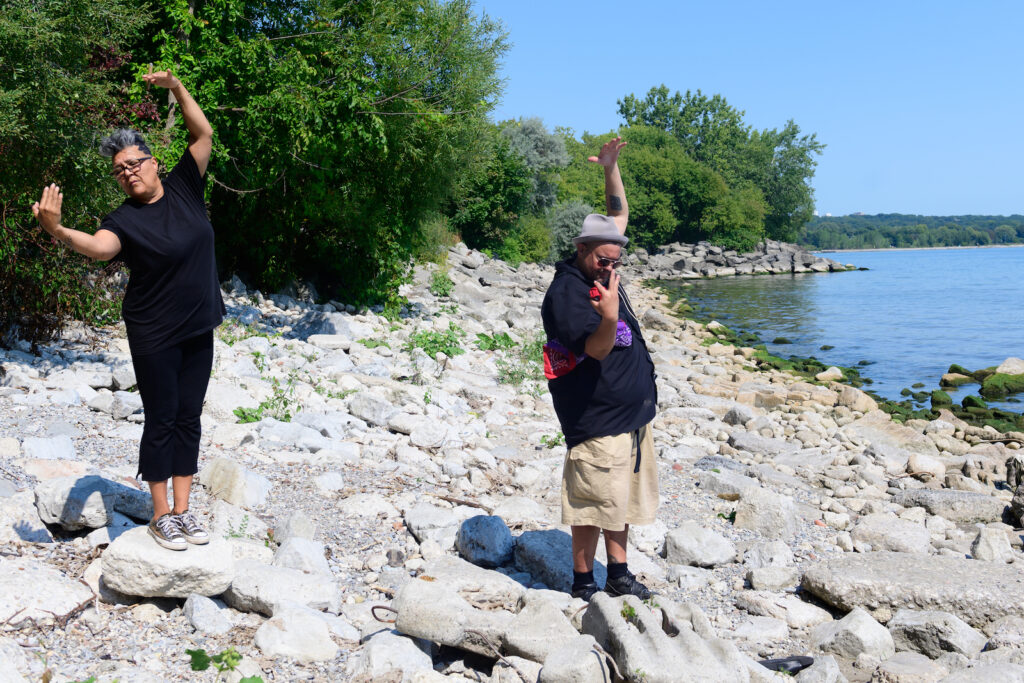 Janet Rogers and Jackson 2bears of 2Ro Media, Medicine Shadow 7a*11d 2022 PHOTO Henry Chan
Medicine Shadow
Friday September 9 9 am
City Yard, 1116 King Street West (near Dufferin Street)
Friday September 9 11 am
Leslie Grove Park, 1158 Queen Street East (near Jones Avenue)
Friday September 9 1 pm
Woodbine Beach Park, 1675 Lake Shore Boulevard East
(All events free, outdoors)
We are interested in the spatiality of storytelling—how stories can be dimensional as well as durational; how narratives are intricately interconnected with 'place,' the landscape, and the environment. As Onkwehonwe (Indigenous people) we understand the landscape as a living, animate, and embodied archive. With this project, we are interested in exploring the idea of spatial-storytelling, and the ways we are immersed in story—sometimes through song, dance, or simply by traversing and crossing territorial narratives—and the spirit-residue (Medicine Shadows) this leaves on the land. This project is about performative storytelling, and our relationship to the living archive of the 'places' we occupy as Onkwehonwe.
Jackson 2bears is a Kanien'kehaka (Mohawk) multimedia installation/performance artist and cultural theorist from Six Nations and Tyendinaga, who is currently based in Lethbridge Alberta, Canada—Treaty 7, Blackfoot Territory.
Janet Rogers is a Mohawk/Tuscarora writer from the Six Nations band in Ontario. Janet works in the genres of poetry, spoken-word performance poetry, video poetry, recorded poetry with music, and script writing.
The artists work together as 2Ro Media.
See some of Henry Chan's photos documenting these performances, as selected by James Knott, on Instagram or Facebook.
Critical review Soft Transmissions by Shalon T. Webber-Herffernan