MCKEOUGH, Rita
Canada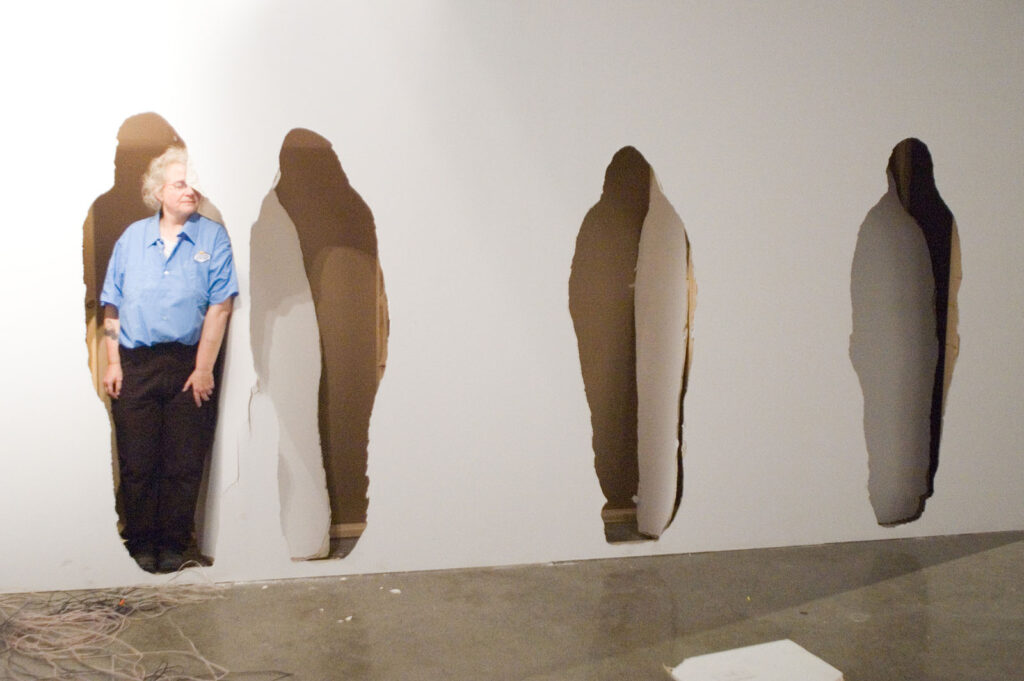 Rita McKeough, Long Haul 7a*11d 2006 PHOTO Dave Kemp
Long Haul
Friday October 27 and Saturday October 28 11 am – 6 pm (installation)
(the artist will be at the space at 1 pm, 3 pm & 5 pm, in between outdoor walking performances)
OCAD Professional Gallery
Accompanied by a motorized tree, the artist combs downtown Toronto for fragments of natural material like leaves and branches found lying on the sidewalks or streets. These fragments are tagged with a sound chip circuit, allowing the voice of the fragment to be heard as it is transported back to the exhibition space. Once within the built environment, the fragments will be reconfigured and integrated into the office space, engaging in a dialogue with the architectural components and visitors to the space. The collected fragments create a chaotic and uncontrolled chorus of overlapping voices. Long Haul re-imagines a relationship to nature within the context of the built environment. The project examines an architecture that attempts to supply the needs of its inhabitants and draws a comparison to the natural world's effort to survive within the city.
Rita McKeough is a Halifax-based audio, media installation and performance artist. She has exhibited extensively in Canada for nearly thirty years and has presented her work internationally. She has taught at art institutions throughout Canada and has been a drummer in a number of independent bands. McKeough has maintained a commitment to artist-run centres, community-based art and music based-initiatives. She insists that she has been fortunate to have the support and assistance of her friends and community to produce her work. For Long Haul, she will be assisted by Robyn Moody.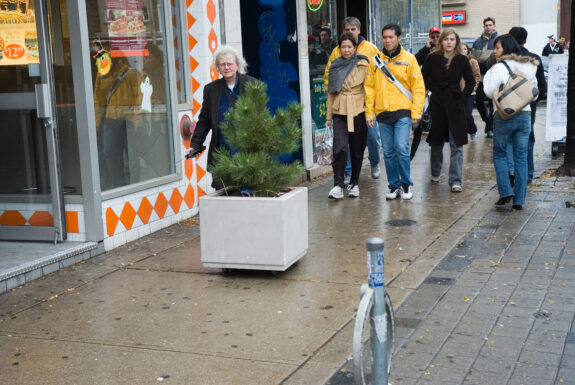 Éminence Grise extended biography
In the opening performance of her Take it to the Teeth installation in 1993, Rita McKeough chewed up an entire gallery wall, tearing off pieces, tasting them, and spitting them out.
"It was about how memories reside in the body and mind, and how they come out a bit distorted. I used the idea of the digestive system as an interesting way of getting rid of those memories."
"Humour is something that's always been there in my work, even if it's just very subtle."
McKeough attended the University of Calgary for her BFA, and received her MFA at NSCAD in 1979. Through experiences working at a radio station and as a drummer in a band, she began fusing elements of sound into her sculptures.
"Being a drummer influenced a lot of my interests… I became interested in installation and performance because it was a way of bringing audio into my work."
McKeough has taught at ten art schools, including the University of Manitoba and the University of Calgary, and she has been teaching media arts courses at NSCAD since 1999. She has been actively exhibiting and performing across Canada since the late 1970s.
"I always seek to create an environment, it's the process of gathering information on a search through space."
Project Acknowledgments

Rita Mckeough would like to thank everyone who helped with this installation. Without your support it simply would not have been possible:
Robyn Moody – for his dedication and assistance with everything on this project; technical design and fabrication, installation assistance, problem solving and friendship. Thank you for this work, Robyn
Chris Alcock – technical consultation and fabrication
Johanna Householder – for organizing everything in Toronto and for bravery beyond the call of duty.
Thank you for this work.
And to:
Don Simmons, Tom Jonsson, Shara Rosko, Rachel Melas, Connie Nowe, Jocelyn Tremblay, Claire Despair, Lorena Salome, Phillip Sportel, Jill Wiggle, Gaby Van Der Velde, Angelo Pedari, Steve Higgins, Heather Pentz, Jen Simantis, Pamela McInnis, Jennifer Macklem, Sue Johnson, Jude Major, Cath Bray
OCAD: Charles Reeve, The OCAD Professional Gallery, Christine Swiderski, Lisa Deanne Smith, Margaret Grisdale, Patricia Pasten, Bill Barkhouse
The 7a*11d Collective: Gale Allen, Jim Drobnick, Shannon Cochrane, Paul Couillard, Johanna Householder, Louise Liliefeldt, and Tanya Mars.
And our wonderful volunteers including: Jennifer Valencia, Brenda Goldstein, Darius Fodczuk, and Dave Kemp.
Rita Mckeough and 7a*11d thank the Canada Council For The Arts
Rita McKeough, Long Haul 7a*11d 2006 ©Rita McKeough
Rita McKeough interviewed by Tanya Mars, Toronto 2006