LUCKY PIERRE
USA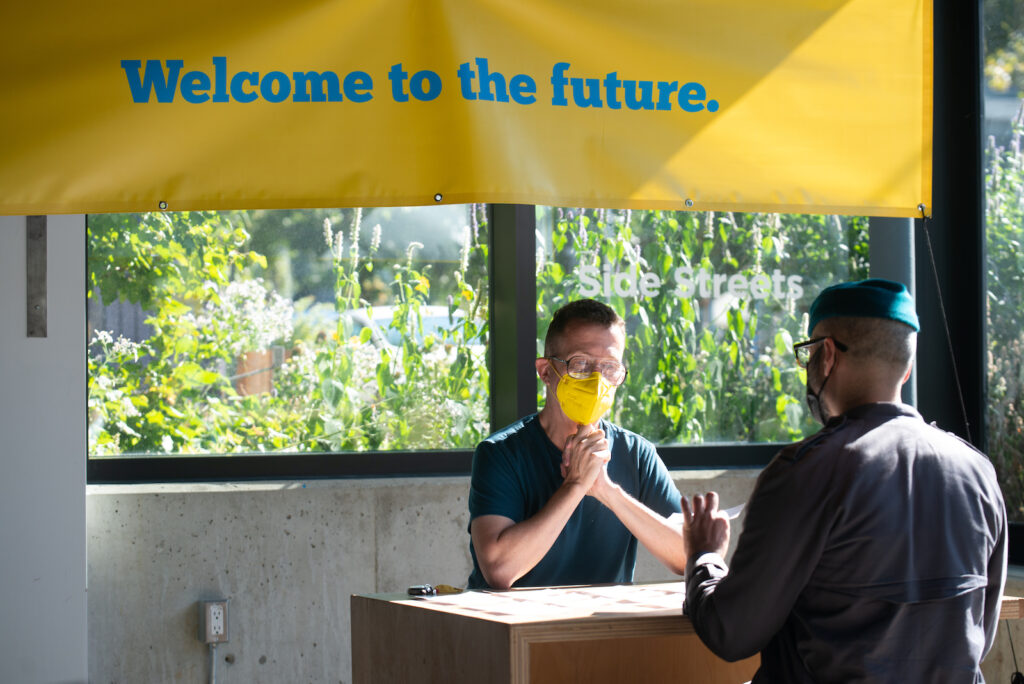 Lucky Pierre, In the Future Something Will Have Happened 7a*11d 2022 PHOTO Henry Chan
In the Future Something Will Have Happened
Wednesday September 7 – Saturday September 10 10 am – 5 pm
Theatre Centre, 1115 Queen Street West
(Free, partially outdoors, advance registration required)
NOTE: Each 45-minute appointment for In the Future Something Will Have Happened, occurring on the hour, is for a single audience member. The performance will begin at the Theatre Centre and will include an outdoor walking portion. BOOK A SPOT
Working through themes of algorithmic control and finance-driven ecological collapse, this performance for a single audience member includes a brief introduction by Lucky Pierre, followed by a shared walk through the streets of Toronto. Without relying on the connectivity of the digital info-sphere, and using direct observation, we will document our journey. The performance will be repeated with different audience members throughout the festival culminating in a public presentation of our collected findings—the traces, artifacts and ideas generated by shared walking. Let's move together from the digital probable to the embodied possible.
In the Future Something Will Have Happened is part of Future.Perfect, Lucky Pierre and Lucky Pierre Free University's ongoing project exploring algorithmic/digital control and possibilities for creating connection and solidarity beyond the ever accelerating demands of the digital network.
Lucky Pierre is an internationally recognized Chicago-based art making collective working in performance, writing, objects, events, education and activism. Since 1993, they have collaboratively created numerous works, initiatives and events. In 2012 the group launched LPFU (Lucky Pierre Free University), a venue for research-based group learning and creation. Collective members contributing to this work include Ian Hatcher, Kevin Kaempf, Heather Lindahl, Matthew Nicholas, and Michael Thomas. Michael Thomas, Ian Hatcher, and Heather Lindahl will be in Toronto for the 7a*11d iteration.
See some of Henry Chan's photos documenting this performance, as selected by James Knott, on Instagram or Facebook.
Critical review Soft Transmissions by Shalon T. Webber-Herffernan