AIYEDOGBON, Taiwo
Nigeria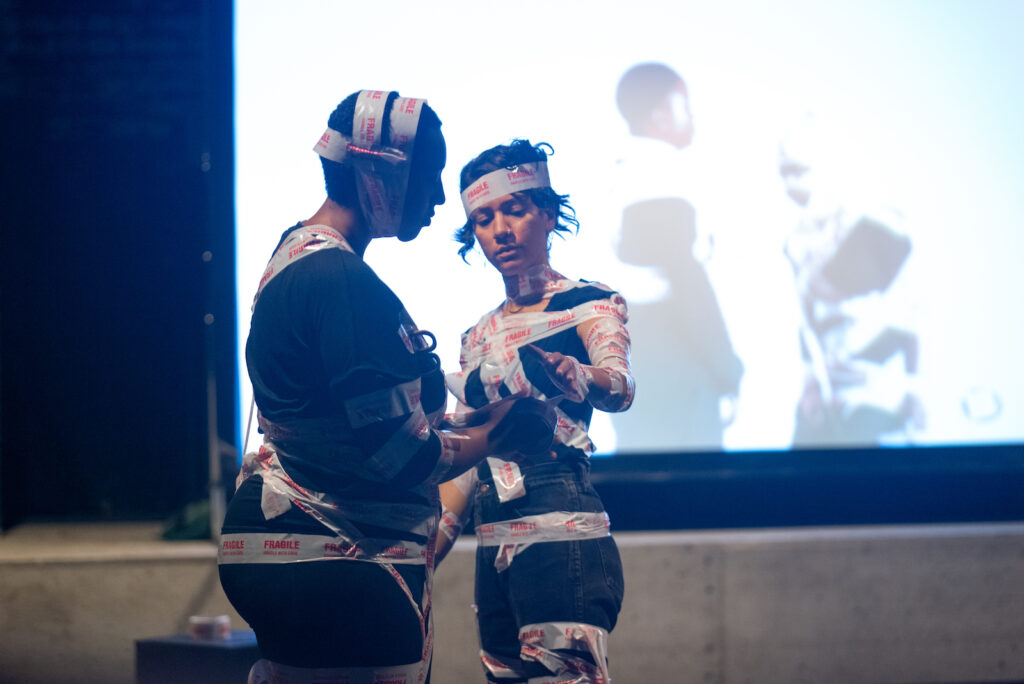 Blane Solomon and Claudia Edwards perform in Taiwo Aiyedogbon's Fragile Space 7a*11d 2022 PHOTO Henry Chan
Fragile Space
Wednesday September 7 7 pm
Theatre Centre, 1115 Queen Street West
Featuring Claudia Edwards and Blane Solomon
(Pay-What-You-Can)
Taiwo Aiyedogbon actualizes self-expression through diverse forms of dialogue and engagement using experimental drawing, sculptural installations, and performance. She is currently focused on creating environmental and culturally motivated performances where costumes, audience and spaces are classified as symbolic context.
Taiwo Aiyedogbon is a Lagos-based visual and performance artist who graduated from the Department of Fine Art at the Yaba College of Technology in 2017. She has participated in exhibitions and performances including African Time Restaurant (Malmö, Sweden 2015), Ipele at the National Museum (Lagos, Nigeria 2017), Threshold as part of the inaugural Lagos Biennial (Lagos, Nigeria 2017), Flip (Kumasi, Ghana 2019), Mirror Mirror at Artx, Federal Palace (Lagos, Nigeria 2019), Asiwaju, The journey through reviling the woman at the Treehouse (Lagos, Nigeria 2021) and Gèlèdè, The Project at the FRIISLAND center for performancekunst (Copenhagen, Denmark 2022).
Unfortunately, Canada's current visa process for visitors from Nigeria takes many months, which made it impossible for the artist to travel to Canada for this year's festival. Instead, the artist provided a video document and a performance score that was performed by local artists Claudia Edwards and Blane Solomon.
See some of Henry Chan's photos documenting this performance, as selected by James Knott, on Instagram or Facebook.
Critical review Soft Transmissions by Shalon T. Webber-Herffernan