BARBER, Bruce
Canada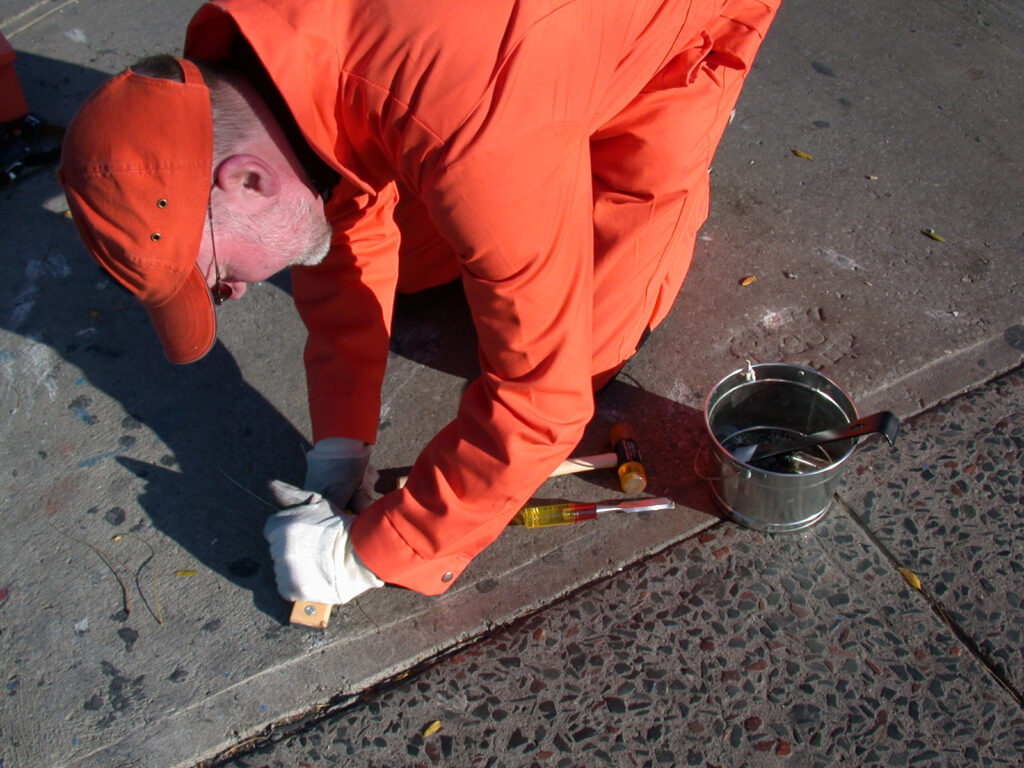 Bruce Barber Diddly Squat (three performances about money) 7a*11d 2002 PHOTO Miklos Legrady
Diddly Squat (three performances about money)
Friday November 8 2 pm to Saturday November 9 8 pm (30 hrs)
Queen St W from Bathurst St to University Ave, Spadina Ave from Queen St W to Art System
The first will consist of me Performing 30 hours of community work.
The second will consist of my public nomination of a vacant building in the city as an official squat by placing the internationally recognized squat sign on the door and/or a window of the building.
The third will be at the conclusion of my community work.
Bruce Barber was born in Auckland, New Zealand and currently lives in Halifax, Nova Scotia. He received an M.F.A. from the University of Auckland and the Nova Scotia College of Art and Design (NSCAD). He went on to teach at NSCAD, Simon Fraser University, and The Banff Center. He has shown his work in solo and group exhibitions worldwide and publishes regularly in Fuse and Parachute with major essays in Performance by Artists (1980), Performance Documents and Text(e)s (1982), A Book Working (1980-82), and Living Art (1979).
Bruce Barber, Diddly Squat (three performances about money)
Canada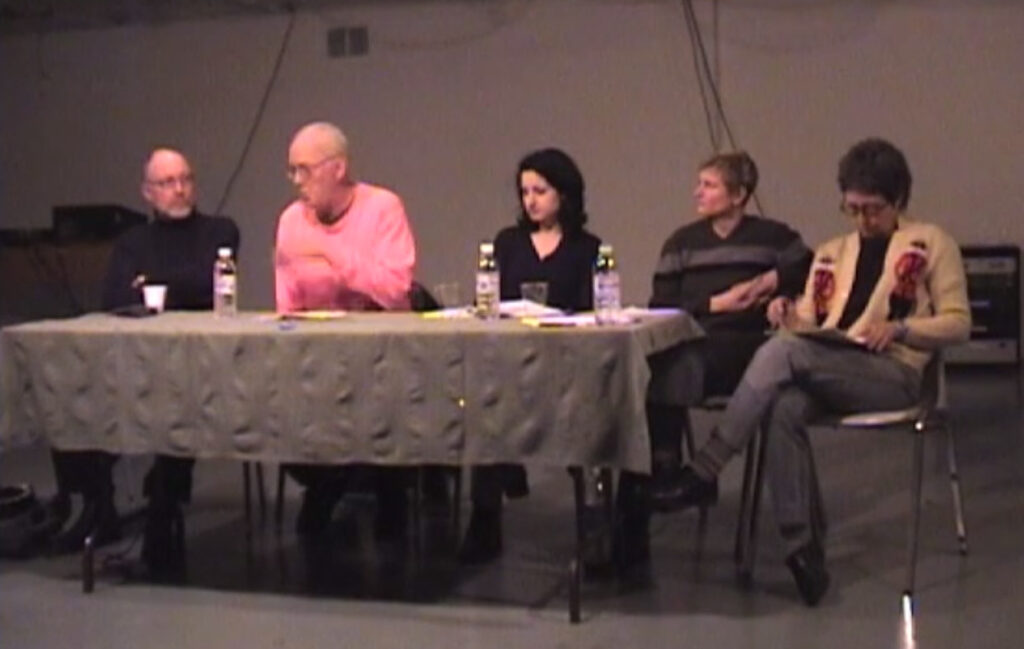 Images versus Iconoclasms or shooting sacred cows from a train of thought (panel discussion) 7a*11d 2002 VIDEO STILL
Images versus Iconoclasms or shooting sacred cows from a train of thought
Sunday November 10 2 pm
Art System
Panel discussion featuring Bruce Barber, Tagny Duff, Alissa Firth-Eagland and Clive Robertson; moderated by Johanna Householder
We are like Benjamin's angel being blown backward —looking at the debris piling up from five decades of performance (art). As much as we struggle against the idea of lineage, we waver between the peddling of an iueconoclastic one-upmanship, feminist autonomy and the autodidact enfant sauvage. Artists, curators, critics, pedagogues — how do we differently manipulate the history of what we do, and what is at stake? Who does performance art history belong to? Did Paul McCarthy beget The Osbournes? Are images of political action, political action? Is history fatal? (with apologies to Clive)
Images versus Iconoclasms panel discussion, 7a*11d 2002