2016 • 11th 7a*11d Festival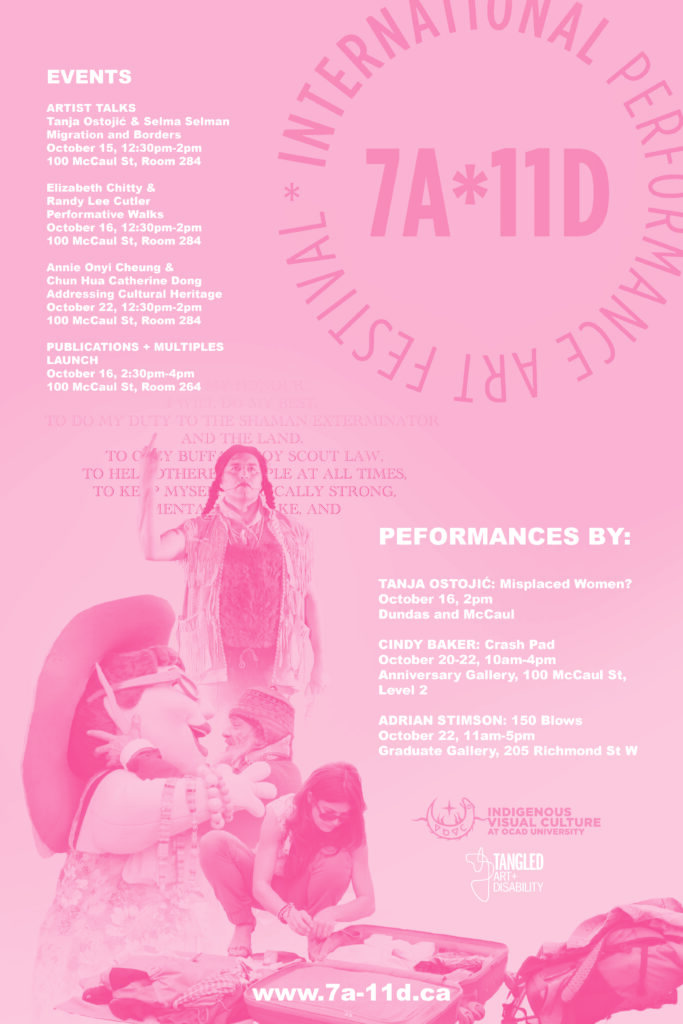 Welcome to the 7a*11d International Festival of Performance Art, active in Toronto since 1997.
The 11th edition of the 7a*11d International Festival of Performance Art takes place in Toronto from October 13 to 22, 2016. Organized by the Toronto Performance Art Collective, an incorporated non-profit collective of artists, 7a*11d has built a platform for new and progressive performance art works from emerging and established artists. The collective invites performance artists from around the world to showcase the breadth and depth of contemporary performance art.
The main venue for this year's evening events is Geary Lane, while daytime activities will take place at a variety of locations, including the Theatre Centre and OCAD U.
Publications and Multiples Launch
Publications and Multiples Launch Sunday October 16 2:30 pm OCAD U | 100 McCaul St Room 264
Parallel Events
Toronto: Tributes + Tributaries 1971-1989 Performance Series Art Gallery of Ontario October 1 to November 13
Performance Art Daily
Performance Art Daily is a lunchtime artist "talk show" series featuring discussions with and among many of the festival's visiting artists and organizers. It is an opportunity for the festival audience to meet and converse with our invited artists. Engage with the artists about the subjects that concern them and raise your own questions about performance art's hot-button issues. Find out more about the ideas and theories that drive performance. Learn more about how performance art is produced and presented in other communities. The talks will be recorded live and archived online.
A 7a*11d tradition since 2010.
Éminences Grises
noun (pl.) persons who exercise great power or influence secretly or unofficially
Inaugurated in 2002, this aspect of the festival highlights our commitment to bringing forward a lived history of performance art by presenting the work of key Canadian artists. We celebrate artists who have helped to establish, shape, and embody performance art in Canada. This year we are pleased to honour a solo artist, Elizabeth CHITTY, and a duo, Hélène DOYON and Jean-Pierre DEMERS (a.k.a. DOYON/DEMERS) who have performed from coast to prairie to coast—and whose influence is extended through their art practices and their teaching. Click on their artist links for a more in-depth consideration of their practices in their own words.
previous Éminences
2002 Bruce BARBER (NS)
2004 Cheryl L'HIRONDELLE (SK)
2006 Rita MCKEOUGH (NS)
2008 Robin POITRAS (SK) and Glenn LEWIS (BC)
2010 Michael FERNANDES (NS) and Sylvie TOURANGEAU (QC)
2012 Margaret DRAGU (BC) and Nobuo KUBOTA (ON)
2014 Berenicci HERSHORN (ON) and Clive ROBERTSON (ON)
Festival Eyes and Ears
Missed an event, or just want another perspective on what happened? Follow our festival blog at 7a-11d.ca/festivalblog. Updated daily, the blog contains critical writing by this year's commissioned writers, Jessica KARUHANGA and Michelle LACOMBE, as well as photographs by our festival photographer, Henry CHAN. Also enjoy Margaret DRAGU's daily livestream of VERB FRAU TV at 4 pm.
Follow us on twitter @7a11d for live updates on the festival, and remember to hashtag your tweets with #7a11d to share your thoughts and photos with others!
Henry CHAN (photographer) has been documenting performance art in Toronto since 2006. He has photographed the activities of FADO Performance Art Centre for the last 10 years, six of the 7a*11d festivals, as well as events, exhibitions and performances at various arts venues. When he is not using a camera, Henry is crunching numbers and pushing paperwork as an accountant.
Jessica KARUHANGA (blog writer) is an artist currently based in Toronto. She holds a BFA from Western University, and a MFA from University of Victoria. Her visual art and performances have been presented internationally at Goldsmiths, Deluge Contemporary Art, Whippersnapper Gallery, OCAD U, Videofag, Electric Eclectics, and The Drake Hotel. Karuhanga was featured in FADO Performance Art Centre's 2014 Emerging Artist Series at Xpace Cultural Centre. She has lectured at The Power Plant, Art Gallery of Ontario, Royal Ontario Museum as well as Black Portraitures a biennial conference organized by Tisch School of the Arts at NYU.
jessicakaruhanga.com
Michelle LACOMBE (blog writer, Montreal, QC) has developed a conceptual body-based art practice since her graduation from Concordia University in 2006. Her work has been shown in Canada, the USA, and Europe in the context of performance events, exhibitions and colloquiums. Her practice as an artist is paralleled by a strong commitment to supporting alternative models of dissemination and live art practices. She has worked with a number of Montreal artist-run centres such as articule and La Centrale Galerie Powerhouse, and is currently the director of VIVA! Art Action, a biennial performance art festival. In addition, she has had numerous and varied experience curating, writing, and resisting dominant culture.
Venues/Locations
Geary Lane
360 Geary Ave
(off Dufferin St just north of Dupont St)
Art Gallery of Ontario
317 Dundas St W
(3 blocks west of University Ave)
OCAD University Anniversary Gallery
100 McCaul St, 2nd floor
(just south of Dundas St W)
OCAD University Graduate Gallery
205 Richmond St W, Ground floor
(two blocks west of University Ave)
OCAD University Rms 264 & 284
100 McCaul St, 2nd floor
(just south of Dundas St W)
The Theatre Centre
1115 Queen St W
(just west of Dovercourt Rd)
Offsite Locations
Randy Lee CUTLER walks in High Park & Chinatown: Note advance registration is required for the events at these sites.
Tanja OSTOJIĆ offsite near OCAD U; find out the location at the Sunday Performance Art Daily, or check our website on the day of the performance.
Online
The daily link for the livestream of Verb Frau TV will be posted on our website approximately half an hour before each edition (roughly 3:30 pm)