RAVENS, Joseph
USA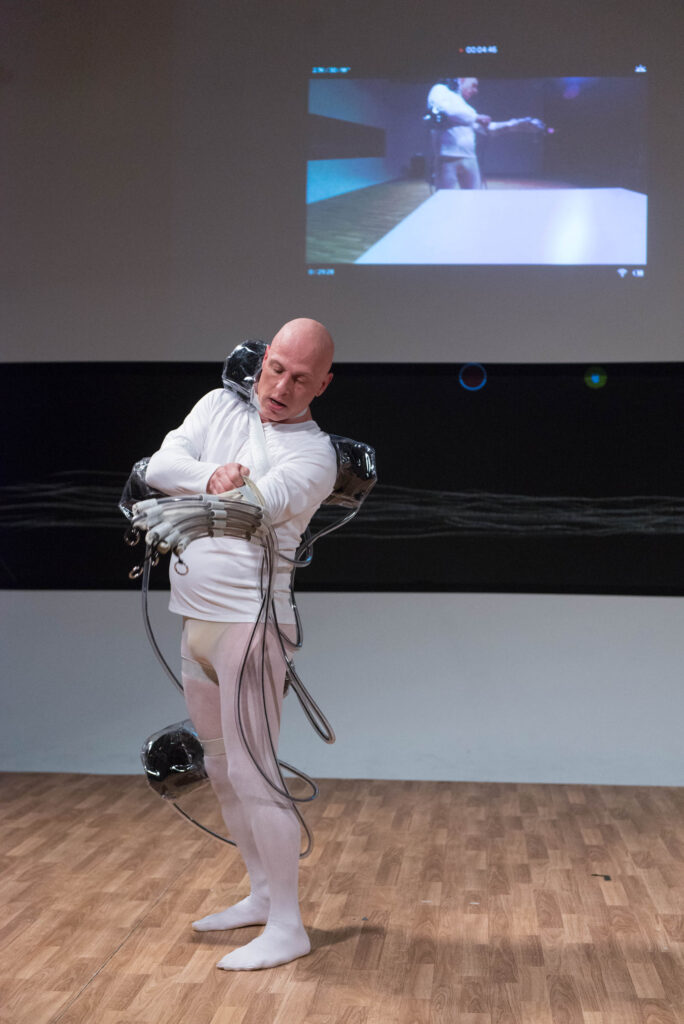 Joseph Ravens, s c r a t c h 7a*11d 2016 PHOTO Henry Chan
s c r a t c h
Friday October 14 7:30 pm
Geary Lane
concept by Marianne M. Kim and Joseph Ravens
videography by Marianne M. Kim [http://mariannekim.com/]
sculptural objects by Joseph Ravens
What evolutionary craving are we satisfying when we watch cats on the Internet? A vestigial response to something we no longer need? Why are cats the gatekeepers to our subconscious? s c r a t c h questions how technology creates shortcuts to our primal impulses, unveiling a clearer portrait of the 21st-century
Western mind. Video, wearable sculpture, and reinvented objects are folded into a cyborgian meditation on the tools we use to calm our inner beasts. We're looking at impermanence, anthropomorphism, and longing; isolation and points of contact; infinity and binaries. We're looking at fish out of water.
Joseph Ravens is Director of Defibrillator Gallery and Rapid Pulse International Performance Art Festival. He studied at the Gerrit Rietveld Academie, Amsterdam, and the School of the Art Institute of Chicago. Ravens was included in Live Biennale, Vancouver; 20th Bienal Internacional de Curitiba, Brazil; Venice International Performance Art Week; and Intrude: Art and Life 366 at Zendai MoMA, Shanghai.
Performance Art Daily - International performance art festivals and venues II with Silvio DE GRACIA, Joseph RAVENS, and moderator Francisco-Fernando GRANADOS, 7a*11d October 20, 2106