BAKER, Cindy
Canada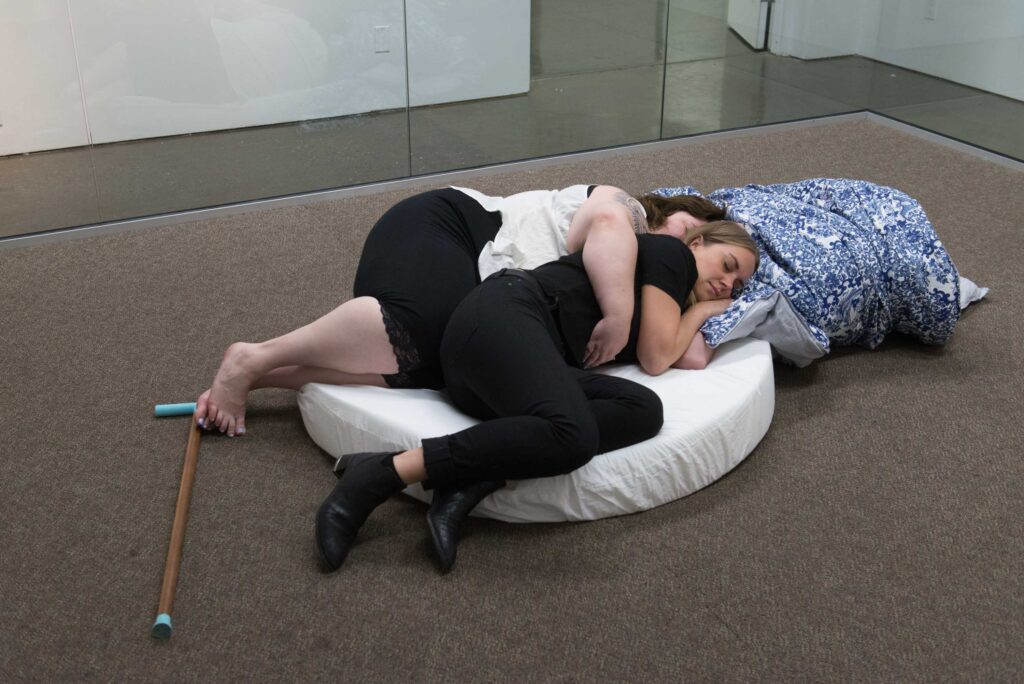 Cindy Baker with audience participant, Crash Pad 7a*11d 2016 PHOTO Henry Chan
Crash Pad
Thursday October 20 to Saturday October 22 10 am to 4 pm
OCAD U Anniversary Gallery

Crash Pad is a performance about the artist's failing, disabled, or otherwise socially taboo body. Most of my performances are designed to be performed by my body at its most functional, but as an artist whose body "fails" more and more each day, I want to learn to make performances that respect this body as it is. Central to Crash Pad is a large sculptural object modeled after a single-pill blister pack, making both an uneasy resting place and a self-rocking cradle. The precarious balance offered by this pseudo-resting place will make up the main element of this quiet performance.
Based out of Lethbridge, Alberta, Cindy Baker's practice is informed by a commitment to ethical community engagement and critical social inquiry drawing from queer, gender, race, disability, fat, and art theories. Baker holds an MFA from the University of Lethbridge where she received a SSHRC grant for her research in performance and the body. She has exhibited and performed across Canada and internationally, including in Los Angeles, Minneapolis, St. Louis, and Finland, and is represented by dc3 Projects in Edmonton.
Co-presented with Tangled Art + Disability and OCAD University.
Michelle Lacombe's eyewitness account
Performance Art Daily - Disabled bodies in performance with Cindy BAKER, Vanessa Dion FLETCHER, and moderator jes sachse, 7a*11d October 19 2016