2000 • 3rd 7a*11d Festival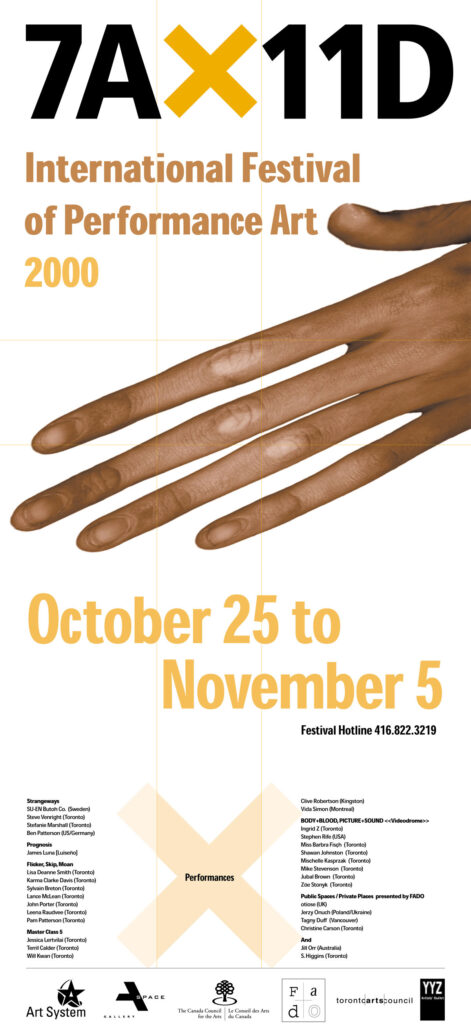 7a*11d's 3rd International Festival of Performance Art takes place in Toronto from October 25 to November 5, 2000. This year we feature artists from Australia, Germany, Sweden, Ukraine, US and UK as well as local and national heroes.
Organized by an unincorporated non-profit group of artists, the festival offers a series of autonomously curated events. A showcase for new and progressive performative works that fall outside the traditional boundaries of established genres, the festival invites emerging and established artists of the highest quality from around the world to present their work. This year's venues include:
Flicker, Skip, Moan…: performances that exemplify the characteristics of light, movement, sound, water, film, video and sugar.
Prognosis: content driven work that explores notions of cultural hybridity.
StrangeWays: works that explore the fantastic and the imaginary; myth and magick, nonsense, the grotesque, the absurd and the surreal.
=Videodrome= Body + Blood/Picture + Sound: event as experience over spectacle.
Master Class Five: a tag team style action art relay for five artists and twenty five objects
Special performances: works by Jill Orr (Australia), co-sponsored by Le Lieu's Rencontre internationale d'art performance de Québec, and S. Higgins (Toronto)
Public Spaces/Private Places: co-presentations of four new projects curated by Fado Performance Inc.
Experience as Spectacle as: our closing panel and discussion.
7a*11d/ YYZ festival opening: Wednesday October 25 at 8 pm, at YYZ, 401 Richmond St W
Join us for The 7a*11d Festival Kick Off — cocktails, book launch for Live at the End of the Century, and the opening of the YYZ gallery show, with a performance by otiose, Gibraltar Point artists in residence.
Parallel events
These programs were initiated by other organizations and presented as festival co-sponsorships.
Spanning two years and featuring approximately 25 artists from Canada, the US, Europe and Asia, this series provides a broad look at issues of place and relationship. Public Spaces/Private Places explores the elements that turn neutral 'space' into meaningful 'place'. These works examine the degrees of intimacy, connection and interaction that mark the dividing line …