HIGGINS, S.
Canada
Visiting With Big Mum
Tuesday October 31 9 pm
Art System, 327 Spadina Ave, 2nd floor
Visiting with Big Mum is a performance installation inspired by the artist's great great grandmother, a maritime bootlegger, healer and fortuneteller. The piece was presented on Halloween night, traditionally a time for augury and connecting with dead loved ones. Participants were invited one at a time to enter an installation echoing a simple maritime home with cot, table and chairs, and a hot plate, as well as photographs and other memorabilia of Big Mum. The artist served tea and cookies, and offered personal tea leaf and card readings throughout the evening.
S. Higgins is a Toronto artist known who began exploring the relationship between performance and ritual/magick/myth in 1996. She has appeared at 7a*11d and other performance festivals and is a recent recipient of a grant from the Canada Council's Inter-Arts Office.
S. Higgins, Visiting with Big Mum 7a*11d 2000
Canada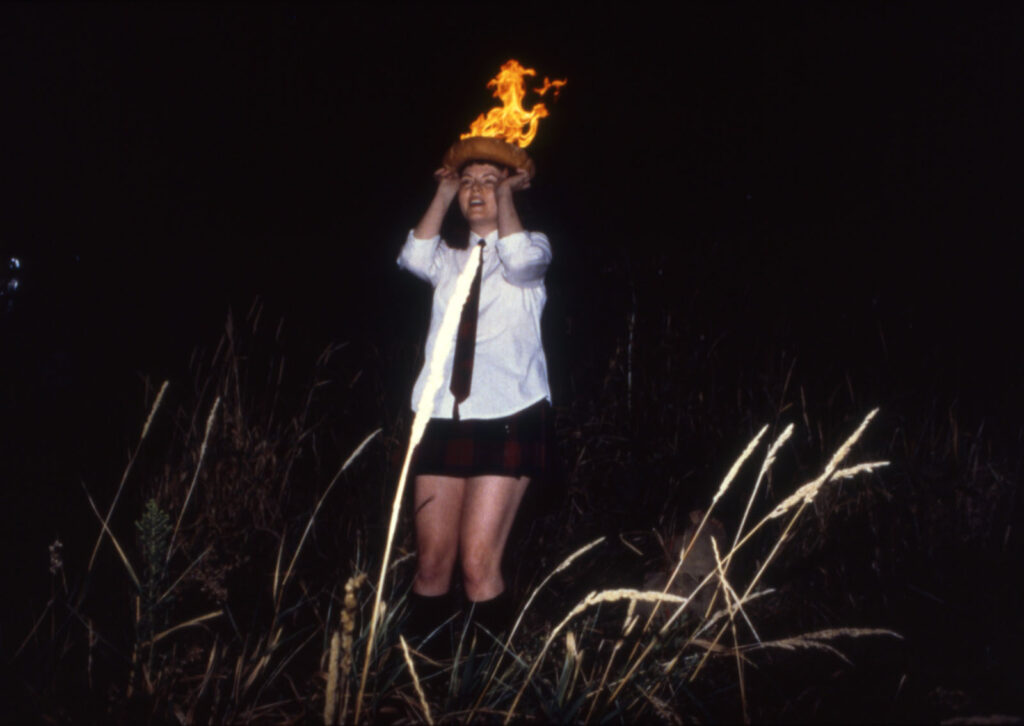 S. Higgins, untitled Into the Wasteland Po-Po/7a*11d 1998 PHOTO Cheryl Rondeau
PO-PO Into the Wasteland
Saturday August 22 10 pm
Front St wasteland (between Spadina Ave & Bathurst St)
PO-PO Samhain in Wasteland
Friday October 30 11 pm
abattoir building wasteland (corner of Niagara St & Wellington St W)
About the PO-PO Wasteland series:
The main intent here is to create an audience participatory event, where the viewer is involved in the work and the space so much so that they are no loner passive but become active participants in the event. To expand the scope of what is thought of as 'performance art' by exposing it to, and to it, another audience, a younger, uninitiated audience, more of a 'general public'. In a temporary unification of disparate communities, the art community and the electronic dance or 'rave' world, both will benefit from some new blood, and cross fertilization of energies. To make art fun and exciting and to somehow bridge the gap between art and life and pop and high culture.
These events are similar in theme and practical application to a series of performance events held in Toronto over the winter of 1997-98, organized by Jubal Brown and Stephen Rife. Entitled the Wasteland Series (I, II & III), large, abandoned industrial spaces were used for site-specific performances and installations by roughly 10 artists each time.