VENRIGHT, Steve
Canada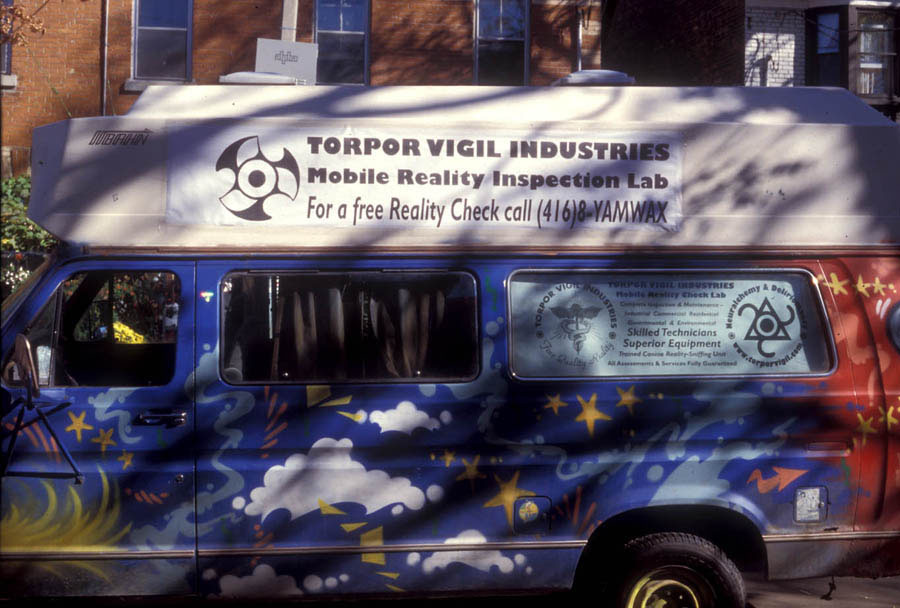 Torpor Vigil Industries van, Steve Venright's T. V. I. Reality Check 7a*11d 2000 PHOTO Andrew Pommier
T. V. I. Reality Check
Monday October 30
throughout the Greater Toronto Area
Curated by S. Higgins & W. A. Davison as part of StrangeWays—Currents of the Fantastic in Contemporary Performance
Steve Venright, accompanied by his crew of Torpor Vigil Industries service technicians, hit the streets of Toronto in a heavily-equipped T. V. I. Mobile Laboratory van to conduct tests on the density and quality of reality at various metropolitan locations, including university classrooms, restaurants and even the mayor's office at City Hall. In addition to random spot checks, the T. V. I. crew was on call via a published cell phone number for free residential, commercial, industrial and governmental "reality checks." Appropriating the language and techniques of research scientists and service repairmen, and carrying an impressive array of homebrew reality-measuring devices, T. V. I. conducted a series of interventions into the urban landscape.
Steve Venright is the author of four books of poetry in prose and is well known in the Toronto literary scene as both an author and organizer of events. He is also a visual artist whose works frequently appear in books, magazines, galleries, and cafes. Steve made his "performance art" debut in 1999 with the interventionary action Max 4s-10c (inspired by the forests and seas of Surrealist painter Max Ernst), a "transmutopian" poetic assault on the Toronto Eaton Centre.
Steve Venright, T. V. I. Reality Check 7a*11d 2000
Canada
Experience as Spectacle as
Sunday November 5 3 pm
YYZ Artists' Outlet, 401 Richmond St W
With panelists Tagny DUFF (Vancouver BC) with John DUMMET (UK), Kym PRUESSE (Toronto), and Clive ROBERTSON (Kingston ON); moderated by Johanna HOUSEHOLDER.
It may be understood that spectacle itself is a charged word, and probably connects too directly to Debord alone, so if you want to nominate another term, please do. For our purposes spectacle is the visual and visceral apprehension of the performance event by audience. How much it implies passivity is an open question and in performance art (as in Debord), the term audience itself is somewhat fluid.
There are a  number of works in the festival and in the performance catalogue generally which employ the audience as participants or agents in the realization of the work…. As well there is the notion of Experience as Spectacle raised by the description of =Videodrome=. This could describe the experience of the "audience/participants" (Valie Export's term) in the high pitched environment of performance;  or it could refer to the experience of the artist.
Here a discussion of 'ordeal' performances; or the gradual unfolding of improvisatory performances — as well as the open ended processes of audience interaction — could ensue.
Experience as Spectacle as panel discussion, 7a*11d 2000