2006 • 6th 7a*11d Festival
We are very proud to bring you the 6th 7a*11d International Festival of Performance Art. This year we are pleased to present the work of over twenty artists from around the world who advance the practice and critical discourse of performance art. We are excited to feature the work of our Éminence Grise Rita McKeough (Nova Scotia). The Hard-Working Canadian invitational section of the festival will present the work of Tejpal S. Ajji (Ontario), Claudia Bernal (Colombia/Québec), and Oraf Orafsson (BC). The International invitational includes, Dariusz Fodczuk (Poland), Leena Kela (Finland), Kenny McBride (UK/Poland), Lee Wen (Singapore), Willem Wilhelmus (Finland) and Yoyoyogasmana (Indonesia). The call for submissions brings Racquel de Loyola (Philippines), Rose Hill (USA), Ed Johnson (Canada), Les Fermières Obsédées (Québec), Nahed Mansour (Canada), anti-cool (Japan), and Herma Wittstock (Berlin). Artists cross-listed with Fado's IDea series include Glyn Davies-Marshall (UK), Aiyyana Maracle (Québec), and Vassya Vassileva (Bulgaria). As the diversity of this roster suggests, the 6th 7a*11d International Festival of Performance Art will bring together a provocative mix of approaches, aesthetics, and cultural frameworks.
Rounding out the festival program are: d2d.3 = direct to documentation, our screening program of performance documentation and performances for camera; and new this year, Do Me!, the curatorial project where performance "scores" donated by renowned artists will be interpreted and performed by local artists and performance art students from the Ontario College of Art and Design, the University of Toronto and York University. Finally, Tacit, the traditional panel discussion on the festival closing day; artist talks at OCAD and York University; and artist workshops hosted by the Gendai Gallery and the Toronto Free Gallery.
Parallel Events
Do Me! Curated by DisplayCult, with Dave Dyment and Roula Partheniou October 19 - October 29
Issues of identity are at the centre of IDea, FADO's multi-year international performance art series. Chris Barker writes that cultural politics are about "the power to name; the power to represent common sense; the power to create 'official versions'; and the power to represent the legitimate social world." These powers speak to identity in a …
Éminence Grise
éminence grise n. someone who exercises great power or influence secretly or unofficially.
This program highlights our commitment to bringing forward a lived history of performance work in Canada by presenting an artist who has made a fundamental contribution to the field. The program was inaugurated at the 2002 Festival with the presentation of Bruce Barber, and continued in 2004 with Cheryl l'Hirondelle. This year we are extremely pleased to have Rita McKeough from Nova Scotia.
In the opening performance of her Take it to the Teeth installation in 1993, Rita McKeough chewed up an entire gallery wall, tearing off pieces, tasting them, and spitting them out.
"It was about how memories reside in the body and mind, and how they come out a bit distorted. I used the idea of the digestive system as an interesting way of getting rid of those memories."
"Humour is something that's always been there in my work, even if it's just very subtle."
McKeough attended the University of Calgary for her BFA, and received her MFA at NSCAD in 1979. Through experiences working at a radio station and as a drummer in a band, she began fusing elements of sound into her sculptures.
"Being a drummer influenced a lot of my interests… I became interested in installation and performance because it was a way of bringing audio into my work."
McKeough has taught at ten art schools, including the University of Manitoba and the University of California, and she has been teaching media arts courses at NSCAD since 1999. She has been actively exhibiting and performing across Canada since the late 1970s.
"I always seek to create an environment, it's the process of gathering information on a search through space."
Rita will make a new work, Long Haul, for 7a*11d, collecting evidence of nature in the city to reconfigure an office space upstairs at 285 Dundas St., the week of October 23 to 28, with public performances on October 27 and 28.
Venues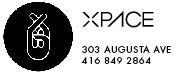 XPACE
303 Augusta Ave

Toronto Free Gallery
660 Queen St E


Ontario College of Art & Design
Professional Gallery, 100 McCaul St


Gendai Gallery (at the Japanese Canadian Cultural Centre)
6 Garamond Court