WILHELMUS, Willem
Netherlands/Finland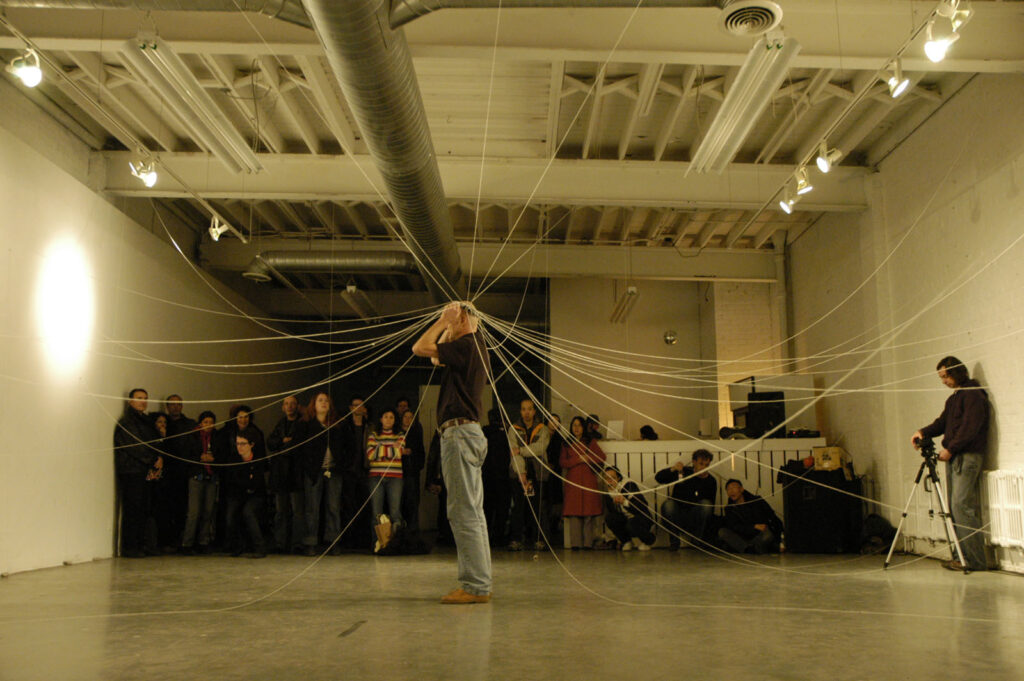 Willem WIlhelmus, The Weight of Questions 7a*11d 2006 PHOTO Henry Chan
The Weight of Questions
Saturday October 28 8 pm
XPACE
In this world of enlightened heroes like politicians, sportsmen, terrorists, businessmen, gurus, famous artists and whatever trademarked darlings of global media, I like the small places offered for performance art. I like to be busy with themes that are recognizable for everybody: the joys and fear of relating, the longing for and shying away from contact, the getting entangled in a swamp of emotions, desperately trying, getting lost in futile attempts for importance, the illusion of certainty. My performances are based on trust in my body. I like its movements, its expressions, and most of all its downright honesty. Preparing for a performance is stripping away all kinds of illusion. The leftover is a need to add something, something else, something new to what life is offering me.
Willem Wilhelmus is an internationally renowned Helsinki-based performance artist and organizer. He has created over forty performances in Finland, Germany, Estonia, Québec, Indonesia, Sweden and Spain. He began his career as a youth social worker and group therapist focusing on body awareness and emotional expression. In Berlin he co-founded the Path Center, and was the project leader of Al Gardo, a therapeutic community for Dutch youth. His work uses simple materials and focused presence, and for 7a*11d he will investigate the differences between Canada and Finland, and between English- and French-speaking Canada.
I prepared the gallery space with randomly placed hooks in ceiling and walls. Through the oozes I put white threads with stones attached. The other ends came to a sort of ring that I put on my head. By slowly moving the stones would move up and down the walls. With stronger movements the threads did break, sending the stones to the floor with a crash.
http://www.willemwilhelmus.com/
Willem WIlhelmus, The Weight of Questions 7a*11d 2006 ©Willem WIlhelmus
Willem Wilhelmus interviewed by Tanya Mars, Toronto 2006