Organized by artist/curator Tagny Duff, Time Zones is a residency project with internationally acclaimed Cuban artists Glenda León and Tania Bruguera. The goal of the residency is to create new works that further the artists' reflections and engagement with time, the commute in-between citizenship and nationhood, and the flight between corporeal and virtual spaces. Bruguera and León begin the residency in Montreal as part of Mois de la Performance, hosted by La Centrale, followed by two weeks in Toronto under the auspices of Fado Performance Inc. and sponsored by the Ontario College of Art and Design. Tania Bruguera will generate documents and archive her travels during two flight commutes between Chicago and Toronto, producing a printed booklet based on her performative commutes. Glenda León will present Every Step is a Shape of Time at OCAD. This performative installation invites the public to create individual and collective aural experiences generated in the lag time between walking and listening.
Artists' residency project presented by Fado Performance Inc. and OCAD
Presented in conjunction with the 5th 7a*11d International Festival of Performance Art
Curated by Tagny Duff
Reception
Wednesday October 20 5 pm
Ontario College of Art and Design (OCAD)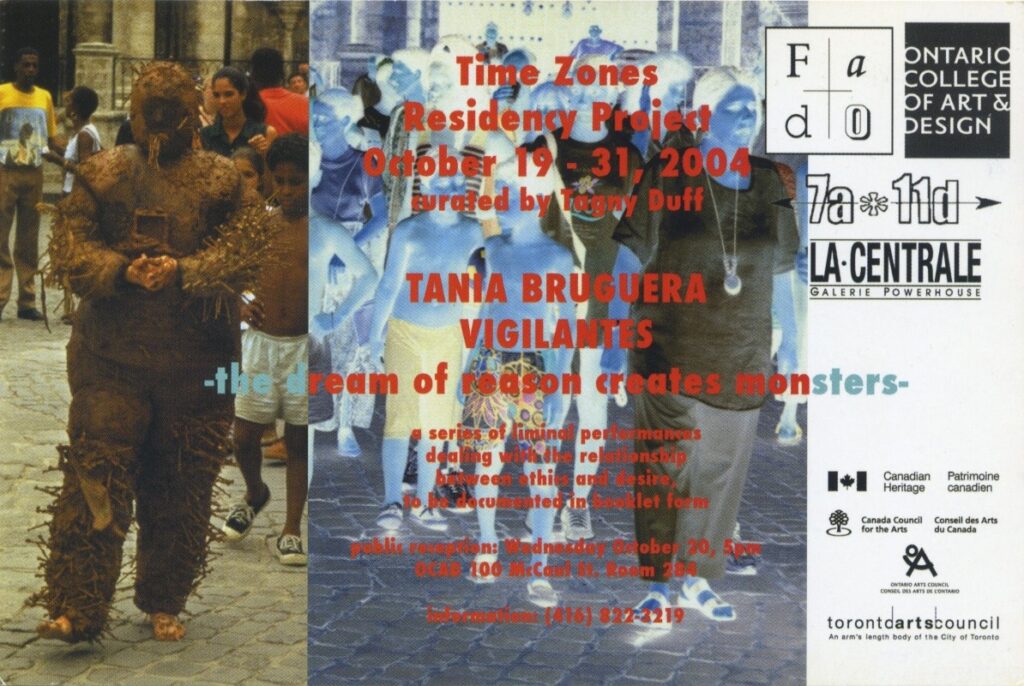 Tania BRUGUERA
VIGILANTES—the dream of reason creates monsters
Tuesday October 19 to Sunday October 31
Screening of video documentation of a performance action done by Tania Bruguera on October 21 at OCAD
Friday October 22 8 pm
XPACE
Glenda LEÓN
Every Step is a Shape of Time (Glenda León)
Friday October 29 7pm
performance installation
OCAD yellow stairwell
Tagny Duff is an interdisciplinary artist and independent producer/curator based in Montreal. Duff's installations, web-based and networked projects, offsite performance and video works have been presented in artist-run centres, performance and media art festivals, and universities across Canada, the US, Cuba, Costa Rica, Germany and Finland.
Tania Bruguera is an interdisciplinary artist working primarily in behavior art, life performance, installation and video. A participant in Documenta 11 (Germany) as well as in several biennales such as Venice (Italy), Sao Paolo (Brazil), Shanghai (China), and Site Santa Fe (United States.) Her work has also been exhibited at The New Museum of Contemporary Art (United States); The Museum of Contemporary Art of Chicago (United States); Boijmans van Beuningen Museum (The Netherlands); Museum für Moderne Kunst (Germany) among others. In 1998 she was selected as a Guggenheim fellow (United States). In 2000 she received the Prince Claus Prize (The Netherlands.). Her work is part of the collection of the Museum für Moderne Kunst (Germany); Daros Foundation (Switzerland); JP Morgan Chase Bank (United States); Museum of Modern Art, artist book collection (United States); Bronx Museum (United States). Bruguera was featured in Fresh Cream (Phaidon Press, 2000); Performance: Live Art since the '60s (Thames and Hudson, Ltd., 2004); Art Tomorrow (Editions Pierre Terrail, 2002); Holy terrors: Latin American women perform (Duke University Press, 2003); Corpus Delecti: Performance Art of the Americas (Routledge, 2000). She has been written about in The New York Times, Le Monde, The Village Voice, Newsweek, Chicago Tribune and Los Angeles Times, and reviewed in Art News, Artforum, Flash Art, Art Nexus, The Nordic Art Review, Beaux Arts, Performance Research, Kunstforum among others. She is the founder / director of Arte de Conducta, the first performance studies program in Latin America, hosted by Instituto Superior de Arte in Havana and is faculty at The School of the Art Institute of Chicago.
Glenda León is an artist and writer. Her acclaimed book La Condicion Performatica (2001), the first overview of performance art in Cuba, received a national award. Her performance interventions, photographic work and video works have been featured in numerous exhibitions such as the Havana Biennial, Museo Carillo Gill (Mexico), Galeria Marta Trava (Sao Paolo, Brasil), the Javits Centre (NYC), and the ArtParis Fair (France). She is the director of the Batiscafo Project (an artist residency program affiliated with Triangle Arts Fund) in Cuba.
FADO's artist page for Time Zones