Beans, Bananas and Yams
Wednesday September 8 to Saturday October 23
Reception: Wednesday October 20 7 pm
YYZ Artists' Outlet | 401 Richmond St W Suite 140
An exhibition in conjunction with the 5th 7a*11d International Festival of Performance Art
Co-presented with YYZ Artists' Outlet
Curated by Dave Dyment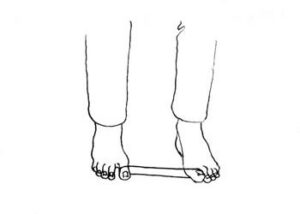 Performance Art, Happenings, and Events began alongside other movements in contemporary art that opposed the commodification of art and aimed towards its dematerialization. Of them all – Land and Earth Art, Conceptual Art, Minimalism, Correspondence Art – the fugitive spirit can best be embodied in Performance.
The works are intended to be experienced live, not through a detached second-hand medium. To watch a film of a performance gives the impression that one has seen it, or at least can imagine what it might have been like to see it. As such Beans, Bananas, and Yams eschews second-hand representations of the event and focuses, instead, on relics and residue which do not profess to offer a false experiential substitute.
—from "This Is Not A Story My People Tell" by Dave Dyment in YYZine.
Relics, Residue and Ephemera offerings from: Vito Acconci, Bas Jan Alder, Laurie Anderson, George Brecht, Joseph Beuys, Chris Burden, James Lee Byars, John Cage, The Clichettes, Paul Couillard, Martin Creed, Jan Dibbetts, Marcel Duchamp, Fluxus, Simone Forti, Vera Frenkel, Ken Friedman, GAAG, General Idea, Dan Graham, Rodney Graham, Al Hansen, Geoffrey Hendricks, Ed Johnson, Allan Kaprow, Yves Klein, Allison Knowles, Alvin Lucier, Christian Marclay, Kelly Mark, John Marriott, Gordon Matta-Clark, Meredith Monk, Linda Montano, Bruce Nauman, Hermann Nitsch, Daniel Olson, Yoko Ono, Nam June Paik, Genesis P-Orridge, Sandy Plotnikoff, Mathew Sawyer, Carolee Schneemann, Michael Snow, Annie Sprinkle, Elizabeth Stephens, Ben Vautier, Jeff Wall and many others.