By Jenn Snider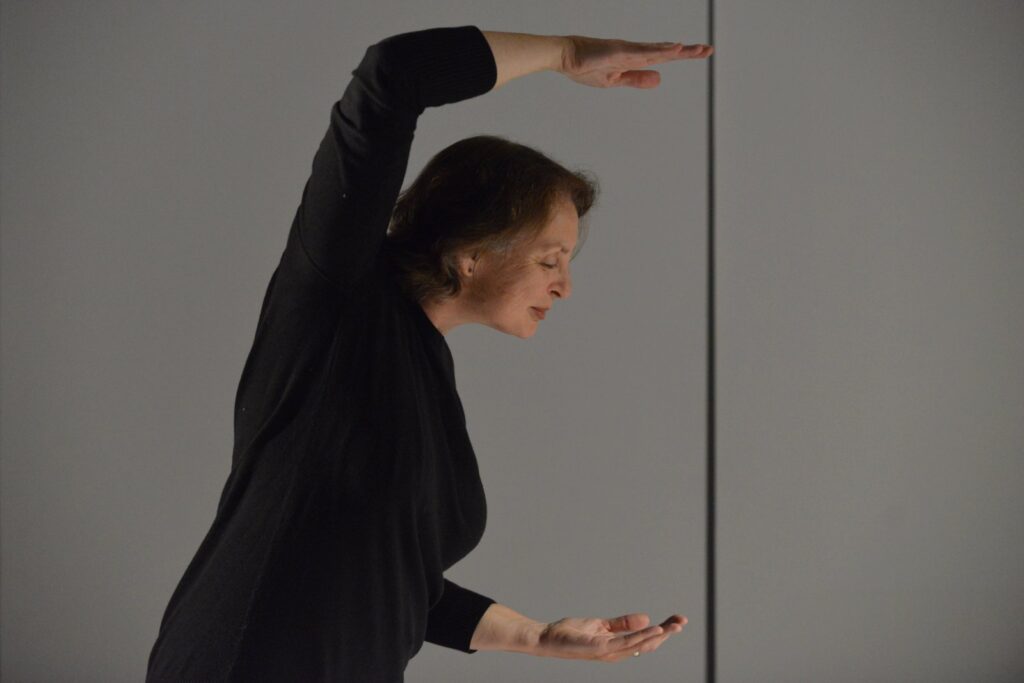 At first blush, Linda Rae Dornan's performance Calling the Cukoo exists at a crossroads of language, the body, and aurality. Standing in the center of the performing area she breathes a wheezing flow of partial words. With bright eyes, she emphasizes the nearly-there as an expression of potential in her communication. Dornan appears to resonate with a presence and express a texture of absence, often both at once.
She forms letters with her body.
She writes on the wall with a long stick:
Skin to Words
Words to script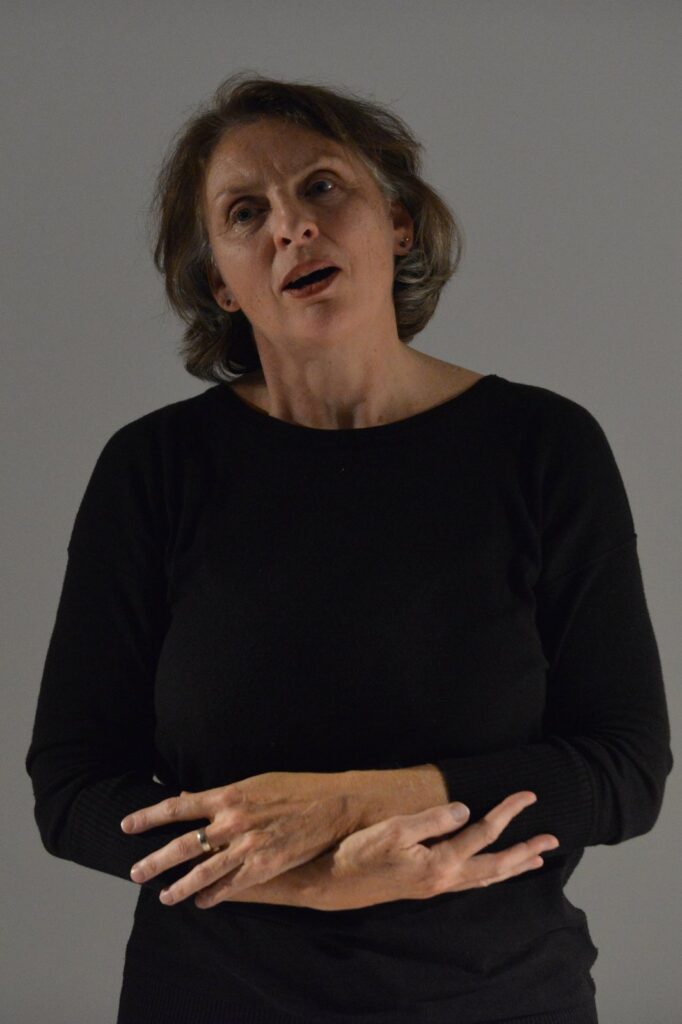 Sounding the muse, Dornan meyowls like a cat. A small child in the crowd answers back spontaneously, instinctively playful and Dornan smiles. The personality, the person, lends a story to the performance; a narrative and a desire to connect all give sense. What we receive here is as it is in life, snippets and bits of shared meaning and opportunities that are fleeting. Understanding is naturally limited because our insight is defined as much by an awareness of what we are able to hear or see or feel as by what we do not identify.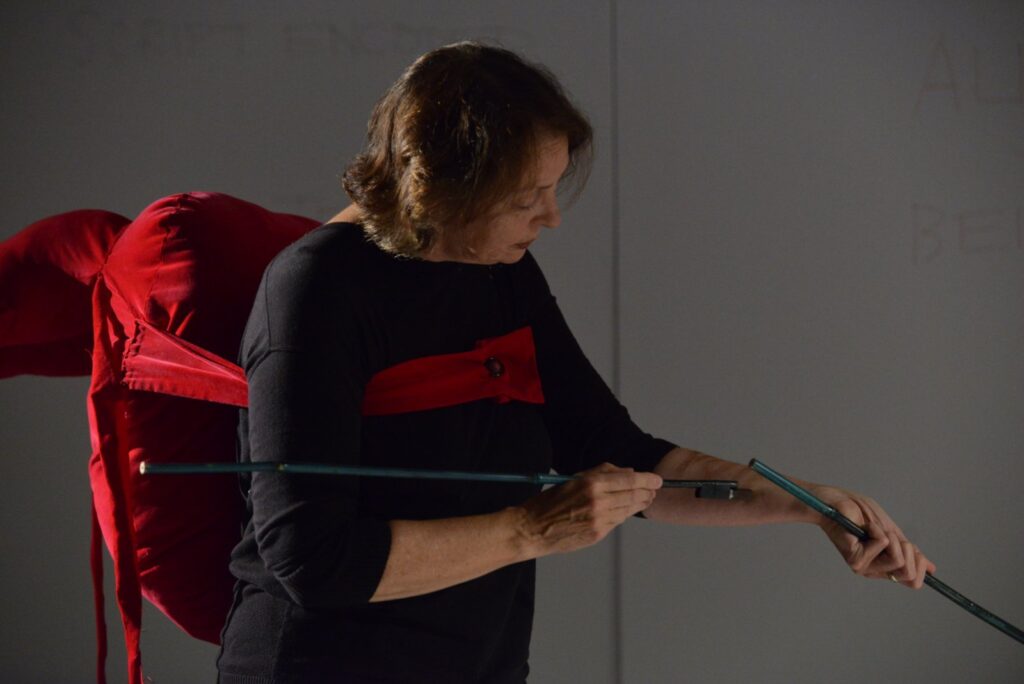 Adding a giant plush red heart on her back like a burden, a backpack, a hunch, in this next phase she seems set on troubling when she hears and sees as interference. Showing us a quarter-split screen of people and their phones, texting, sexting… the habits and the fragments that resemble feeling are suggested as sets of expectations.
She writes on the wall with a long stick:
Encoded Text.
Alive
to
Being
Writing on her body and onto her plush heart, Dornan marks her arms and this crimson burden blindly, behind her back. In this symbolic act that reverberates with the suggestion of her body as an encoded text, a secret language of a life that goes on, Dornan is as resilient and defiant as she is playful and affectingly personal. Spinning a lasso made of braid, she rhymes:
"Don't tell me what to do,
don't set my parameters
by your own moral view."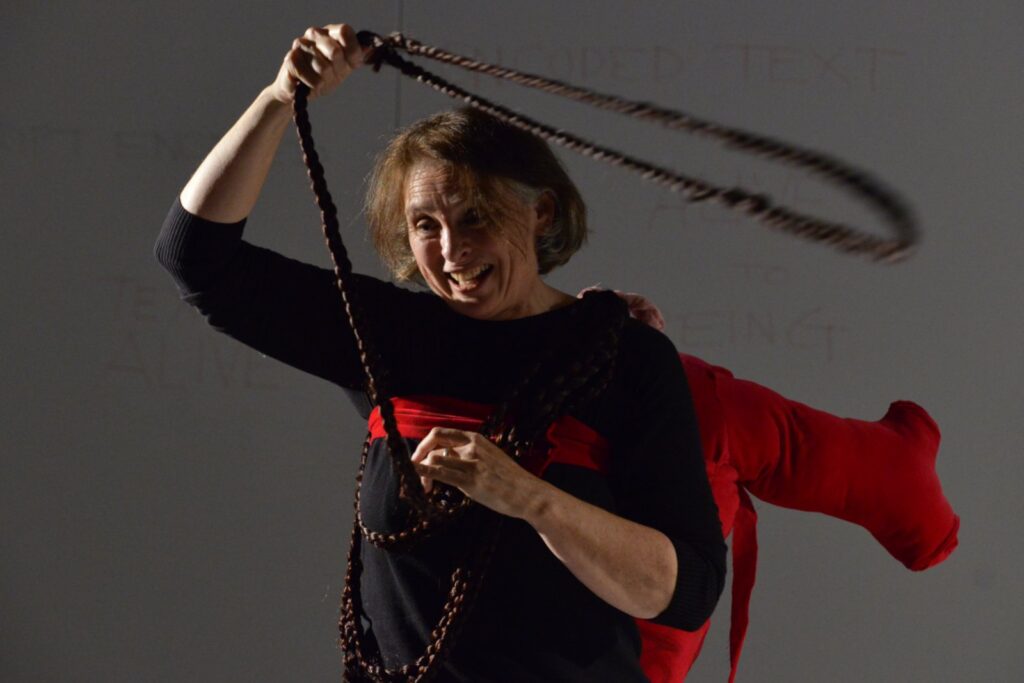 Singing along to a recording of her mother, Muriel, performing a rendition of the song "Gypsy Rover", Dornan winds us into her embrace of a cut-out body of letters.
The gypsy rover came over the hill
Down through the valley so shady,
He whistled and he sang 'til the greenwoods rang,
And he won the heart of a lady.
Ah-de-do, ah-de-do-da-day,
Ah-de-do, ah-de-da-ay
He whistled and he sang 'til the greenwoods rang,
And he won the heart of a lady.
…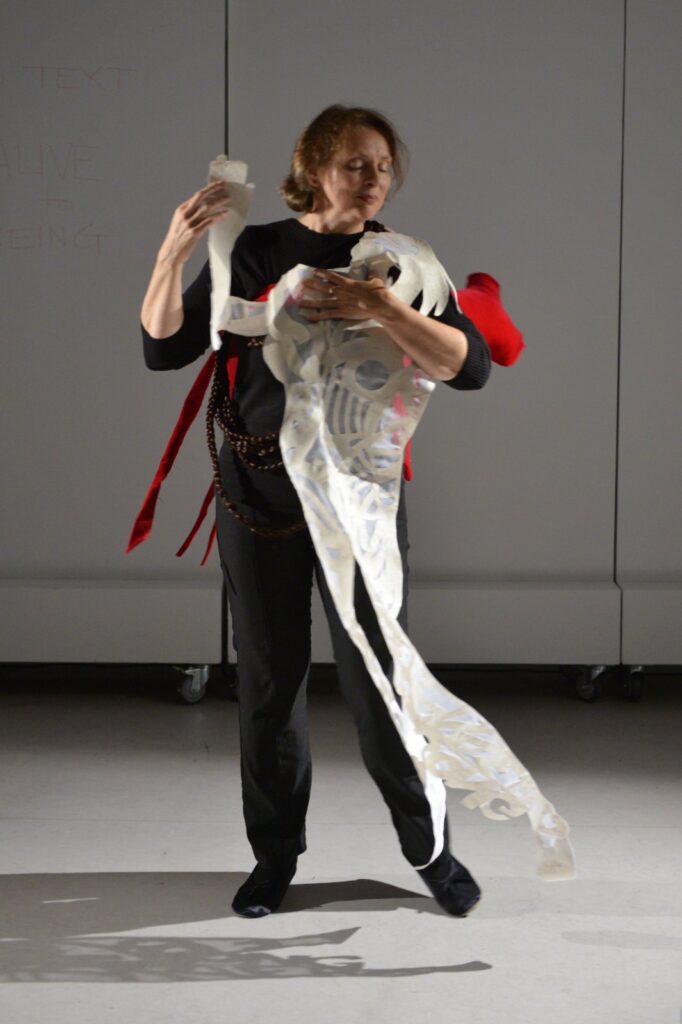 Speaking with Dornan later that day, I ask her about whether the past influences — namely her relationship with her late husband who was diagnosed with dementia, Pick's Disease, which slowly took away his capacity to use formal language — were still present in this work. Of course, the answer was yes. Dornan reminded me that we never really leave anything behind. Commenting on the singular imagery in her performance: the single figure waving their arms, the lone shadow on the grass, her spoken phrase that referenced her surreal identity as a lone molecule, it feels ambiguous yet emergent that this is not a work about a relationship with another, but a relationality with words, sound, and herself.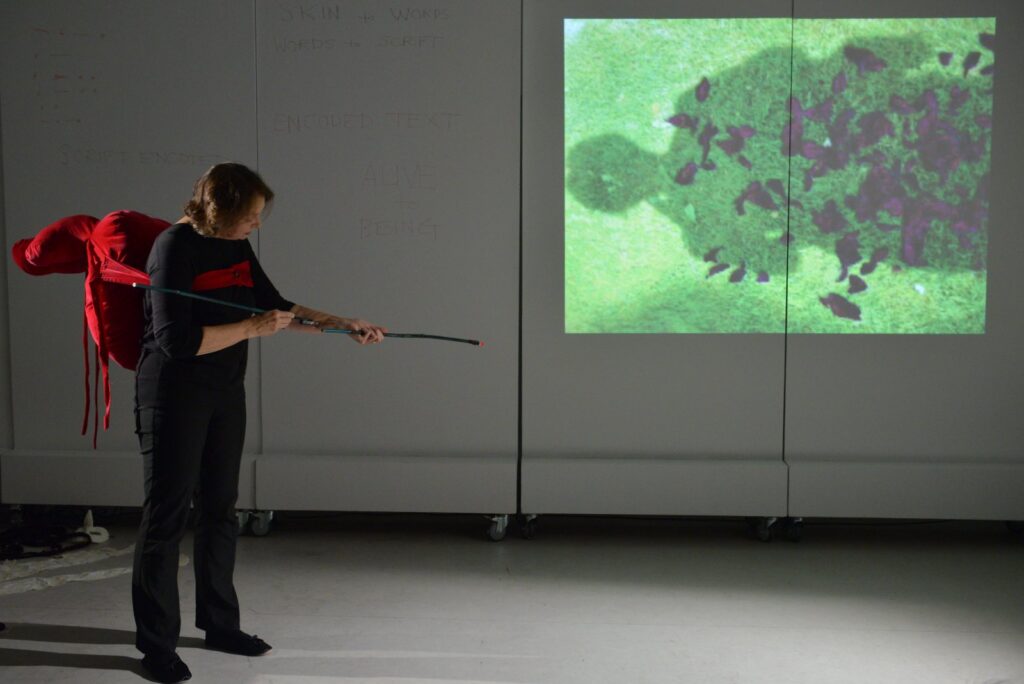 Dornan's performance demonstrated her ability to tell a story of love and life with missing words and sounds and pieces of phraseology that are imperfect yet as rich as a sonnet, as beautiful as a symphony, or as effervescent as a field of fireflies. With or without an elaborate context, sense can always speak where words are absent. Dornan's performance allowed us to gain a sense of how we can find peace among the fragments and deep shadows despite it slipping though our perceptive fingers, if we'll feel and if we'll listen.