NAKAJIMA Mimi
Japan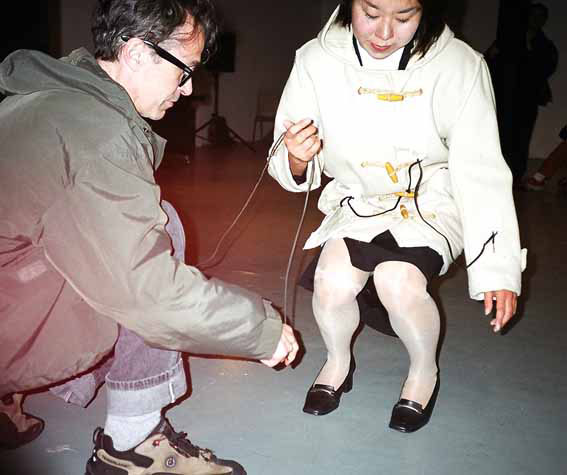 Mimi Nakajima Wind doesn't blow branches 7a*11d 2002 PHOTO ARAI Shin-Ichi
Wind doesn't blow branches
Friday November 1 8 pm
Art System
Presented by Fado Performance Inc. as part of International Visiting Artists series
Fado's International Visiting Artists Mimi Nakajima and Shin-Ichi Arai are part of a recent trend in Japanese performance art toward a rawer, more direct style, eschewing the formalism and romanticism of an earlier generation of Japanese artists. While traces of the poetic influence remain, these artists' works reveal their interest in casting an unblinking eye on our bodies as a site of social tension. This presentation partially funded through the Japan-Canada Fund of the Canada Council.
"My performances develop from problems in my daily life, which I try to observe in an optimistic way. As I start to find the truth of a question, my thinking moves toward philosophic conclusion, the territory of 'reason'.
"If I bring my conclusions back to reality, it creates a funny gap. That is what I want to express in performance. There is always some 'vagueness' in trying to clarify truth. It is quite difficult to express the vagueness itself, but I find performance a useful means of accepting it. In performance art, people experience discovery through sharing time and place."
Mimi Nakajima is based in Tokyo. A graduate of the Tokyo National University of Fine Art, she has presented her work in Europe and Asia. This is her first performance in North America.