MOORE, Frank
USA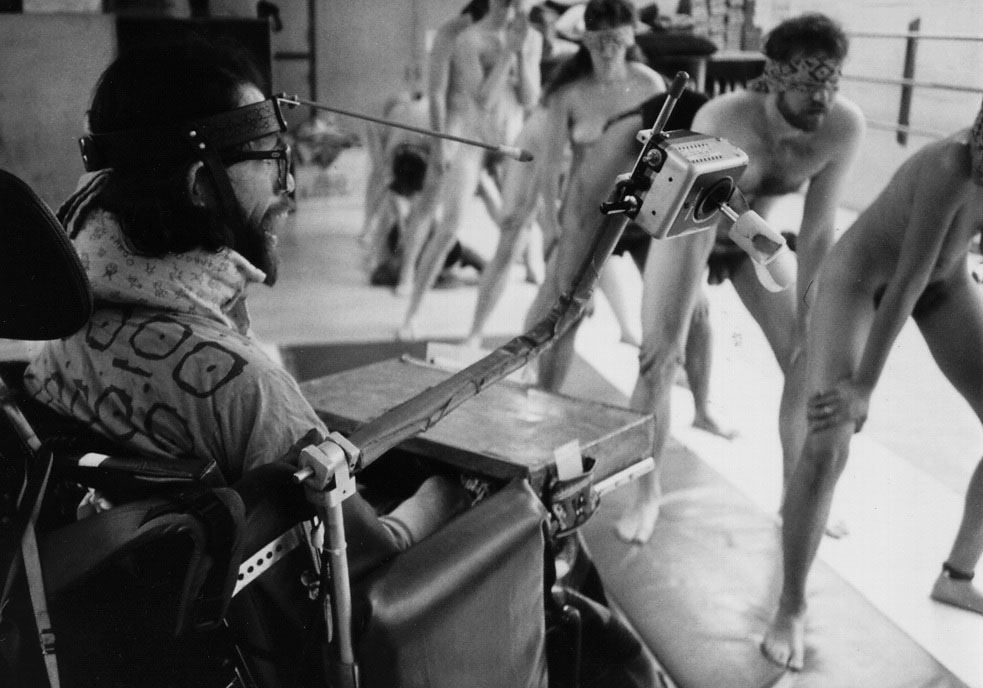 Frank Moore, Playing With Reality Berkeley, USA 1988 PHOTO courtesy of the artist
The Cave of the Metasensual Beast
Thursday, August 7 8 pm – 1 am
Symptom Hall | 160 Claremont St (just south of Dundas St W, west of Bathurst St)
With Michael LaBash and Linda Mac
Presented by FADO as part of FIVE HOLES: Touched
Will you let yourself be guided into the cave of passion imagination, healing human exploring touch, and the unlimited erotic possibilities of blindness? The Beast is waiting for you!
Frank Moore is a 'notorious' U.S. multimedia artist whose work has been targeted by Jesse Helms. Born with a severe case of cerebral palsy that leaves him unable to speak or walk, Frank has gained an international following for his work, which includes performance, painting, writing, a website called the Web of All Possibilities and the publication of a 'zine called The Cherotic [R]evolutionary. Calling himself an artist shaman and working with a broad network of artists that include CHERO — himself, his wife Linda Mac and their live-in colleague Michael LaBash — Moore creates performance works that speak directly to the isolation of our separate bodies and confront the taboos that surround nakedness, physical contact and erotic play.
Michael LaBash and Linda Mac, both live-in partners and collaborators in Frank's work and life, will perform with him as part of his piece.