MESSIER, Christian
Canada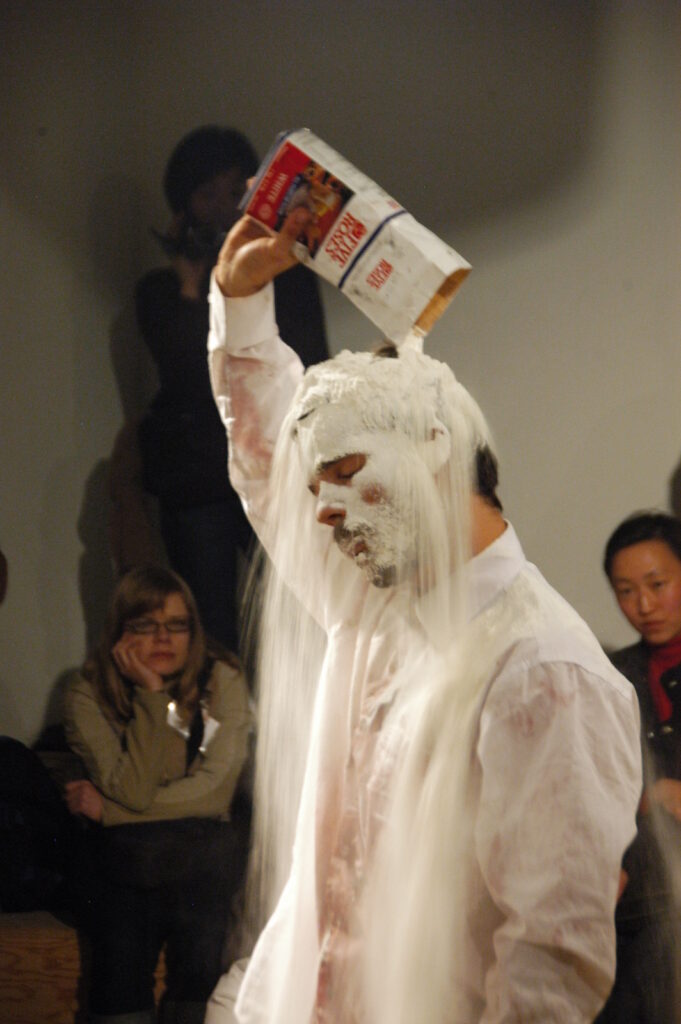 Christian Messier, untitled FADO/7a*11d 2008 PHOTO Henry Chan
untitled
Thursday October 23 8 pm
XPACE Cultural Centre
Presented by FADO Performance Art Centre
The material in my performance work is the possibilities of the body. I create poetic structures of actions with this unstable language. Sometime I eat an onion to cry, drink beer and vomit later, use endurance, force the flexibility of my body, make sound with my voice, light fire on myself, etc. This proximity of my own body helps me to communicate the powerful flame that I feel when I create. But behind that raw love for art appears a rigorous logical structure that supports the piece and lets sense emerge. Now, there is a continuous collision between rigid sense and unstable sensation. What I am searching for in art is this moment it becomes impossible to mix or separate sense and sensation.
Christian Messier was born in 1976, and is currently living and working in Québec City where he has just completed his Masters degree at Laval University. Messier's work has been presented in exhibitions and events in Québec (Rencontre Internationale d'art performance de Québec, Manif d'art 3, DSM -V+) as well as internationally in Poland, Ireland, Argentina, Cuba and France.
Andrew James Paterson's eyewitness account
Elaine Wong's eyewitness account
FADO artist page for Christian Messier's untitled performance

© Christian Messier and Fado Performance Inc. Presented by FADO Performance Art Centre at the 2008 7a*11d International Festival of Performance Art. October 23, 2008. Toronto. Edit by Annie Onyi Cheung.