HUPFIELD, Maria
Canada/USA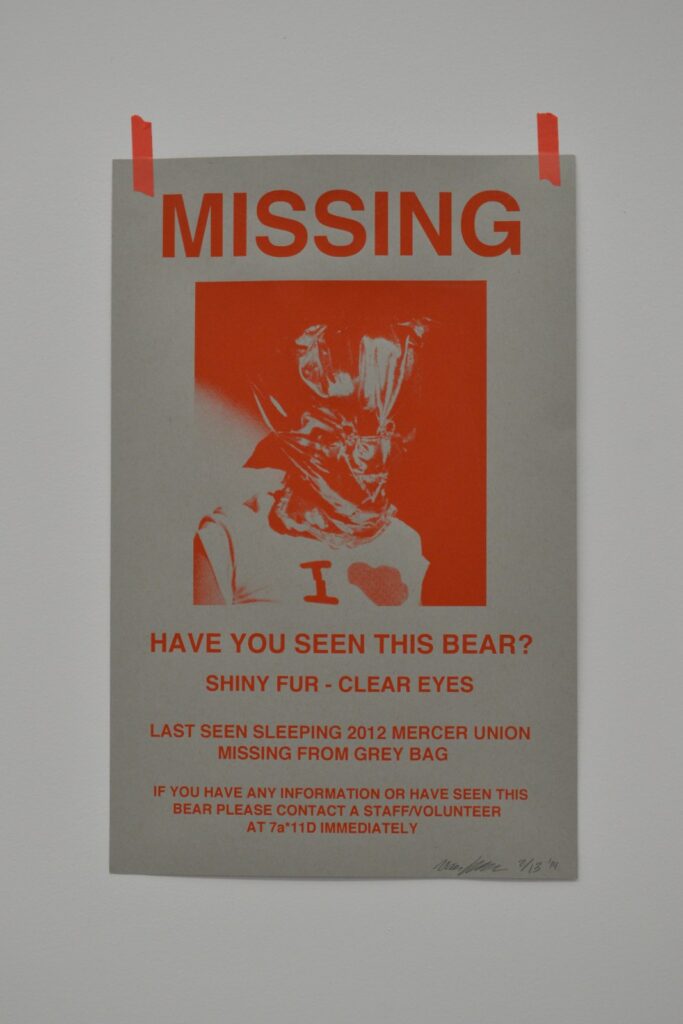 Maria Hupfield, Partial Recall 7a*11d 2014 PHOTO Henry Chan
Partial Recall
Thursday October 30 8 pm
Artscape Youngplace
Fixed-Time (7a*11d, 2012) responded to the role memory plays in documenting performance art. Using oral tradition storytelling strategies I created a set of unique visual triggers that marked the space between me and the audience, using interpersonal interactions and materials including holographic glitter lips, skittles, jingle gloves, flagging tape, and a silver bear mask. Arthur Renwick documented the performance with retro-polaroid film and the photos were sold. Afterwards, unfortunately, someone stole the bear mask from my bag.
Partial Recall records the audience's recollections of Fixed Time. Posters commemorate the bear mask theft. This in absentia work refers to the memories conjured via the shifting subjective experience of the audience, and the reality that I had one less artwork when I returned home.
Based in Brooklyn, Maria Hupfield is a member of Wasauksing First Nation, Ontario. Her recent performance, Artist Tour Guide, was commissioned by The Smithsonian¹s National Museum of the American Indian. Other projects include Performance: Lab (Montréal) and Vestige Vagabond, with Charlene Vickers.
http://mariahupfield.wordpress.com
Canada/USA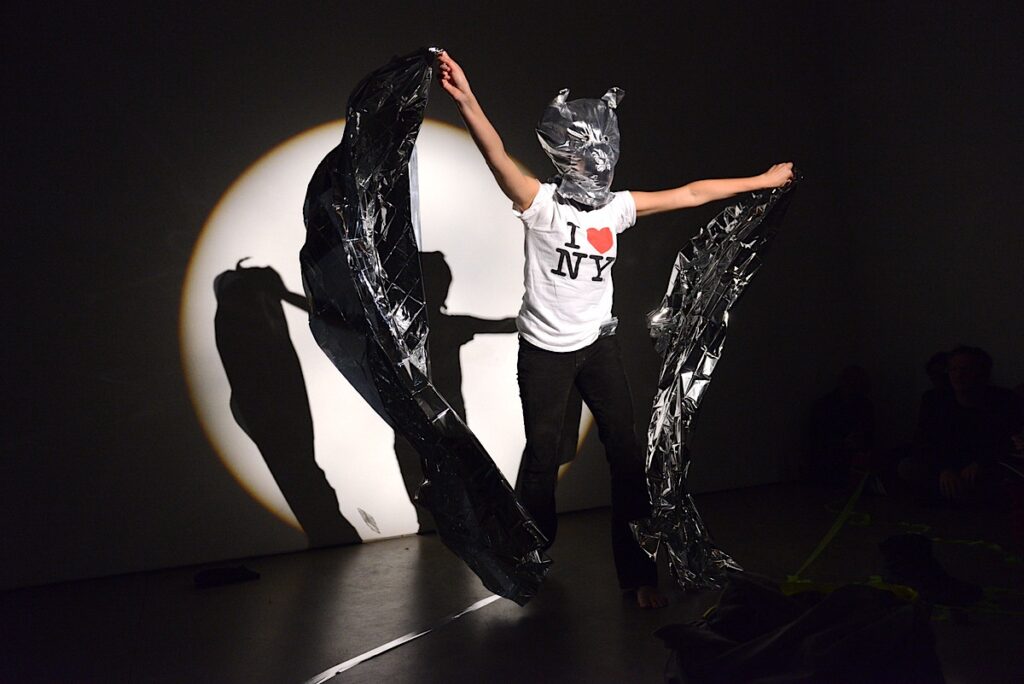 Maria Hupfield, Fixed-Time 7a*11d 2012 PHOTO Henry Chan
Fixed-Time
Thursday October 25 8 pm
Mercer Union – A Centre for Contemporary Art
Activating common items that speak to our times such as glitter, industrial felt, emergency life blankets and surveyors' flagging tape; Maria will use her body as a vehicle to adapt oral tradition storytelling strategies and confront the role memory plays in performance art.
Maria Hupfield (born 1975) is from the Georgian Bay region of Ontario, and is currently based in New York. She is of Anishnaabe (Ojibway) heritage, and a member of Wasauksing First Nation. Hupfield holds an MFA in sculpture from York University, Toronto. Her practice is interdisciplinary and grounded in a combination of both Indigenous and Western art practices. She was a recent Artist in Residence (2012) at Open Studio, Museum of Art and Design in New York, and her work is in the traveling exhibitions Beat Nation and Changing Hands III.
Maria Hupfield, Fixed-time 7a*11d 2012 © Maria Hupfield
Performance Art Daily: The language of materials with Maria HUPFIELD, Paul HURLEY, Guadalupe NEVES, and moderator Wanda NANIBUSH, 7a*11d October 26, 2012