DALLETT, Tim; EMIG Kenneth; LAUDER, John; MADAN, Emmanuel; MCINTOSH, Thomas; & ROSE, Phil
Canada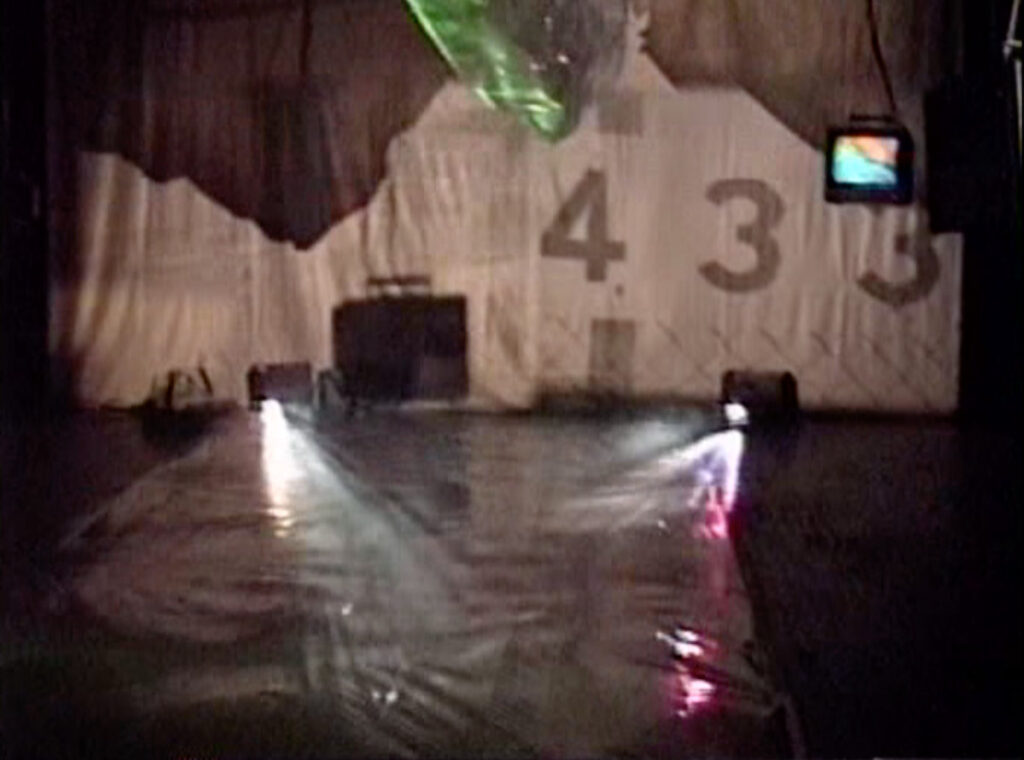 Tim Dallet, Kenneth Emig, John Lauder, Emmanuel Madan, Thomas McIntosh, Phil Rose, dredge city 7a*11d 1997 VIDEO STILL
dredge city
Sunday August 10 4 pm – 8 pm
Symptom Hall | 160 Claremont St (just south of Dundas St W, west of Bathurst St)
Curated by Johanna Householder, Louise Liliefeldt, Derek Mohamed & Tracy Renée Stafford as part of Prognosis
Tim Dallett, Kenneth Emig, John Lauder, Emmanuel Madan, Thomas McIntosh and Phil Rose are an Ottawa-based collective of artists in diverse media.
Tim Dallett has over four years of experience producing 'multimedia', multi-projector events in collaboration with DJs, musicians and performers at dozens of ware house parties, raves, concerts, cabarets, and festivals (including Images Film Festival, 1997). He is also Artistic Director of Gallery 101, an artist-run centre in Ottawa.
Kenneth Emig is an artist and sound designer who makes both two and three dimensional constructions and sound installations. Dallett and Emig have collaborated on performance works, including setuniMeviF (1996) and Mitosis (1997), both at Ottawa's Five Raving Minutes performance festival, and at the The Edge (Arts Court, Ottawa 1996).
John Lauder is a performance artist who works with light, mirrors and video instruments of his own design to create abstract and highly-malleable forms in response to music and dance. His work has been presented in numerous contexts in Ottawa including SAW Video Co-op, The Dance Network and The Edge.
Emmanuel Madan holds a B. Mus. in electroacoustic composition form the Université de Montreal (1993). He specializes in "acousmatic" music, i.e. music produced on tape and performed without live musicians and without a visual element. He often incorporates recorded texts in his work. His work has been presented through Desh Pardesh. ACREQ, and community radio stations in Ontario and Quebec.
Thomas McIntosh is a graduate of Carleton School of Architecture. His current area of interest is the role of performance as a medium for architectural representation. Past work outside of the field of architecture includes Stillgelegt (1996) a collaboration with East German photographers Sander Kalhert and Karsten Jost (Kulturhaus Mitte. Berlin) and Sacrifice (1997), an installation and performance at Kosmic (Carleton University, School of Architecture, 1997).
Phil Rose is a filmmaker with a particular interest in the representation of landscape, and in hand-processing and film-manipulation techniques.