wittmann, claude
Switzerland/Canada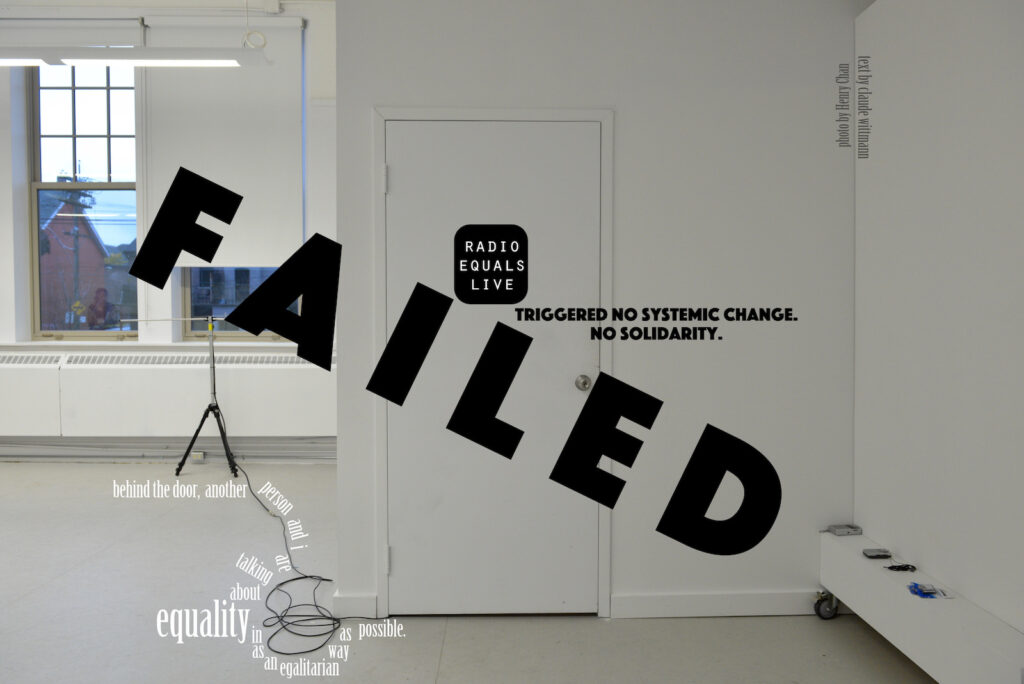 postcard designed by claude wittmann in collaboration with Henry Chan, PHOTO Henry Chan (during Radio Equals 7a*11d 2014)
drop in and i will pay you $15/hour:
we will build bicycle wheels together to fundraise money for a lawyer
Monday November 18 2 – 4 pm
land acknowledgment through a reading from the Truth and Reconciliation Commission of Canada's final report (2015)
Tuesday November 19 and  Thursday November 21 to Saturday November 23 2 – 5 pm
drop-in (ASL interpretation available on Thursday November 21)*
at Tangled Art + Disability basement space
401 Richmond Street West, Suite S30, basement level (accessible space)***
Cosponsored by Tangled Art + Disability with additional support from bikechain, Switchback Cyclery and Urbane Cyclist Workers Co-op
what will happen?
– anybody is invited to come at anytime for any amount of time
– i will guide you for choosing a task and doing it (lace a wheel, true a wheel, record sounds from a wheel, clean the space, learn about social assistance and write a letter, do some accounting, etc.). when you are done, i will pay you and you will give me a receipt
– after the week is over, the bicycle wheels will be sold and the profit will go toward hiring a lawyer to consider what legal action could be done to improve the lives of ODSP recipients
– our accounting book will be the only documentation
this project emerges from the insights of a crisis time experienced in 2017, more particularly from the realization that it is personally and politically troubling (for me) to create art as labs of a parallel life. in crisis, our kinesthetic sense informs us that the body can vanish from consciousness, not because of a pathology but because of systemic erasure. there, there is no entitlement. there is no energy or time for art. any experiments about life can add to erasure. your crisis might be different, but in the end, it might not be different. so what's next when there is enough of a body attached to consciousness and substantial support to participate in KinesTHESES? to appropriate a space for doing what feels urgent? to invent a lab of failing which starts with accepting to write a description and a bio?
as a bio, i will offer this: i do not know how to construct a narrative about myself at the moment. please feel free to visit claudewittmann.ca.
*Although this project is generally operating on a drop-in basis, claude has advised that due to the presence of ASL interpreters and confirmed participants, the workroom will be fully booked and unable to accommodate additional visitors on November 21. Regular drop-in hours will resume for November 22 and 23.
***accessibility: Follow this link for a pdf version of the ACCESS GUIDE for Tangled's main gallery space. Note that S30 is in the basement, so if you are arriving via Entrance #1, you will need to go to the basement level (there is an elevator). If you are arriving via Entrance #2, you will be on the basement level already, so you do not need to change floors. There will be signage guiding visitors to s30 from both entrances.
claude wittmann's writing about the project (on the artist's website)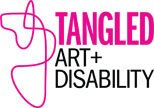 Artist talk/negotiated interaction with Barak adé Soleil and claude wittmann
Saturday November 9 2 pm
Wychwood Theatre (Wychwood Barns) 601 Christie St., Studio 176
FREE
Artists Barak adé Soleil and claude wittmann engage in a public discussion about their practices and how their works are situated within TPAC's KinesTHESES project.
Switzerland/Canada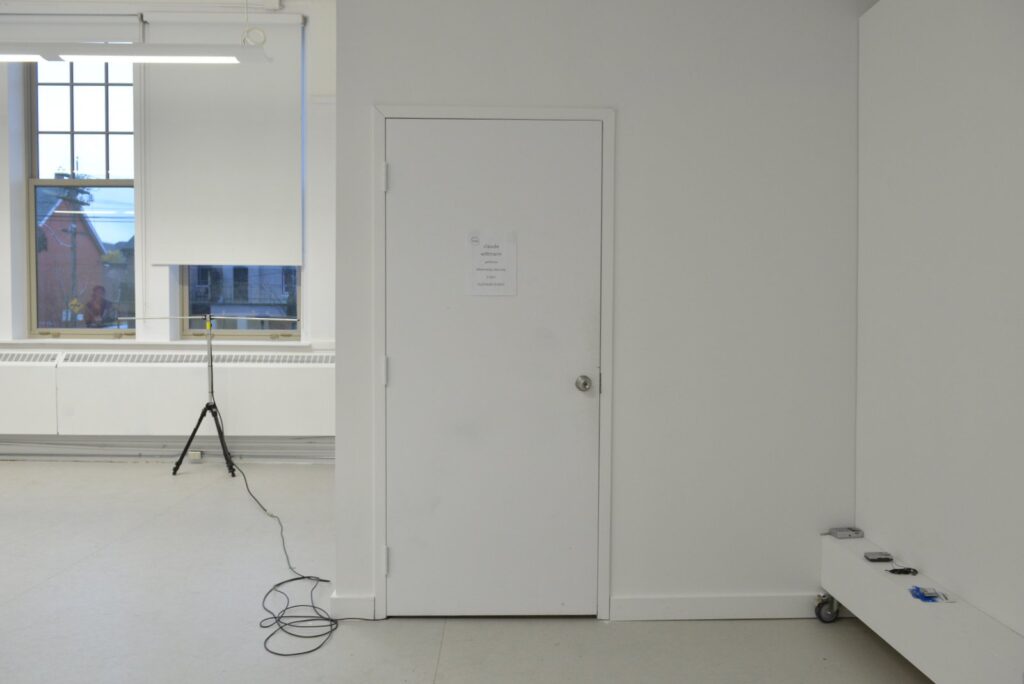 installation detail of claude wittmann's Radio Equals 7a*11d 2014 PHOTO Henry Chan