BANANA, Anna
Canada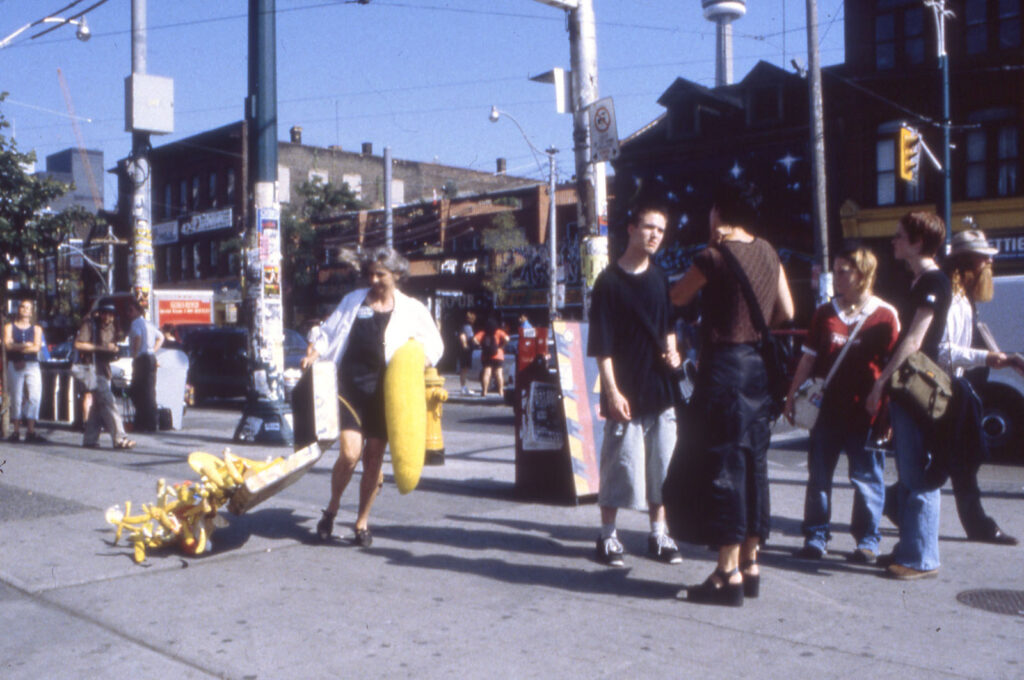 Anna Banana, Bananas in Distress 7a*11d 1998 PHOTO Cheryl Rondeau
Bananas in Distress, Research Project No. 2
Thursday August 20 4 pm
corner of King St W & Bay St
Friday August 21 4 pm
corner of Queen St W & Spadina Ave
Saturday August 22 4 pm
corner of Yonge St & Bloor St
Curated by Shannon Cochrane and Paul Couillard as part of Field Trips
For this project, the artist stages what appears to be an accidental spilling of banana paraphernalia onto a public street. This 'accident' is in fact a carefully planned public interaction to collect research and engage passersby in an unlikely art event
Anna Banana (Sechelt, BC) has been creating performances and participatory public events since 1972, when she was the self-appointed Town Fool of Victoria. In addition to her internationally recognized BANANAPOST and ARTISTAMP NEWS mail art and postage stamp projects, she has staged BananaOlympics, a televised Banana Art Contest, and in 1993, she spent 3 1/2 months in Germany investigating the "new German banana consciousness".
http://mypage.uniserve.ca/~a_banana/
Anna BANANA, Bananas in Distress, Research Project No. 2 7a*11d 1998
Canada
Interventionism
Sunday August 23 2 pm
A Space Gallery, 401 Richmond St W
Coordinated by Johanna HOUSEHOLDER
Anna BANANA (Sechelt, BC), Adrian BLACKWELL and Kika THORNE (Toronto), William POPE.L (Maine USA), Deanne TAYLOR (Toronto); moderated by Johanna HOUSEHOLDER (Toronto)
Interventionism examines the ways in which performance has entered uninvited the realms of politics and the social. The panel brings together a number of artists who have produced work which has commandeered public space and discourse to a variety of ends.