ARAI Shin-Ichi
Japan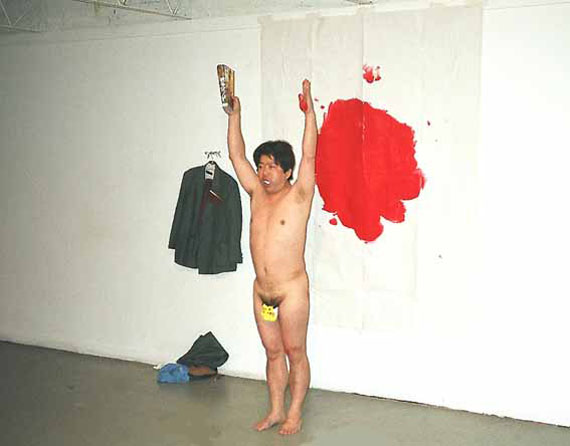 ARAI Shin-Ichi, Happy Japan! 7a*11d 2002 PHOTO courtesy of the artist
Happy Japan!
Friday November 1 8 pm
Art System
Tourist: For E. H. Norman
Friday November 8 8 pm
Art System
Presented by Fado Performance Inc. as part of its International Visiting Artists series
Fado's International Visiting Artists Mimi Nakajima and Shin-Ichi Arai are part of a recent trend in Japanese performance art toward a rawer, more direct style, eschewing the formalism and romanticism of an earlier generation of Japanese artists. While traces of the poetic influence remain, these artists' works reveal their interest in casting an unblinking eye on our bodies as a site of social tension. This presentation partially funded through the Japan-Canada Fund of the Canada Council.
In Happy Japan!, ARAI Shin-Ichi calls attention to some of the contradictions of his native country. Critical of the political system and alarmed by conservative and xenophobic cultural tendencies, Arai makes his own patriotic statement through a bold art action. "Here in Japan, which is said to be rich, to be mature democracy, to have freedom of expression, all I can do is cry; 'Happy Japan! Happy Japan!'"
Tourist: For E. H. Norman offers a personal reflection on Canada-Japan relations, with reference to the life and work of E. Herbert Norman, a Canadian scholar and diplomat who wrote the seminal book Japan's Emergence as a Modern State – Political and Economic Problems of the Meiji Period (recently republished in a 60th anniversary edition). E. Herbert Norman committed suicide in the 1950s after being accused of being a communist spy.
ARAI Shin-Ichi has been doing performance actions for 20 years. He has performed extensively in Asia as well as appearing at the Exit Festival in Helsinki, Finland. Ten years ago he spent two years teaching at Nyumba ya Sanaa Art school, Zanzibar, Tanzania.