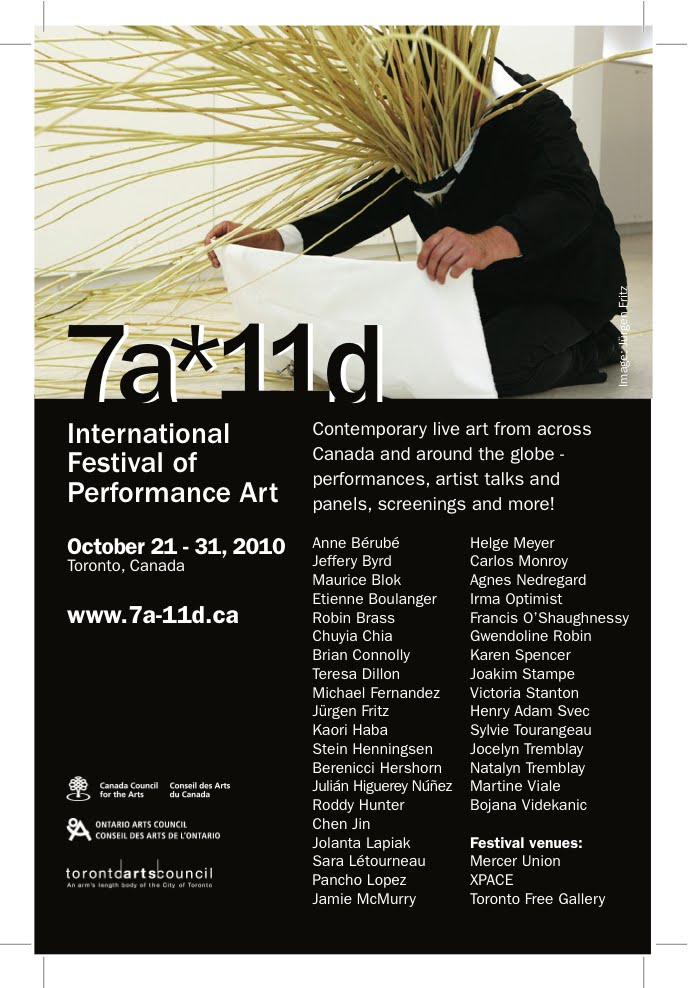 7a*11d International Festival of Performance Art
Thursday, October 21 – Sunday, October 31, 2010
7a*11d is pleased to announce the 8th biennial International Festival of Performance Art to Toronto audiences from October 21 to 31, 2010. Presented in association with our festival and gallery partners, daily and evening performance art events take place at Mercer Union, XPACE Cultural Centre, Toronto Free Gallery, The Tranzac Club and various outdoor public sites around the city.
The 2010 7a*11d festival promises a unique and wide-ranging mix of progressive and provocative new performance works by over 30 of the global performance art community's most exciting and innovative contemporary performance artists.
Established in 1997, 7a*11d is Toronto's only international festival of performance art. For the 2008 festival, we have assembled a roster of emerging and established artists from China, Germany, Ireland, Japan, Mexico, Singapore, Sweden, UK and the USA, plus Toronto artists and national icons from across Canada. The festival hosts performance art events, panel discussions, video/performance screenings and workshops in 11 jam-packed days. In addition this year we are pleased to be working with Toronto Free Gallery to present Performance Art Daily, a noon-hour artist talk show series featuring many of the festival's visiting artists in conversation with local artists.
Full schedule available online on October 1
Festival catalogue available October 4
Festival Hotline: 416-822-3219