wittmann, claude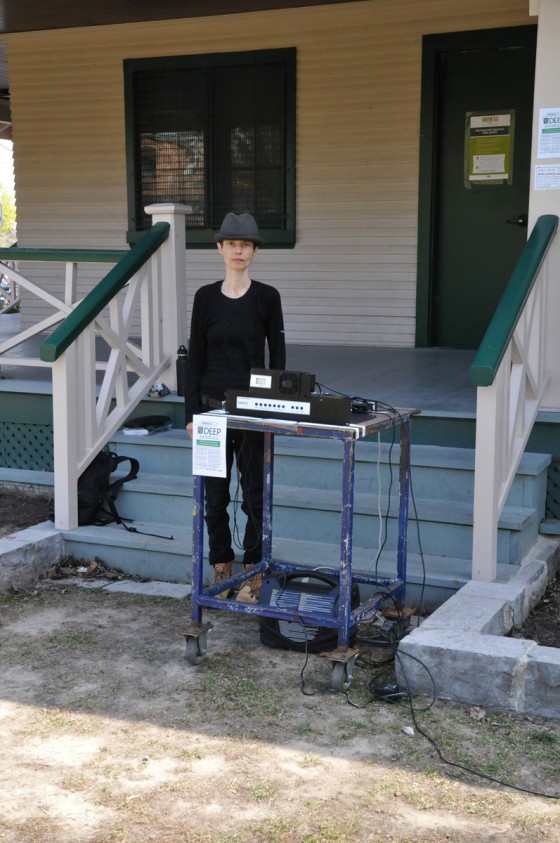 ×
Radio Confessions Edit 39, Toronto, Canada 2014 PHOTO Henry Chan
Radio Equals
Wednesday October 29 to Saturday November 1 3 pm
Artscape Youngplace
Landsgemeinde
Sunday November 2 4 pm
Artscape Youngplace
"Practicing" says something about what i do; "face" and "meet" say something about what i am trying to do; "equality" says something about what i am now exploring. As if i had landed in the horizontal plane after spending quite a bit of time in the vertical planes of genders and selves. Low-powered narrow-casted radio and sometimes online streaming are my current partners. And i am not finished there. Radio Equals will be a daily hour of narrow-casted and internet streamed one-on-one conversations during which i will collect examples of egalitarian actions. Landsgemeinde will present the list of collected ideas and we will engage in a democratic process to choose one single action that we will individually commit to do after the festival.
claude wittmann was born in Switzerland and now lives in Toronto. He works as a bicycle mechanic and as a performance artist, mostly in Toronto. He is grateful for the influences of SU-EN, Paul Couillard, Sylvie Tourangeau and Eric Létourneau.
Radio Equals internet streamed through New Adventures in Sound Art.
Switzerland/Canada
×
the chicken arrives around 2:30pm
Thursday November 1 2 pm
Dufferin Grove Park, 875 Dufferin St
ARTIFACTS, Margaret DRAGU, Chrissy POITRAS & claude wittmann
Performance & Food Event
Thursday November 1 6 pm
DPNC, 1900 Davenport Rd
FOOD=NEED is a week of performances, workshops and discussion forums around food and its use, facilitated by WIAprojects in collaboration with DPNC, Arts4All and 7a*11d. Food is a basic human need. It shapes desires and obsessions and yields many kinds of enjoyment and pain. One can explore food from diverse perspectives, seeing it both as an object produced and consumed and also as a symbol of our human relations. The diversity of what we eat (and don't eat) and of how food is produced and shared shapes cultures, communities, and nations. At the changing of the year at Samhain, we acknowledge mortality and remember our ancestors. It is a time when the veil is thin between this world and that of the next. We trick them in costume and through play. We celebrate and honour them with tradition and story. Food is an essential part of this time. FOOD = NEED intends to animate fruitful discussion, generate creative ideas, and build solidarity among cultural producers and facilitators across communities using performance – and food
WIAprojects is a multi-faceted feminist arts-informed research, mentoring and practice program housed at the Centre for Women's Studies in Education (CWSE), Ontario Institute for Studies in Education (OISE), University of Toronto. For more information and a full schedule of events: www.wiaprojects.com

Switerland/Canada
×
claudia wittmann & Sylvie Tourangeau, untitled 7a*11d 2010 PHOTO Henry Chan
Sylvie Tourangeau with claudia wittman
untitled collaboration
Friday October 29 2 pm
Toronto Free Gallery
This is one of two collaborations with local artists undertaken by 7a*11d 2010 Éminence Grise Sylvie Tourangeau.
Sylvie writes of her practice:
"Since 1978, I have produced public performance actions and written about other artists' practices. In 1984, I began offering intensive workshops for groups. These three fields of action inform my research into the manifestations and awareness of the performative.
"From the beginning, I have tried to foreground the transformative potential of performative actions. Very simple actions conceal a complex intimacy, mundane objects take on unsuspected meanings, the embodiment of presence generates a great power of ritualization. Within this exchange ground of the here and now, nothing is taken for granted. Is it my capacity for letting go, outside of what I view or imagine, that transports me to the heart of 'otherness'?
"In performance situations or in the context of projects dealing with a relationship to the Other, I often invent one-off rituals, using trivial objects and simple gestures. I try to actualize the transformative power conveyed by human presence: integrity, intimacy, the coexistence of differences, belonging to the social, the evolutionary power in the perception of the present.
"While my actions may appear simple, they reflect complex worlds, multiple sensations, small truths worth questioning. Thus I avail myself of analogy, of metaphor, of the coexistence of extremes, of a certain deadpan humour, and of a fragility altogether … redemptive. My individual research within several artists' collectives and with the participants of my performative workshops has led me almost imperceptibly to develop a lexicon, a practice of presence, an active pedagogy around awareness of the present time, authenticity, state of mind, and the channelling of gestures. I have developed notions such as the dynamic of motivation-connection-amplitude-action; the in-between action; etc.
"In 2006, I began a collaboration cycle with different performance artists based on shared dialogue, where the performative attitude forms an integral part of the principles of co-creation. For 7a*11d, I plan to develop performative actions in collaboration with two performance artists from Toronto with whom I have never worked, knowing that I am not fluent in their language. In my solo performance at the end of the residency, I will emphasize the transformations to my performer self manifested by my stay in Toronto."

Switzerland/Canada