By Randy Gledhill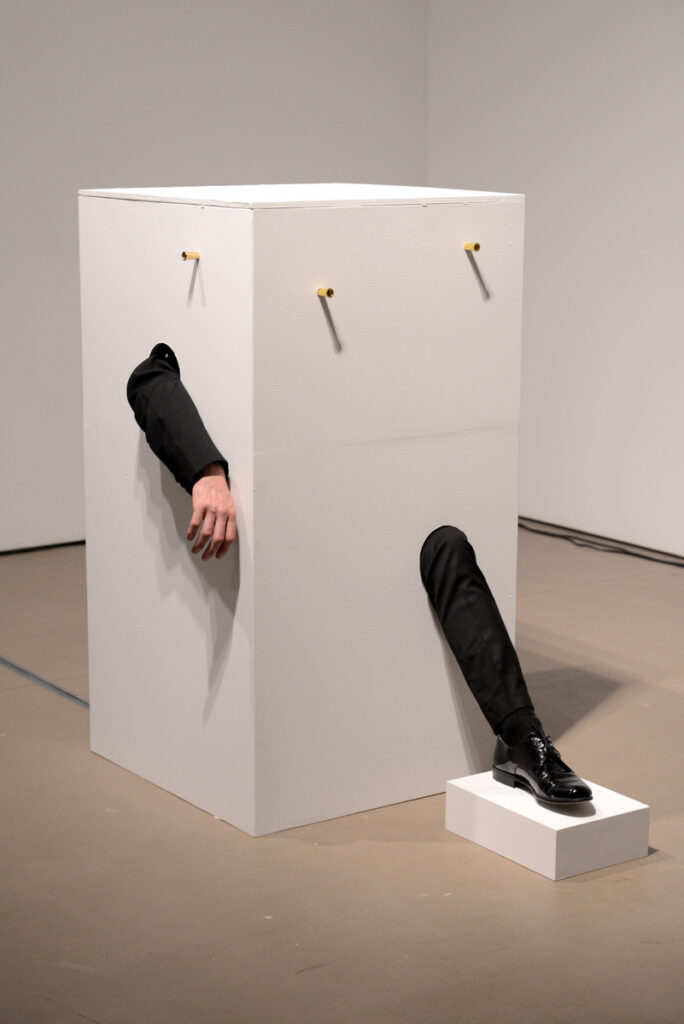 There is a big white box. Inside is a man. An elegant man. I know this because his tuxedo clad arm and leg extend outside the box through the wall. The hand is manicured, the leg draped in a crisply pressed trouser and ending in a foot clad in a perfect patent leather shoe. Randomly placed through the walls of the box are optical devices, like the type employed as doorway peepholes. The audience takes turns having a peek inside. Through the lens I see a man dressed as for a formal affair, sitting before a music stand holding a text, his arm and leg, of course, extended outside. Time passes. The audience engages. People touch him. Someone offers the exposed hand a massage.
The man begins to read aloud. We listen intently.
you can't see all of me through the holes, but I am going to read for you
he begins to recite lists of everyday life and concerns.
walking across the road, by the bar, near the window, and then walking around the pavement to the bus sign, next to the park…
describing people
moustache, eye glasses, gray hair, blond hair, black hair…
some clothing
suit, shoes, raincoat …
food
bread, bananas, potatoes, carrots, raspberries, onions…
sport
American football, tennis, swimming, horse race, jockey, golf…
family
sister, brother, father, mother, grandmother, cousin, son, daughter…
Finale
Well I think that is about it. I want very much to get out of this box. I want to thank the nice person who gave me a hand massage. It was very nice. Thank you very much.
Fin
Of course Fin is French for The end. It also describes a people. Although Magnus is from Iceland, he lives in Finland. There, mentored by the likes of the inimitable Roi Vaarra, he has found a common ground in that delicious national sense of humour and irreverence. Perhaps because of the dark winters and harsh environ, perhaps because of a peculiar history and politic, or perhaps because of a shared collective identity, people there seem to share a common need to look at life through the eyes of a delicious irony.
Whatever, through reciting his mundane 'lists' of the everyday things we perhaps miss or overlook, Magnus Logi Kristinsson always gives us something to laugh about and something to think about.
"Kippis"
Princess