By Jenn Snider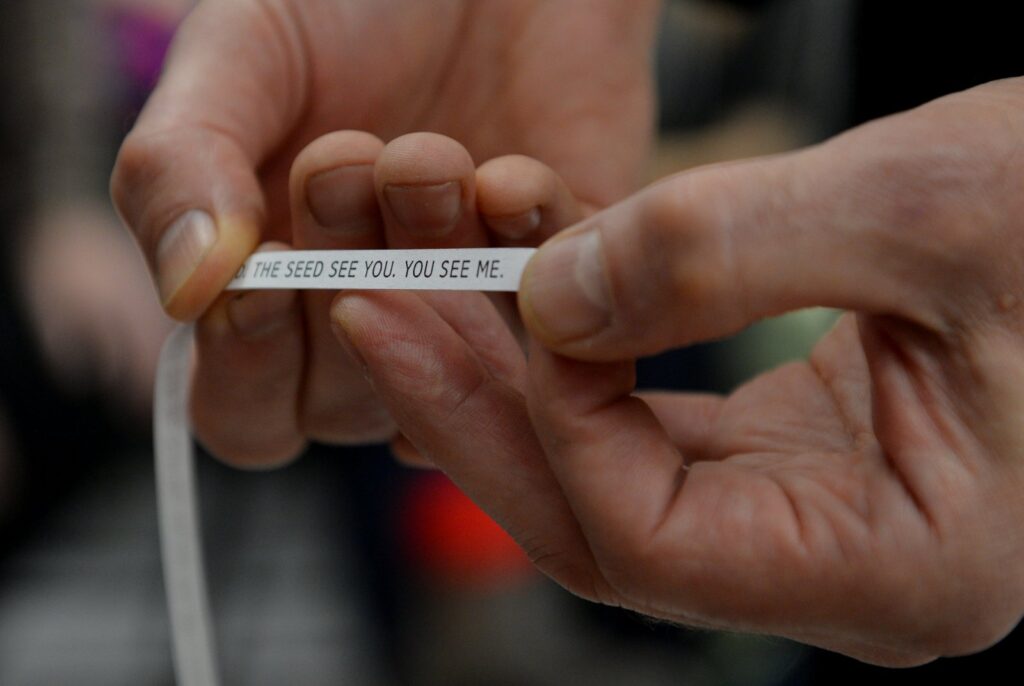 Kurt Johannessen probably doesn't think about fractals, at least not when he's performing. I don't generally consider the self-replicating patterns that approach infinity very often either, so I can understand the idea that it's not at the forefront of anyone else's mind.
Fractals are natural phenomenon of repeating patterns that don't alter regardless of scale. Fractals are, in general, a theoretical concept of near infinitely self-similar and iterated replicability. Based on the Latin fractus which means 'broken' or 'fractured', the idea of a fractal first arose from the study of recursive images, such as what we see when two mirrors are placed in parallel and reflect each other indefinitely, or in what is called infinite regression.
Organized into mathematical formula, the concept of fractals has been illustrated by artwork that uses this formula as algorithm to generate geometric patterns that self-replicate, which represents the theory best for the lay person (like me). While this scaled visual representation of fractals is useful, fractals can also describe processes in time.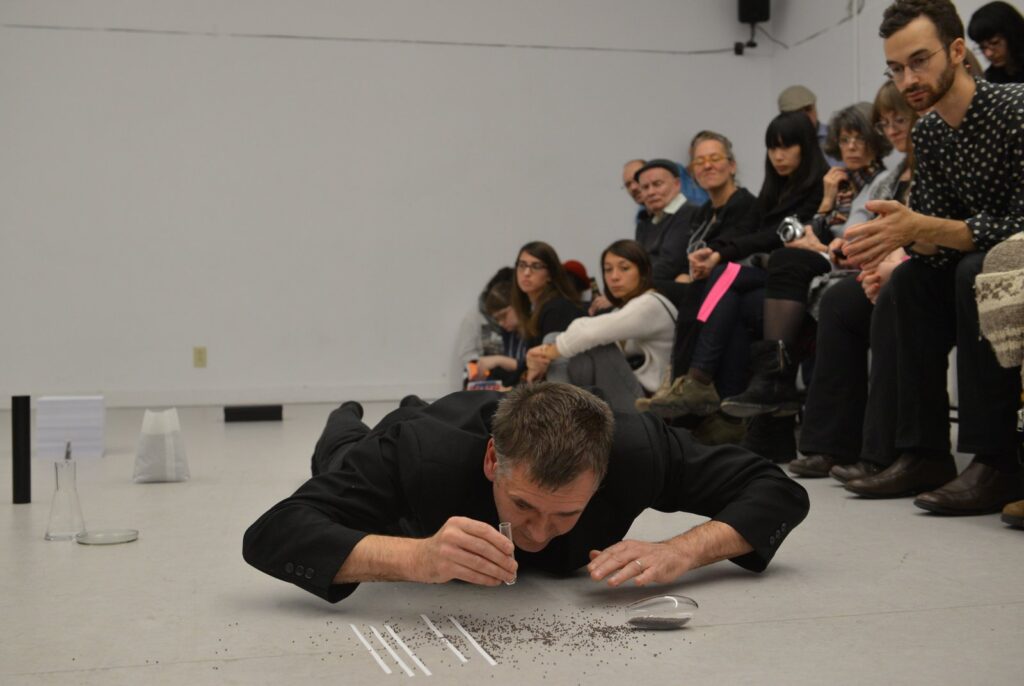 These ideas and images have been on my mind ever since I saw Johannessen's performance Orange the other night. At first, fractals struck me as an elegant metaphor, a way to draw myself to his process of presence and his focus on creating microscopic variations of an image within the frame of his experience. I was thinking that the concept of 'infinite regress' in terms of human consciousness was a way to think about mindfulness as a bottoming out of a moment to reach toward questions of self observing self observing self, and so on. I thought his approach to his materials, and the ways in which he was spare not only with their presentation but in his treatment of them as both precious objects and alchemic ingredients, could also tie in to considering fractals as natural phenomena, with Johannessen performing the minimalist magician.
I thought all of this because I was considering the work in somewhat of an essentialist way at first and wanted to conceptually break from that. I had created a list of what he had done, and what he had used, what it was, and how he moved:
Letter sized paper – stacked.
Black photo box.
Beaker of water.
Bag of mustard seeds.
Out of box –
Glass sphere of mustard seeds.
Vial of mustard seeds
Paper strips – 5, lined up parallel on floor
Tiny white square box.
Another box, smaller.
Brown chocolate stone.
Hair from floor – placed on paper stack.
Out of box –
Another white box, larger than last, smaller than first.
Petri dish, mustard seeds.
Petri dish, placed next to beaker
Canister of mechanical pencil leads or pins?
Smaller vial of mustard seeds.
Petri dish very full of mustard seeds.
Black canister.
Fluted vase, very small, filled with mustard seeds…placing with great care. On hands and knees. Using two hands. Trying to balance. As though he's frozen. Placing vial. It's unsteady. Spills.
Delicate relationships.
Out of box –
Another small vase of mustard seeds. Drops when discovers another hair, which is placed with first.
Hair on paper, set aside.
Precarious.
Precious.
Out of box –
Chip – Orange. Becomes 2 chips. Circles. One chip on black canister. One in hand of another.
Vial of lead/pins in his hand, he stands on paper stack.
Places lead/pins between stack sheets.
Opens small white box, and places a fly in another's hand.
Removes it. Places fly on the canister.
Takes strip, puts between fingers of another.
Places brown stone in hand of another.
Empties another white box into another hand.
The strips hold words. Sentences.
They are laughing.
Humourous.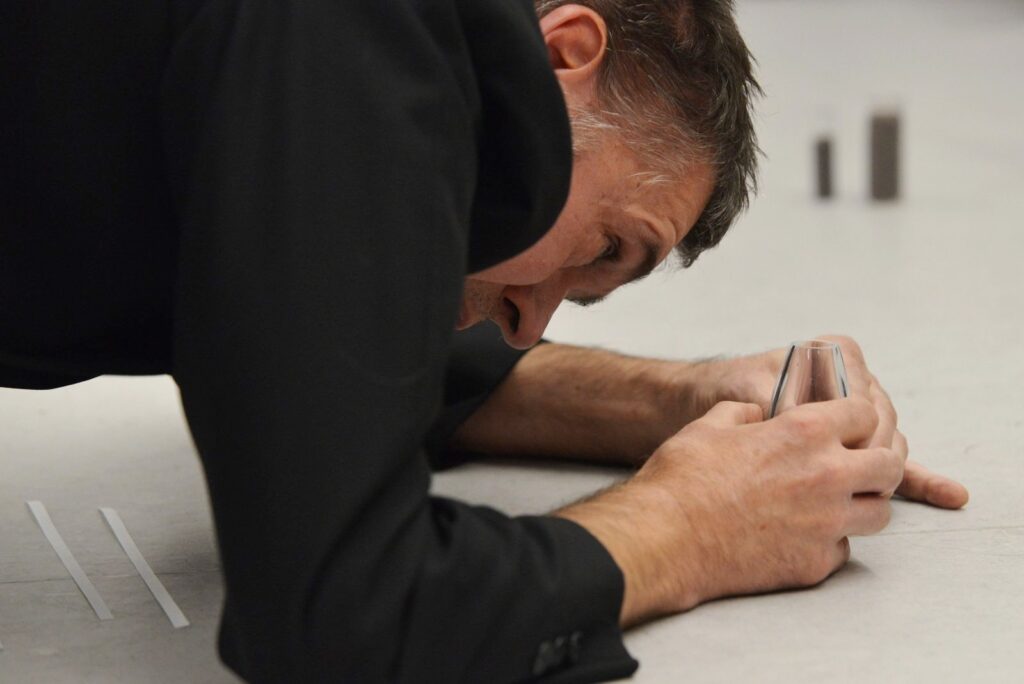 But then, after a little while, I decided to stop hurting myself and feel some things instead. What Johannessen did was that he created qualities using his attention, and ours. He experimented, and he considered these qualities, missing some or feeling his way toward others in a process of locating items and us in relation to each other.
He showed the strips to us, and we read their words:
I AM ME. YOU ARE YOU. THE SEED IS THE SEED. I AM YOU. YOU ARE THE SEED. THE SEED IS ME. I AM THE SEED. THE SEED IS YOU. YOU ARE ME.
I SEE ME. YOU SEE YOU. THE SEED SEES THE SEED. I SEE YOU. YOU SEE THE SEED. THE SEED SEES ME. I SEE THE SEED. THE SEED SEE YOU. YOU SEE ME.
I AM ME. YOU ARE YOU. THE DED FLY IS THE THE DEAD FLY. I AM YOU. YOU ARE THE DEAD FLY. THE DEAD FLY IS ME. I AM THE THE DEAD FLY. THE THE DEAD FLY IS YOU. YOU ARE ME.
I SEE ME. YOU SEE YOU. THE DED FLY SEES THE THE DEAD FLY. I SEE YOU. YOU SEE THE DEAD FLY. THE DEAD FLY SEES ME. I SEE THE THE DEAD FLY. THE THE DEAD FLY SEES YOU. YOU SEE ME.
I WENT TO THE STONES OF NORWAY. I ASKED THE STONES OF NORWAY: IS THERE ANYONE THAT WANT TO JOIN ME ON A JOURNEY TO CANADA?
_______________________________________
Kurt Johannessen will be performing About thoughts on Saturday, November 1, 4:30pm, Artscape Youngplace