By Randy Gledhill
"I will focus on the limitations of humanity by investigating the topics of social cannibalism, mutual social elimination, the exclusion of weaker individuals, repression, and isolation"
Anna Kalwajtys, from the 7a*11d festival programme
Mid afternoon. The weather has changed. A dark cloud is rolling in.
I enter Mercer Union. Anna Kalwajtys, the serious petit Polish artist from the Baltic Sea, barefoot, dressed in army camoflage pants and a black undershirt, is walking in circles, mumbling, working herself up. In the centre is an electronic keyboard. There are two protest bullhorns and a bottle of red. What is she speaking as she spirals closer and closer to the centre?
Her intensity builds. She slathers the red on her hair, face, neck and arms and begins to scream like a banshee. Running in circles. Screaming. She hits the keyboard and picks up the bullhorns. The deafening shrill of sirens and violent protests fill the room. She runs. And she screams.
She runs out through the gallery door into the busy midday street, screaming. She runs down the centre of the road, between the traffic, her arms extended, screaming.. She runs away down the the middle of the street. People are shocked. She is shocking. Running between the traffic with arms extended, barefoot, covered in red, screaming.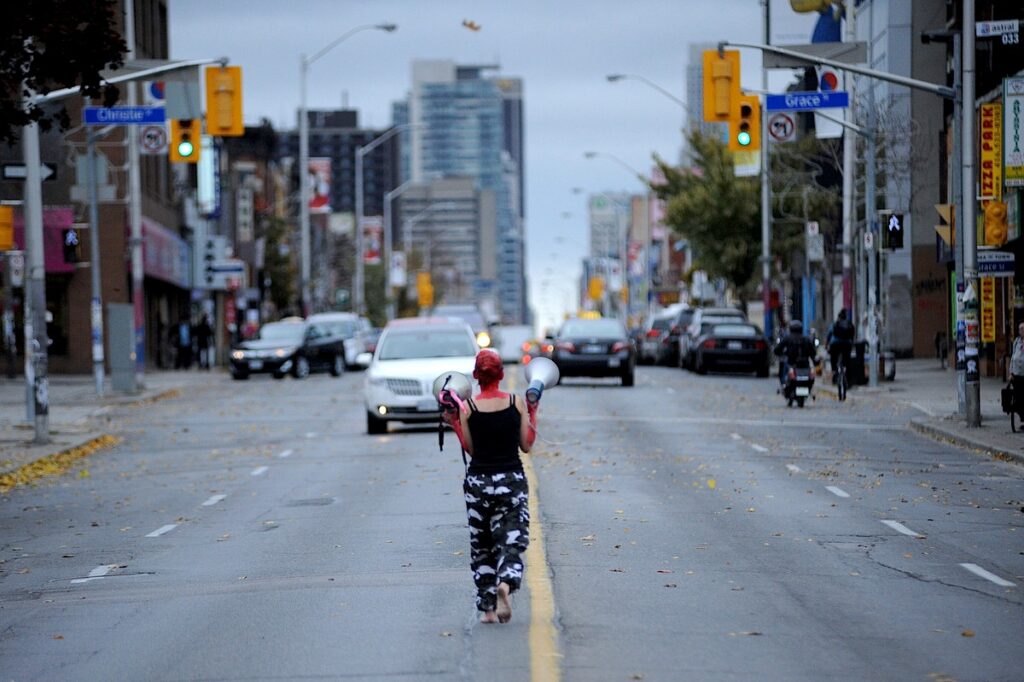 We try to follow but she is too fast. We hear her wail fade into the city. We walk a long way. She is gone. Where? Why?
I am reminded of Bas Jan Ader falling then disappearing. Falling. Disappearing. She is gone. Running through the streets, barefoot, covered in red. Running. Screaming.
I want her to find something safe. But what? But how?
Randy