By Christine Korte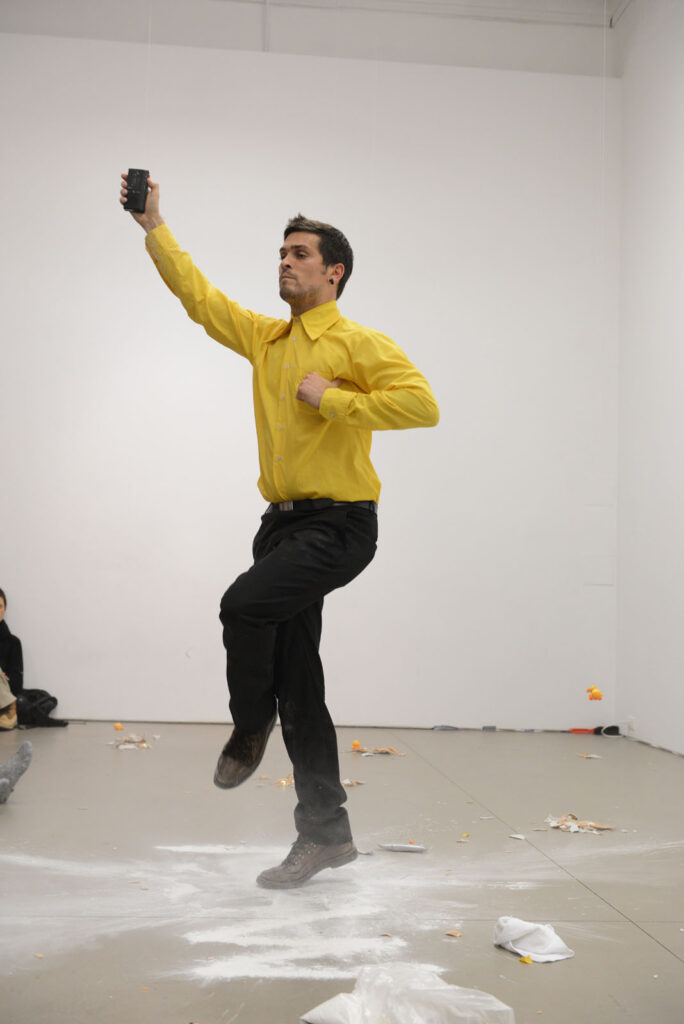 Portuguese/German artist Márcio Carvalho's performance on Sunday afternoon, Now – an impossible presence, was an intricate navigation through time, memory, presence, and the impossibility of the now. The artist facilitated this navigation vis-à-vis a highly considered and layered engagement with the object world. Carvalho highlighted the shifting nature of the materials he used – material that disintegrates (a pear), material that reveals itself in very short amounts of time (polaroid pictures), things that break apart (tea sets), objects where the meaning has changed (a toy that has become a vehicle for a sound memory), as well as actions and images that are impossible to fully process until after the performance (i.e. the artist's crazed dance, flying little plastic wind-up birds, self-flagellation with a wet shirt, etc). Carvalho's performance created situations and constellations of materials that appear fixed, but are in fact morphing through time. We get snap shots of the art object as a  kind of stable entity (as portrayed on the gallery wall, for example), but in Carvalho's work, the past, present and future all inform the ontology, or way of being, of "now". Carvalho facilitates a meditation on the "now" as fleeting presence – and as precisely that terrain being worked-through in performance art.
Cavalho foregrounds how the artist has projected from his actions into the future as a container for the unpacking of the work. He deconstructs the parameters within which we are able to process the performance. His work explored how different technologies, objects and spaces are complicit in the impossibility of a fixed and meaningful now by demonstrating the contingencies of time and memory. As such, the ability to have a kind of pure and immediate experience was undermined by the artist's way of proceeding through the performance. For example, Carvalho recorded himself screaming "now now now now now" and then played it back to us immediately on a hand recorder. He then did a little folk-dance to this recording, destroying the "NOW" that he'd written on the floor with flour just a few moments prior. In other words, Carvalho's performance layered nownesses – actions or images – pointing to these as not processable in the instance and suspended in their meanings. The labour of performance both precedes and extends beyond the instance, involving both performer and audience. The multiple meanings and working-throughs are both obscured within, and converge around, presence.
Carvalho's "nowness", like scholar Peggy Phelan's "liveness", is a term that contemplates what performance art is about – its ontology, as well as the unique presence of performer and audience member in shared space-time. Phelan's "liveness" is about the unique features of live performance: its unrepeatability – its "appearing as it is disappearing". Carvalho, on the other hand, takes the purity of this concept of "liveness" – this immediate, singular witnessing – and turns it into something fragmented and disjointed. By destabilizing the "now" he reveals the promiscuity of temporalities that span a singular presence, as well as the kind of being-towards-death that his manifesto impels us to take to heart: "All of these 'nows' will never be now again!"
On that note I should add that I will continue to process the incredible performances and events that I have been part of for the past week. The labour of unpacking has just begun. How generative and inspiring this year's convergence of people and works at 7a*11d has been! Many of these conversations, I hope, will be ongoing. And of course, my beloved fellow-bloggers (new bffs in Vancouver and Lyon, Randy and Sylvie!) and I will continue to post here as we reflect on this year's festival line-up.