By Michelle Lacombe
Body Traps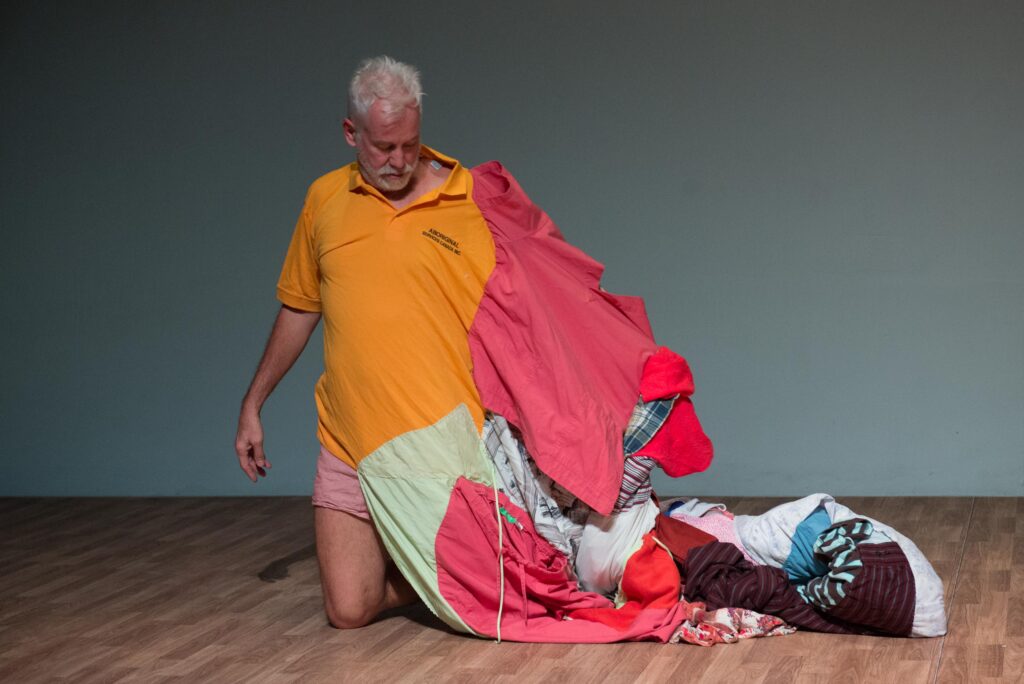 All week Johannes Zits has been crafting his performance object at the Theatre Center café. His presence is casual and welcoming and because I return to the site almost daily to see the 7a*11d panel discussions, he becomes a reliable social anchor. He greets me and other festival regulars with a smile and small talk while he patiently stitches sleeves to inseams to cuffs to waistbands. The mounds of used clothes hidden under his worktable shrink imperceptibly as individual garments are assembled into a large tapestry that we can only see a few square feet at a time. While I can't say that this facet of the work was crucial to my experience of the final performance, in the context of a festival edition characterized by a program of events scattered throughout multiple sites, Zits does become a comforting presence, a common thread in a packed schedule of change and movement. In my experience, this part of the work is therefore less about endurance and physical work than it is about emotional labour and hospitality, the generosity of making process visible, and the desire to connect to a punctual community that is often fragmented by competing programming.
When I do sit with him, we talk about the work and its relationship to his wider practice. He is constructing the tapestry in such a way as to preserve the volume of the garments, which remain wearable, though bound. This detail demands that he insert his hands into armholes and up pant legs as he constructs his object. Although these small gestures are currently executed in a purely functional manner (the same way anyone's do when they mend or alter old clothes), his movements in and out of the garments offer a subtle preview of the upcoming performance.
Before we see Zits enter the space, bundles of what I assume to be the clothes that hid under worktable are thrown out of the artists' lounge. Zits emerges nude and concentrated on the task of moving the heavy bundles, which leapfrog across the lounge space and to the stage, where Zits lays them out at regular intervals. "Enjoy" he says. His hospitality continues.
The introduction is playful and the soft mounds call to us. Some audience members leave their plastic chairs to rest against them, others pull them apart to explore the contents. All the while a soundscape of top 40 muzak, muffled voices and clinging cutlery plays. While I don't feel like I am back at the café (I can't even tell if this recording is from the café), I do sense the same casual and friendly atmosphere. It is the sound of pleasantly sharing space with strangers, a reading that can be extended to the actual performance as well if you see clothes as extensions of people.
Zits removes his twisted tapestry from one of the bundles and works his way through the object, exploring his body's relationship to it. As his body slides in and out of garments, he pulls the weighty textile around the space with him: Pink shorts, a golden orange polo shirt, a red striped dress shirt, a pale blue hospital gown, a gray sock, a purple bra with white edging, floral patterned shorts, a long navy velour dress… At times the clothes are worn, at others they simply contain the body, which works to find space in them. While the action recalls movement-based dance practices, it is clearly exploratory in nature. A pair of plaid shorts are pulled on and rip.
Eventually the tapestry is fully laid out and Zits carefully extends each sleeve and hemline along the edge. From a pouch surprisingly sewn into the piece, he pulls out a necklace and a few other small items that I cannot identify. He puts on the necklace, lies on the ground next to the textile and clothes himself with the precious objects, laying them carefully on his naked body.