By Randy Gledhill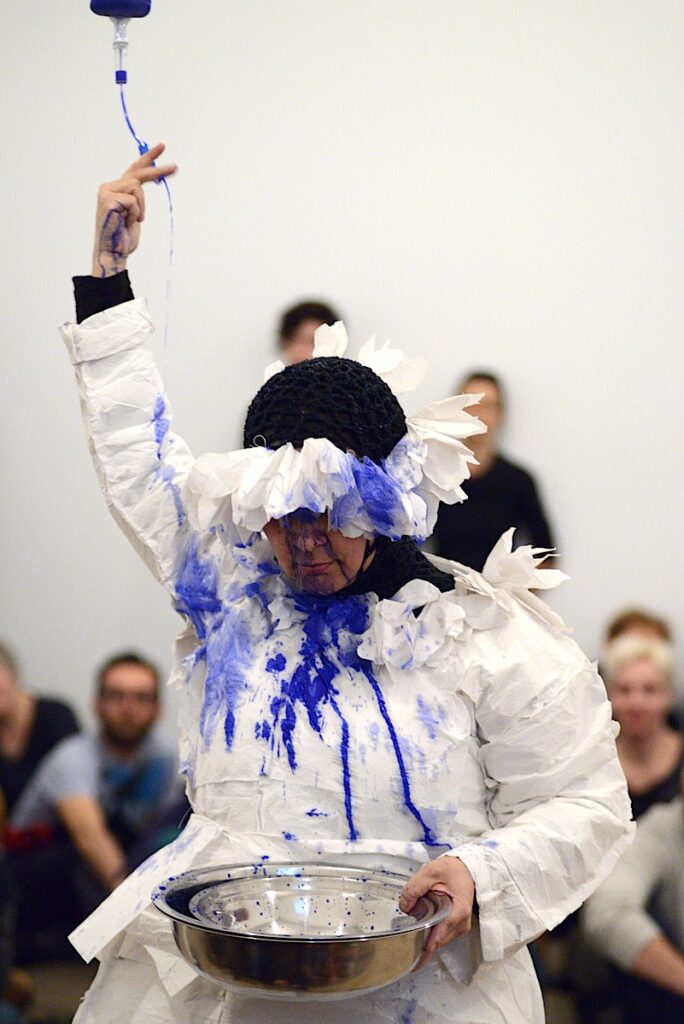 Five IV drip bags hanging in a row, filled with something dark. A white paper flower garland around her head. A white paper frock with a long paper train, Guadelupe Neves scatters industrial stainless steel bowls to catch the offerings, then, standing below, opens the first hose. Dark blue liquid flows over her, staining her. On to undo the second, then the third. She walks then crawls through the audience, , soiled, her long train trailing behind her. Number four, then five. She stands directly below to be anointed from above, her face raised to the shame. The final sacrament. She kneels and offers the bowl high, then silently leaves through the crowd.
All the while, the voices. Spanish and English.
Has your body ever shrank with sadness?
Have your lips ever smiled without permission?
Have you  ever hated someone until you are obsessed?
Have you ever felt truly loved?
Have you ever survived a nightmare?
and on…
What am I bearing witness to? Where is the usual strategy that relies on a sense of cleverness, humour and wit. The performer normally wins us over with charm. Rarely do they attempt move us somewhere dark and mysterious. And if they do attempt to unleash emotion, rarely do they succeed. It usually becomes contrived. Theatrical. When the artist does make us feel, it is a rare and beautiful gift.
Neves journeyed from Buenos Aires to be anointed in Toronto. South to North. She leaves us with the task of assigning meaning and interpretation to our emotion. To me Past Perfect echoed a condemnation of Catholicism, a damnation of dictatorship and suppression, a scar of betrayal and broken love, and the passion of the Tango. As the action fades farther into my past, I become more disquieted, sadder. But that is only me. You might not need to go there.
R