REVEREND BILLY
USA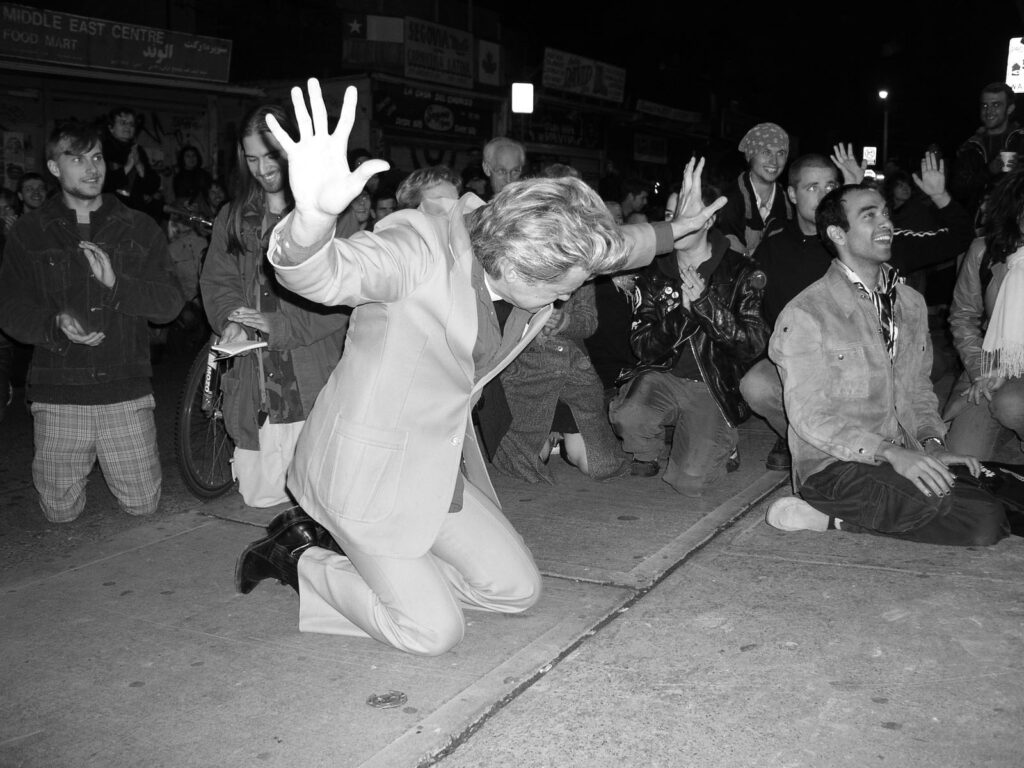 Reverend Billy 7a*11d 2004 PHOTO Shannon Cochrane
Unititled
Tuesday October 26 8pm
XPACE
In collaboration with the University of Guelph Central Student Association and the Ontario College of Art Student Union, 7a*11d welcomes Reverend Billy to Canada for the first time. Watch out all ye sinners and chain store shoppers, the collar is fake but the calling is real.
"The performances often involve collaborations not just with his own crew of activist-actors … but also with unwitting customers who do not realize that the people yelling into cell phones about how Starbucks screws its coffee growers or how Snow White is a bad role model are not shoppers like them. Talen may have learned preaching – what Laurie Anderson described as "the landscape between talking and singing" – largely from late-night radio shows, but by now he is much more a man of God than a parody of one. He is a great musical talker, and he sees himself as a sort of prophetic social critic, like Jesus before he was "franchised." He is out to save souls." (The American Prospect, 2002)
Reverend Billy, a.k.a. Bill Talen, is an actor/performance artist and a leading figure in the anti-globalization movement. His work combines the forces of social and political change with the means of theater arts to counteract our media culture. His artistic and political work is influenced by various concepts of "street theater." His disruptions or "shopping interventions" in public spaces are in the tradition of the Living Theater, José Bové, Lenny Bruce, and the Yippies. Reverend Billy has appeared regularly on National Public Radio and has been featured in The New York Times and The Observer. He lives and preaches in New York City.
Reverend Billy 7a*11d 2004