PME
Canada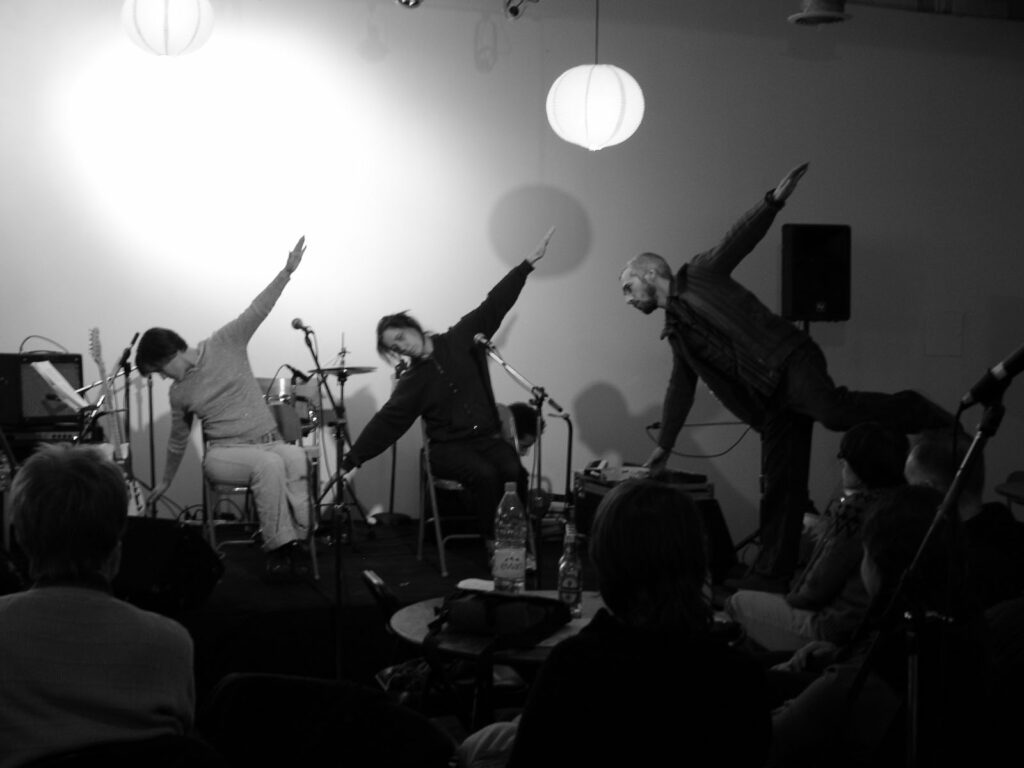 PME Unrehearsed Beauty / Le Génie des autres 7a*11d 2004 PHOTO Shannon Cochrane
Unrehearsed Beauty / Le Génie des autres
Thursday October 28 to Saturday October  30 9 pm
XPACE
A creation by PME – Jacob Wren, Martin Bélanger, Samuel Roy-Bois, Simone Moir and Tracy Wright with the artistic collaboration of Alexandra Rockingham Gill and Julie Andrée T.
A performance in the form of a rock band. An attempt to turn the theatre into a public forum for the expression of political and personal ideas. An opportunity to find out whether it is possible, over the course of an hour, for us to form some sort of contingent, temporary community with the audience. Unrehearsed Beauty / Le Génie des Autres combines intense moral ambivalence with a touching desire to live in a world in which ones thoughts and feelings might actually have some genuine societal effect.
Like many of us living in the world today, a world defined by too much or not enough work and a general environment of virtually meaningless consumer over-stimulation, the performance of Unrehearsed Beauty exists on the cusp of an over-taxed personal honesty straining for something simpler: a chance to speak quietly about the things which really matter, play some songs which make us kind of happy even if we don't play them as well as we might, and create a small fissure in the impossible through which something negative (or even something positive) might gently emerge.
Commissioned by the Bergen International Theatre-BIT (Norvége) and Les 20 jours du théâtre à risque (Montréal) in 1997, Jacob Wren worked with director Carole Nadeau of Théâtre Pont Bridge (Montréal) and three Norwegian performers, presenting a workshop of Unrehearsed Beauty for the international event, TheatreTextContext. The text was published by Coach House Books (Toronto) in 1999. This performance is loosely based upon the original text which can be read at: www.chbooks.com/catalogue/unrehearsed_beauty. Presented in Hamburg, Berlin, Tokyo, Cardiff, Glasgow, Manchester, Bergen, Oslo, Trondheim and Prague, Unrehearsed Beauty is a co-production with: BIT Teatergarasjen (Norway), Carrefour international de théâtre de Québec, Kampnagel (Hamburg), MAI (Montréal, arts interculturels) and Les Productions Recto-Verso / Méduse (Quebec City).
PME has been recognised throughout Europe for its last production En français comme en anglais, it's easy to criticize, which was performed in Norway, the Czech Republic, Germany, Portugal, France, England, Wales, Croatia, Sweden and Belgium as well as in New York, Toronto, Quebec City and in Montréal at Tangente, Usine C and the Festival de Théâtre des Amériques.
PME Unrehearsed Beauty / Le Génie des autres 7a*11d 2004
Jacob Wrne interviewed by Tanya Mars, Toronto 2004