ONE NIGHT ONLY
Canada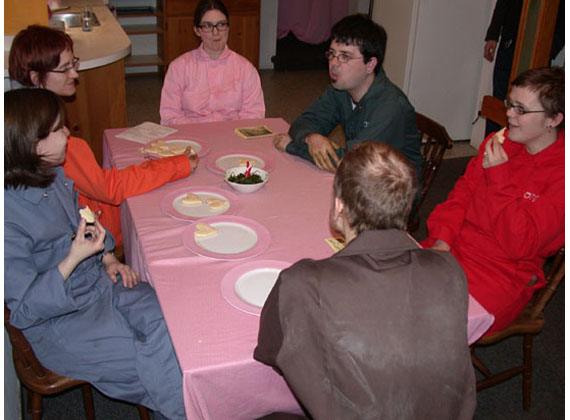 One Night Only, Home Repair Fado 2004 PHOTO Miklos Legrady
Artist discussion (with LIFE=ART=LIFE participants Tehching Hsieh, Louise Liliefeldt, Richard Martel & Kristine Stiles)
Sunday February 22 2 pm
Karen Schreiber Gallery
Presented by Blank Slate with the support of 7a*11d International Festival of Performance Art; participation of One Night Only sponsored by Fado Performance Inc.
Working collectively, the six members of One Night Only create individual performances on a common theme that act and react in relation to each other. The collective begins each project by agreeing on a common set of parameters. How each member chooses to fulfill, interpret or subtly circumvent the established rules becomes the basis of their developing dialogue, resulting in a multilayered and multi-perspectived approach.
Born and raised in Saskatchewan, Adam Budd is a recent graduate of the BFA Media Production program at the University of Regina, where his film "Avery Jones" won Best Graduating Film and Director awards from the University. His video performances include U/O, Blair and Adam, Moral Relativism, and Dear Rejeanne.

Felipe Diaz is a Regina based artist whose practice includes painting, installation, video and performance. Felipe explores issues of identity as it is formed along political, cultural and social lines. He has worked for a variety of organizations including the Saskatchewan Filmpool, New Dance Horizons and, currently, the Dunlop Art Gallery. Felipe is currently finishing his Masters of Fine Arts at the University of Regina.
Blair Fornwald is a Regina-based interdisciplinary artist whose work encompasses a variety of media, primarily performance, installation, and video. In 2002, she graduated with a BFA in intermedia from the University of Regina and she is currently pursuing a Bachelors degree in art history. She is the visual arts teacher of the Preschool Fine Arts Co-op. Her most recent projects include Chair Garden, a semi-permanent outdoor installation.
Regina based visual artist Tanis Keiner is a B.F.A graduate of sculpture from the University of Regina. In the final year of her program she studied intermedia, and has since continued to work in video, sound, writing and performance. Timid and shy, her performance pieces reflect her introverted nature.
Tammy McGrath is a multimedia installation, web and performance artist. She was a part of GROUP performance art collective before joining the One Night Only ensemble. McGrath is the initiator of Mountain Standard Time performative art festival, Space for Space performative art collective and EX 120, a continuous five day for 24 hours a day performative art festival in Calgary. She has written for independent magazines such as filling station and Lola.
Anna Scott holds a BFA from the University of Manitoba and an MFA from the University of Regina. Currently employed as Gallery Coordinator at Neutral Ground Artist-Run Centre, she has exhibited her textile-based installation at various Canadian institutions since 1999. Her installations, performances, interventions, drawings, animation and web art contain a common thread of humour. She recently completed a residency at the University of Regina. Her most recent work, what we have here is a failure to, is an electronic installation that explores the concept of communication breakdown.
FADO's artist page for One Night Only
Eyewitness account of the discussion by Daniel Baird