NEDREGARD, Agnes
Norway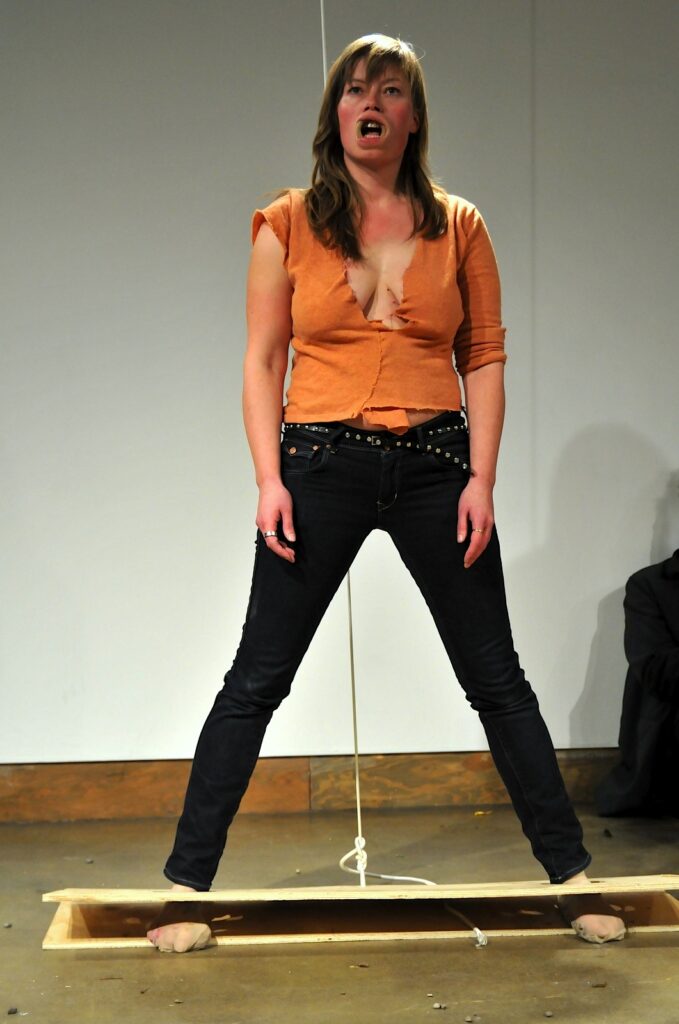 Agnes Nedregard, Even out the pressure 7a*11d 2010 PHOTO Henry Chan
Even out the pressure
Thursday October 28 8 pm
XPACE Cultural Centre
Presented by FADO Performance Art Centre
A visual image, one performer, pressure from the inside, pressure from the outside. One or several actions, the audience is invited, what are you carrying? We meet, we share, after it is over, what do we have left? It remains to be seen.
Agnes Nedregard works in live performance, video drawings and installation. She holds a MFA (Glasgow School of Art, 2005) and has shown her work in festivals, galleries and screenings in Europe, USA and Asia. She often collaborates with other artists including visual artist Moray Hillary and Brazilian performer and aerial acrobat Raquel Nicoletti. Agnes is the editor of Nordic Tantrum, a web magazine for Nordic performance art.
Daniel Baird's eyewitness account
FADO project page for Even out the pressure
FADO photo gallery for Even out the pressure

© Agnes Nedregard and FADO Performance Inc. Presented by FADO Performance Art Centre at at the 2010 7a*11d International Festival of Performance Art, Toronto. Edit by Annie Onyi Cheung.
Performance Art Daily October 28, 2010 at Toronto Free Gallery featuringTeresa Dillon, Agnes Nedregard, Irma Optimist, moderator James Andrew Paterson