MOCHIZUKI, Cindy
Canada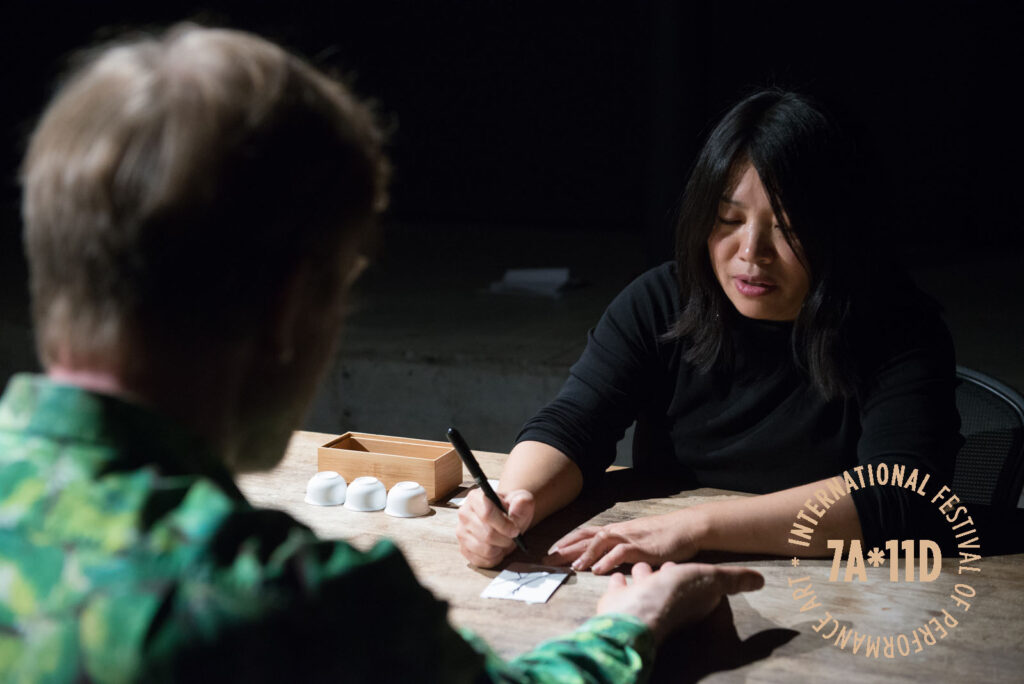 Cindy Mochizuki Tenohira 7a*11d 2018 PHOTO Henry Chan
Tenohira
Friday October 5 2:30 – 5:30 pm
Saturday October 6 2:30 – 4:30 pm
Sunday October 7 11 am – 3 pm
REGISTRATION CLOSED.
All of the time slots for Cindy's performance have been booked.

the memory of a confectionary store
a moon viewing ceremony
a salt ritual
A suite of three poetic gestures fold together into an intimate 8-minute performance for audiences of one that will be performed over and over again for each new audience member as a loop. Tenohira references writer Yasunari Kawabata's palm-of-hand-story – a short story written on a single sheet of paper; often character-driven with no plot that leaves the audience with a sense of longing or desire. In Tenohira (the Japanese word for palm), each audience member selects an object that 'starts' the performance allowing for the performer to navigate through a series of movements that explore ritual, story, and gift. Using intuition and gut impulse the audience member will experience their own unique variation of the same performance. The accumulation of the experience will be bundled up and gifted to the audience member, clearing the room for the next participant. Tenohira integrates object-based performance, taste, and story to investigate the language, silence, cultural memory and the actions of slowing down time.
Cindy Mochizuki creates multimedia installation, audio fiction, performance, animation, and drawings. Her works explore the manifestation of story and its relationship to site-specificity, history, archives, chance, improvisation and memory work. She has exhibited and screened her work in Canada, USA, and Asia.
Critical review RE:FRAMING by Francesco Gagliardi
Critical review Tender Considerations by Geneviève Wallen
http://www.cindymochizuki.com/
Cindy Mochizuki, Tenohira 7a*11d 2018 VIDEO Alan Peng and Jeff Zhao ©Cindy Mochizuki
Performance Art Daily 2018, 7a*11d
October 6: Thirza Jean Cuthand, Louise Liliefeldt, and Cindy Mochizuki in conversation with Paul Couillard
VIDEO Alan Peng and Jeff Zhao