LOUGHLIN, Irene
Canada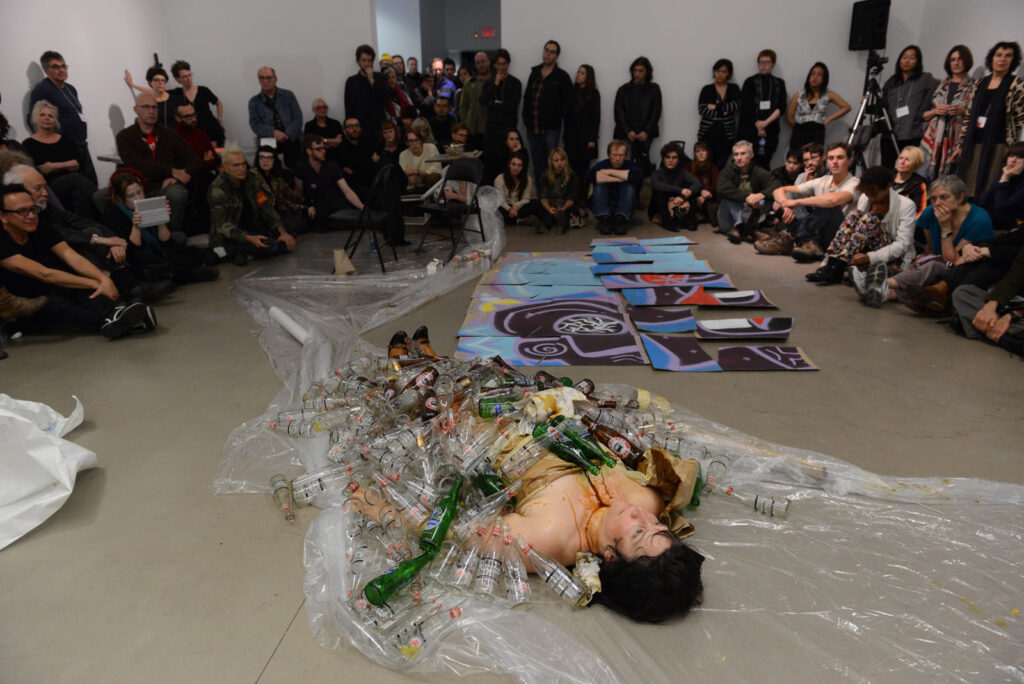 Irene Loughlin, untitled 7a*11d 2012 PHOTO Henry Chan
(untitled)
Saturday October 27 8 pm
Mercer Union – A Centre for Contemporary Art
A performance exploring social constructs of mental illness in childhood and as a young adult.  The performance incorporates sound and video and includes actions which both resist and succumb to the social constructs surrounding mental illness as experienced in the first quarter of my life.
Irene Loughlin was born in the industrial, working class city of Hamilton, Ontario, where she spent her formative years and currently resides. She further developed her practice as an artist in Vancouver, particularly in the historic Downtown Eastside neighbourhood, where she contributed to the activist and disability community through gallery gachet, VANDU, and the Carnegie Centre. For the past fifteen years she has worked with images challenging the social constructs surrounding mental illness, drawing visual metaphors from medical, ecological and diasporic landscapes in order to comment on our contemporary emotive discourse. The work features images drawn from childhood, spiritism, labour, exercise, depression, diagnosis, sexual abuse, marginal housing, processed food, ideas of health, happiness and nourishment, hope, class distinction, comfort, addiction, rehabilitation, sexuality, desire, speech, therapy, anxiety, repetition, silence, and feminist/art historical re enactments.
This performance is assisted by Tevin and Rachel Lichtblau. Tevin was born in Detroit, Michigan and has lived in Hamilton since 2004. He started his art practice in anime, abstract drawing and sketching which later developed into graffiti, working with Lars and Aplo on large-scale works using aerosol spray paint, scratchies, epoxy glue, dyed and coloured hairspray, bingo dabbers, shoe mops, homemade ink, pastels, solid paint markers, stealth ink, stickers, altering posters, and ground tags.  Tevin describes graffiti as an emotional escape – it gives self confidence and is a totally absorbing art form.  Rachel Lichtblau is from Thunder Bay, and moved to Hamilton in 2010. She started training in piano, and then moved into abstract collage works, using mirrors, soaped up tissue paper with paint, drawing, and graffiti. She contributes to the arts as an organizer and cultural worker. Generally, her works represent inner conflict and a kind of meditative resolution through the action of making.
Irene Loughlin thanks Dale Drysdale, Rachel Lichtblau, Tevin, and the Factory Media Arts Centre, Hamilton for their assistance with this project.