HOUSEHOLDER, Johanna & YAEL, b. h.
Canada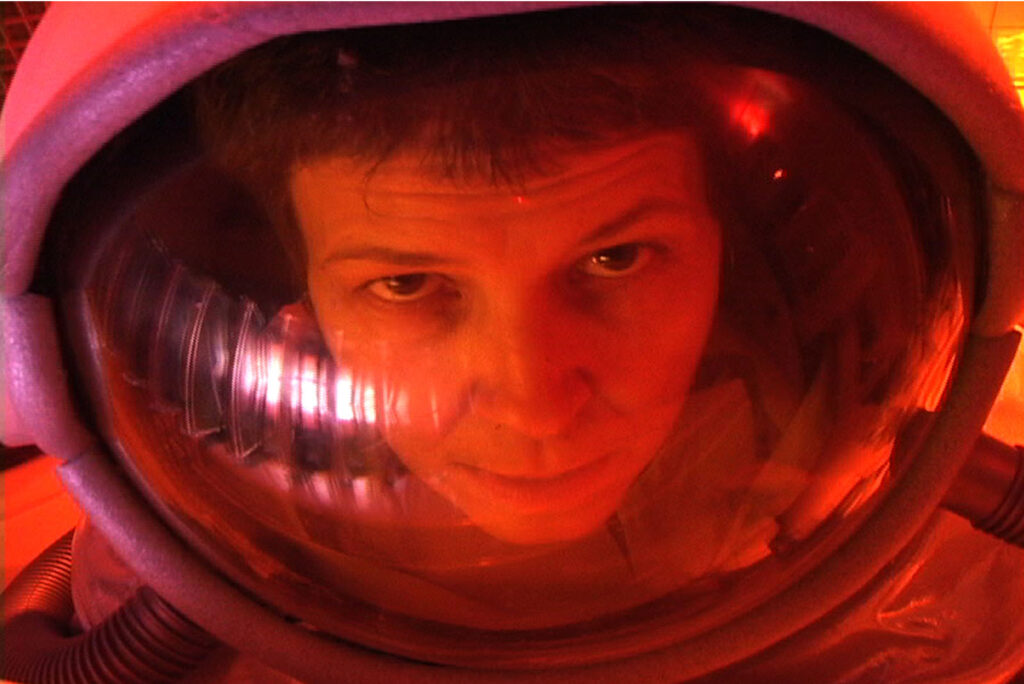 Johanna Householder & b.h. Yael, Approximations: December 31, 2000 2002 video still
Approximations: December 31, 2000 (2002, 7:20)
Thursday August 24, 7:30 pm
291 Lake Shore Boulevard East (just west of Parliament St.)
Presented in partnership with Art Spin and Waterfront Toronto in conjunction with Desire Lines
Saturday June 10, 7:30 pm
Guild Park and Gardens
Presented in partnership with (Un)settled
Approximations is a series collaboration of Johanna Householder and b. h. Yael. Each work is a shot for shot recreations of a specific filmic scene.   The artists' gendered bodies re-perform the lead characters. The first three works take on 1970s cinematic classics: Apocalypse Now, 2001: A Space Odyssey, and Last Tango in Paris. The last, a bit more of an anomaly, is Mel Gibson's The Passion of the Christ. The works are an amalgamation of Johanna's and Yael's sensibilities, performance and cinematography, and display a fascination with and questioning of representations of the future, apocalypse and war, sex and religion.
Johanna Householder was born in Alabama but left the US when Richard Nixon was elected for the second time. She has been making performances, video and other artwork in Canada since the late 1970s. Working at the intersection of popular and unpopular culture, she shapes plundered source material in order to talk back to mass forms. As a member of the notorious feminist performance ensemble, The Clichettes in the 1980s, she helpe re-establish lip sync as a viable medium for cultural critique. Householder has continued to practice her own brand of pop cultural détournement, often in collaboration with other artists, including her daughter Carmen. Her most recent performance works include a series of lectures: On the Subject of Art, based on a text by Alain Badiou, Performance Festivals redux, and Portrait of a Situation, which was performed in Helsinki (Finland), Valparaiso (Chile), Budapest (Hungary), Bratislava (Slovakia) and Cluj (Romania). Her video collaboration with b. h. Yael, Approximations 1- 3, has screened in numerous venues internationally. In 2010 she performed at Chaos in Belfast, N. Ireland, LiveAction Göteborg, Sweden, at Scandinavia House in NYC and in Guangzhou, China.
b.h. Yael is a Toronto based filmmaker, video and installation artist. She is Professor and Chair of Integrated Media at the Ontario College of Art and Design, and past Assistant Dean in the Faculty of Art. Yael's work has exhibited nationally and internationally and has shown in various settings, from festivals to galleries to various educational venues. Her work has also been purchased by several universities. Yael's film and video work has dealt with issues of identity, authority and family structures, while at the same time addressing the fragmentary nature of memory and belonging. More recent work focuses on activist initiatives, political fear, apocalypse and gender. The work most often involves non-linear and hybrid forms, including dramatized and fictional elements combined with first person narration, autobiographical and documentary perspectives.