GÓMEZ-PEÑA, Guillermo & LUNA, James (see also LUNA, James)
USA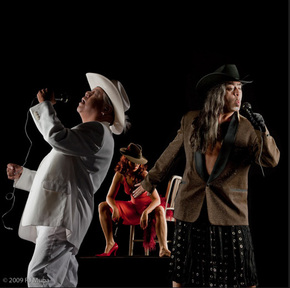 James Luna and Guillermo Gómez-Peña, Singers v. 2 2010 PHOTO RJ Muna
La Nostalgia Remix: Solid Gold
Guillermo Gómez-Peña & James Luna
Saturday October 23 8 pm
Tranzac Club
Presented by Red Sky Performance and Toronto Free Gallery with the support of Ryerson Gallery and Research Centre and The Trudeau Foundation. Co-presented in association with the imagineNATIVE Film + Media Arts Festival and 7a*11d.
La Nostalgia Remix is the last project in The Shame-man… series, which was launched in 2007 and uses nostalgia as style, a form of resistance, and reinvention. Remix is a series of live performances that explore the cultural, symbolic, and iconographic dimensions of nostalgia both on the Native American 'rez' and in the Chicano 'barrio.' Since the early '90s, performance artist/writer Guillermo Gómez-Peña and Native American conceptual artist James Luna have worked on the ongoing project The Shame-man meets El Mexican't, in which they challenge assumptions and lazy thinking about race and culture in our society with a strong dose of melancholic humour and sharp-edged conceptualism. By using performance, writing, photography and video, the artists have remained flexible and relevant to our shifting culture.
Performance artist/writer Guillermo Gómez-Peña resides in San Francisco. He is the Artistic Director of La Pocha Nostra, a "trans-disciplinary arts organization that provides a base for a loose network and forum of rebel artists from various disciplines, generations and ethnic backgrounds".
James Luna (Puyukitchum/Luiseño) resides on the La Jolla Indian Reservation in North County, San Diego, California. His installations have been described as transforming gallery spaces into battlefields, where the audience is confronted with the nature of cultural identity, the tensions generated by cultural isolation and the dangers of cultural misinterpretations, from an Indigenous
perspective.