FRANGIONE, Nicola
Italy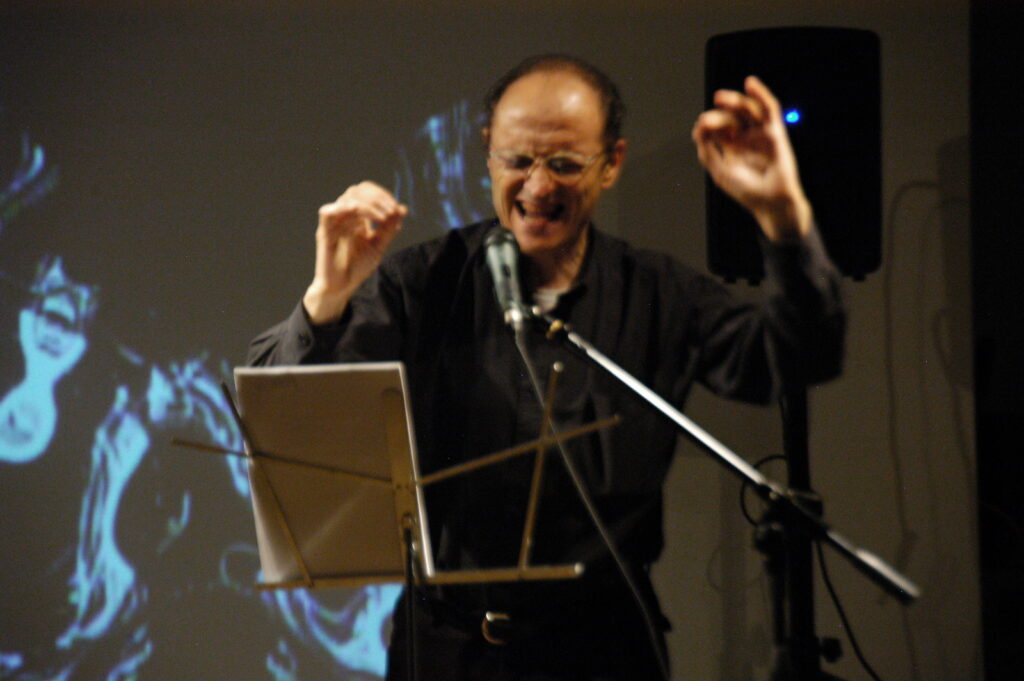 Nicola Frangione, Voice in Movement 7a*11d 2008 PHOTO Henry Chan
Voice in Movement
Tuesday October 28 8 pm
XPACE Cultural Centre
Nicola Frangione's sound poetry and concerts are oriented toward "art dramaturgy." Gestures as a key form of expression are a distinguishing feature. In 1980 Frangione began some projects – the first was called vocecevovoce – based on the synergetic use of texts and music: these elements are not designed to provide "spectacularity" only; they support each other with a view to "revealing" voice, showing it "creatively," emphasizing sound and its significance. "Sound poetry" is involved, being the name for a sound-focused event understood as an art object, where texts, voice and music blend.
Nicola Frangione is an interdisciplinary artist experimenting with visual arts, audio art and sound poetry, video art and visual poetry. He has produced several art books, records and CDs, as well as the poetry magazine Armadio e Officina (since 1975). From 1987 to 1995 he directed with Luigi Bianco the publication of the cultural dynamics magazine Harta and managed the multimedia art centre Osaon in Milan. Since 2003 he has been the Art Director of ART ACTION International Performance Art Festival in Monza, Italy.
Presented with the support of the Istituto Italiano di Cultura in Toronto.
Andrew James Paterson's eyewitness account
Andrew James Paterson's additional observations on Voice in Movement
http://www.nicolafrangione.it/
Nicola Frangione, Voice in Movement 7a*11d 2008