FINI, Francesca
Italy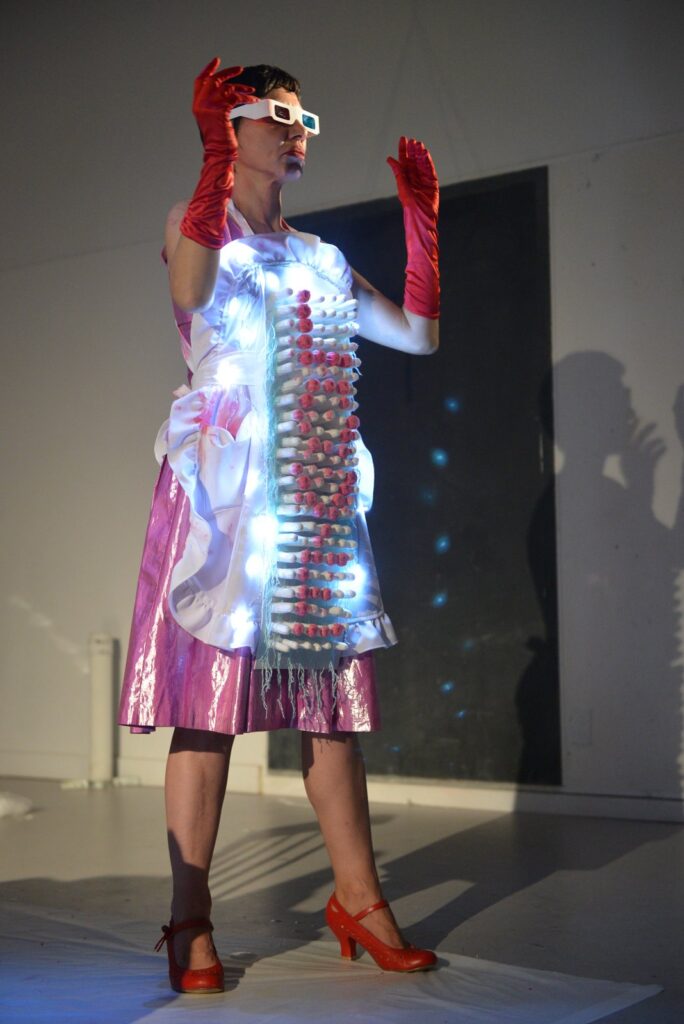 Francesca Fini, I was there 7a*11d 2014 PHOTO Henry Chan
I was there
Friday October 31 8 pm
Artscape Youngplace
Presented by FADO Performance Art Centre
I am basically a performer. The action of a body, generally mine, in space and time is essential in my work. My videos and my tangible works are the chapters of a never-ending story of which I am the protagonist. I believe that all art should be gesamtkunstwerk. My body, the ship on which I make this long exploration, has always been a battlefield: former anorexic, eternal feminist, still and always a lone wolf in search of the moon between the branches of the trees.
Francesca Fini is an interdisciplinary artist living and working in Rome, Italy. Her live works often address social and political issues, and are a mixture of lo-fi technology, homemade interaction design devices, and live audio and video. Primarily interested in video and live art, she also creates artworks assembling performance art "relics".
Presented with the support of the Istituto Italiano di Cultura in Toronto.
Alison Cooley's eyewitness account
Fado's artist page for Francesca Fini
Fado's image gallery for Francesca Fini's I was there

Performance Art Daily - Uncomfortable physicalities with Francesca FINI, Eduardo ORAMAS, Andrée WESCHLER and moderator Tanya MARS, 7a*11d November 1 2014