EI THEIN, Chaw
Burma/Viet Nam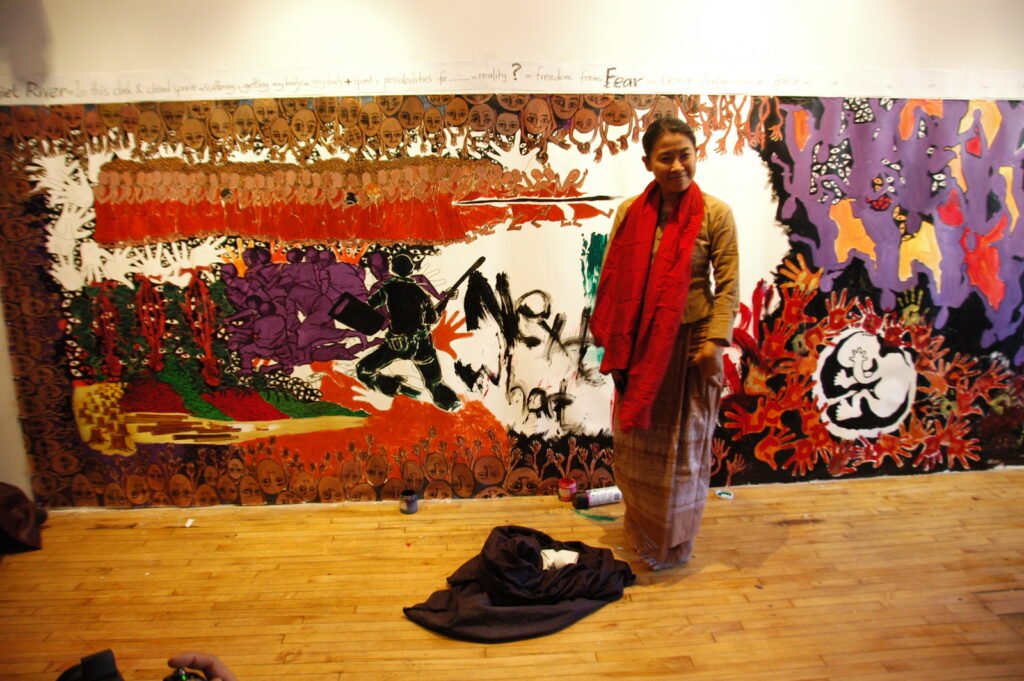 Chaw Ei Thein, Quiet River 7a*11d 2008 PHOTO Henry Chan
Quiet River
Thursday October 23 to Saturday October 25 and Tuesday October 28 to Friday October 31 12 pm – 7 pm
Saturday November 1 3 pm
Toronto Free Gallery
In Burma, public displays of opinion are severely controlled. I would like to create a mural combining the issues of people living in Burma with images created from conversations with Torontonians. Originally, I planned to start this project in 2006 using a concrete wall near my home in Burma, but I am now a nomad, not having returned to Burma in over a year. I make my art wherever home is at the moment, and if in Toronto, the mural can begin there. In this dark and closed space = suffering = getting my body = my body + spirit + possibilities for creativity = reality = fear from no freedom = being performance artist = Quiet River.
Living under a dictatorship and in a closed country I am not used to describing gender or social issues, or politics more than my personal existence in my art work. So in this time I hope that (this) is a big chance to express what we, Burma are facing as problems everyday in life in my project too. When people think of Burma, they think of our lady, Aung San Suu Kyi under house arrest and the military dictatorship. They don't think about our daily lives or our culture. I want to show some aspects of my country which most people don't know about. They forget that, like other countries, we have artists, writers, directors, and musicians who are trying their best to be creative under difficult circumstances.
During her residency, Quiet River, Chaw Ei Thein will collaborate with visitors. She will work at Toronto Free Gallery from 12 to 7 pm, and encourages audience members to drop by for conversation, which will be continually incorporated into a portable mural.
Chaw Ei Thein is a Burmese currently living in Viet Nam. In addition to holding a law degree and teaching art to children and mental health patients, she was the founder and curator of the Sunflower Art Gallery in Yangon. In recent years she has gained a reputation for her work in performance art, working in Burma as well as Thailand, Taiwan, China, Japan, and the U.K.
Artist profile of Chaw Ei Thein (part 1) by Elaine Wong,  Artist profile of Chaw Ei Thein (part 2) by Elaine Wong
Andrew James Paterson's eyewitness account of Quiet River installation
Andrew James Paterson's eyewitness account of Quiet River performance
Elaine Wong's eyewitness account of Quiet River performance
http://chaweithein.blogspot.ca/
Chaw Ei Thein, Quiet River 7a*11d 2008