DEIMLING, BBB Johannes
Germany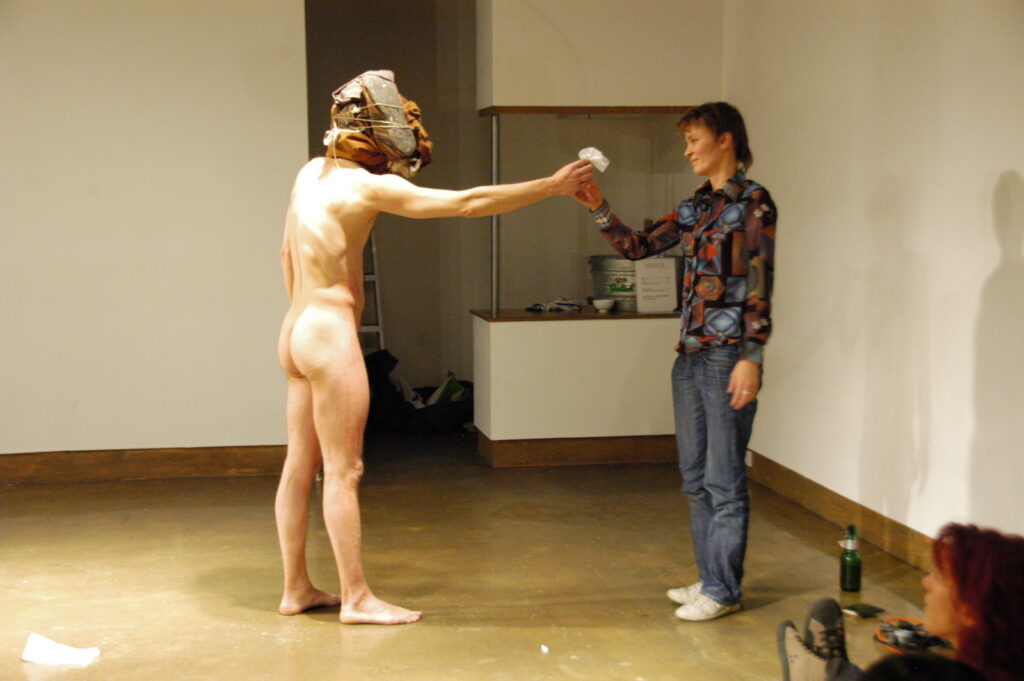 BBB Johannes Deimling, Every Rose Has a Thorn FADO/7a*11d 2008 PHOTO Henry Chan
Every Rose Has a Thorn
Friday October 31 8 pm
XPACE Cultural Centre
Presented by FADO Performance Art Centre
BBB Johannes Deimling uses everyday objects to create a living image (agierte Bilder) reflecting a society full of contradictions, sentimentality, stupidity, creativity and cooperation. Finding ideas and suggestions from the banality of daily life, Deimling transforms topics such as patience, will, war, religion and transportation into physical images. The artist's head is often a focus in the work, as an integral part of a living sculpture or as material in a performance.
Since 1988, BBB Johannes Deimling has worked as an artist in the fields of performance art video, installation, drawing and music. His work has been presented at events and festivals in Europe, Israel, Canada and Cuba. Since 1998, Deimling has devoted much of his practice to lecturing on performance art at various academic institutions including: F+F (Switzerland) since 1998 and the Academy of Arts in Tallinn, Estonia (since 2004. In 2006, he co-founded Port Performance – Forum for Performance Art, with artist Angelika Fojtuch.
Andrew James Paterson's eyewitness account
Elaine Wong's eyewitness account
FADO artist page for Every Rose Has a Thorn

http://www.bbbjohannesdeimling.de/
© BBB Johannes Deimling and Fado Performance Inc. Presented by FADO Performance Art Centre at the 2008 7a*11d International Festival of Performance Art. October 30, 2008. Toronto. Edit by Annie Onyi Cheung.
BBB Johannes Deimling interviewed by Johanna Householder, Toronto 2008