ALVAREZ LUGO, Gustavo (aka Musgus)
Mexico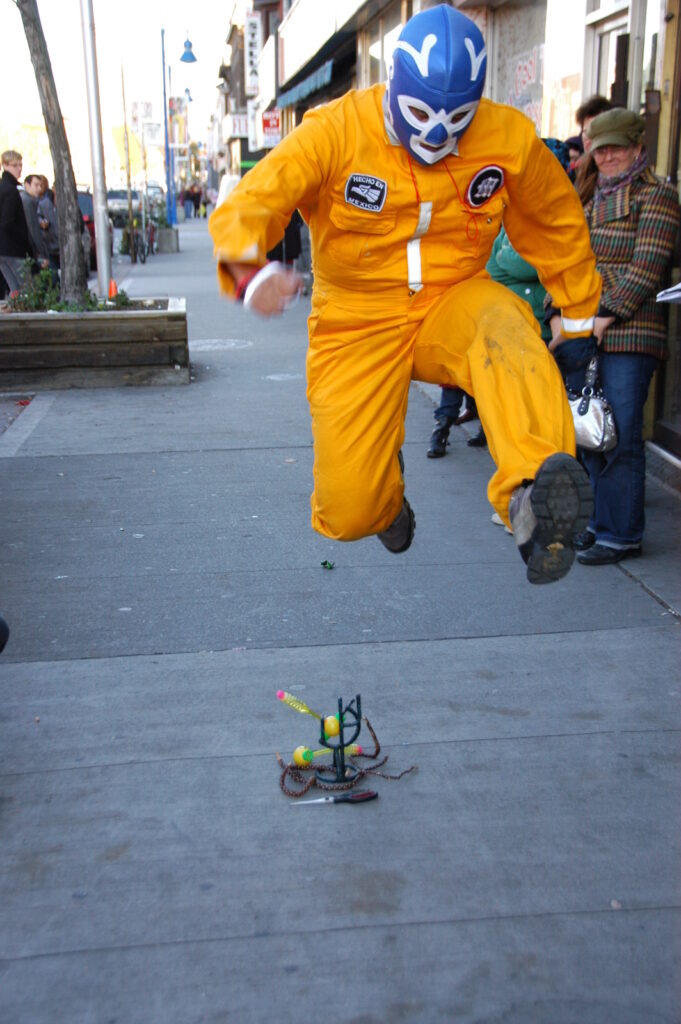 Gustavo Alvarez Lugo, Chabochi 7a*11d 2008 PHOTO Henry Chan
Chabochi
Introspective actions
Sunday October 26 1 pm
Queen St W & Ossington Ave
Wednesday October 29 3pm
Queen St W between Bay St & James St
Reflective actions
Thursday October 30 4 pm
Osgoode Subway (Opera House side)
Friday October 31 4 pm
Dundas Square
Saturday November 1 4:30 pm
Toronto Free Gallery

Saturday November 1 8 pm
XPACE Cultural Centre
I wish to find a series of four actions, having a thematic axis like that implied by performancear (to perform). My vision is a product of my work with the Tarahumaras. Chabochi is a concept that the Tarahumaras use to determine the mestizo, the one that is not like them, who is not of there, the one that is different. The intention is to make these four actions acquire sense when they appear in a different culture and a different world, where we continue to be chabochis.
I prefer to perform outdoors as a form – to take the performance art outside the museum or gallery, demonstrating that it can exist beyond walls; creating with this the possibility of interacting with the common passerby, causing 'the unsuspected spectator.' This way the piece turns out to be a provocative act, in which nobody knows what to wish for, a sense of expectancy between performer and spectator exists, and a knot of co-dependency is produced that can take the work to its limits.
During his residency Gustavo will realize two Introspective Actions and two Reflective Actions, culminating on November 1, the day the festival of the dead is celebrated in Mexico, a date of great meaning for the indigenous and racially mixed culture.
Gustavo Alvarez Lugo, also known as his alter ego Musgus, was born in Mexico City and now lives in Chihuahua. He defines himself as chilango coahuilense. Alvarez studied social anthropology, and calls himself a visual anthropologist performer. He began his exploits in performance art in 2000, making performances in urban areas, and then participated in several circuits and festivals, including Performagia, a national festival of performance, and Festival Xcéntrico in Mexico City, and the International Performance Congress at Valparaiso, Chile. He recently was an artist in residence at Tou Scene, in Stavanger, Norway. Alvarez's interest in performance art involves teaching performance to groups outside the artist community; giving workshops to blind people, working with persons confined to mental hospitals, HIV carriers, terminal cancer patients and prisoners. In August of the 2008, Alvarez finished a period of workshops and investigations in the mountain range of Chihuahua with the indigenous Tarahumaras, the product of two year's stay.
Artist profile of Gustavo Alvarez (Musgus) by Andrew James Paterson
Andrew James Paterson's eyewitness account (October 26)
Andrew James Paterson's eyewitness account (October 29)
Andrew James Paterson's eyewitness account (October 30)
Andrew James Paterson's eyewitness account (November 1)
Gustavo Alvarez Lugo, Chabochi (introspective actions) 7a*11d 2008
Gustavo Alvarez Lugo, Chabochi (reflective actions) 7a*11d 2008
Gustavo Alvarez Lugo, Chabochi 7a*11d 2008